Marital Problems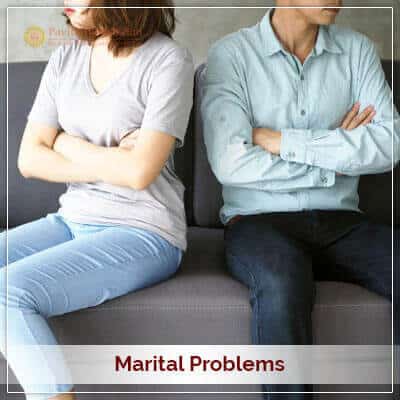 Best Solution Permitting Peaceful Wedding Union
Get our Marital Problems report based on proper analysis of your Kundali to figure out if any incompatibility issues regarding your marriage. We help you familiarise with ins and outs of your marriage enabling you to take a prudent decision for a balanced marital life. Our analysis of your Kundli includes condition of 7th house of marriage, placement of Karak planet Venus, planetary period, transits and other astrological factors and aspects.
Important Information About Marital Problems
Service Name: Marital Problems, Service Type: Astrological Guidance and Solution, Language: English, Service Mode: Online (By e-mail only), Delivery: 5 Days, Features: Guaranteed solutions, Reliable services, Extensive results and best standard format of PavitraJyotish (YOUR REPORT WILL CONTAIN – Read it below), Benefits: It helps you settting short and long term goals with solution of your personal problems positively.
Why Marital Problem Report?
If facing hurdles in your marital status or life, then Marital Problems Solution Report looks to be a perfect guiding tool for you to enable peace the harmony in your relationship. By means of this report, we analyze the horoscopes of both the partners and check the flaws or any dosha, and based on that the suitable remedial measures are to be informed for both the partners to initiate peace & harmony.
How Does It Work?
1. Share your birth details and ask your queries/problems.
2. Make the payment.
3. We will send an email for reconfirmation of your birth details through your registered email id.
4. After confirmation, within next 5 working days, we will provide detailed report as per our standard format and reply to your specific questions (Your Report Will Contain – Read it below).
5. You will receive your personalized report at your registered email id.
6. Read your report, and feel free to contact us via e-mail if you feel like having any doubt. We will respond you shortly by reverting your e-mail.
Get Love Ask 3 Question answer, Remedial Solution for Love, Remedial Solution for Marriage, Love and Marriage Prospects and other solution-based services offered by erudite astrologer in India. Bring forth the growth you always long for by booking our astrological services.
Info
Delivery : 5 Days
Get your manually analysed and Hand-Written report by expert Astrologer.
What Marital Problems Report Will Contain?
1. Astrological Details of your Horoscope chart (i.e. Complete basic information, Ascendant, Rashi, Nakshatra, Placement of Planets, Dasha & Antardasha).
2. Response to your question.
3. Impact of Your ascendant.
4. Impact of Your Moon sign.
5. Analysis of the problem from your chart.
6. Impact of ascendant on your partner.
7. Impact of Moon sign of your partner.
7. Analysis of the Problem from your partner's chart.
8. Your similarities – positives.
9. The Differences – Negatives.
10. Conclusion and Suggestions.
11. Lucky measures to benefit to you (Lucky number, days, metal, time, direction and gemstone) For Both.
12. Mantra and Puja Remedies (For Both).
13. Lucky Yantra and Rudraksha (For Both).
14. Important tips to make situations easier for you (For Both).

Benefits Of Marital Problems
1. You can take smarter, calculated decisions, with a clear view of the upcoming situation.
2. The solutions to your confusions and problems will be resolved with proper analysis, so that you can take a decision accordingly.
3. Stress due to ignorance will be reduced.
4. You will be confident to take wise decisions since the problems will be handled with ease. This will help in clear thinking and happier planning ahead.

Hear From Our Customers
My marital problem seemed to me an endless torture. The abusive conducts of my wife continued acting like a venom spoiling our marital relationship to the point of annulment. After much thoughts and recommendation from relatives, I approached to Umesh Pant Ji for concrete solution to my marital problem. He counselled me that relationship like marriage is very delicate thing to handle. It requires patience and mutual respect. Then his astrological guidance accompanied by certain rituals to be followed at home came as a final recourse to my endless agony. Pandit Ji and his timely help will be remembered forever.
Mohit Sumbli, Jammu & Kashmir
I would like to say one thing regarding Pandit Umesh Ji is his simple and easy solution of every problem of our life. He always suggest very easy and simple solution for even a very complex issue. You can follow his solution very smoothly. And the result is always 100%. I must say that do not waste your time & money, just meet Pandit ji. You will be always happy! Thanks
Sanjeev Chauhan, Delhi