Marriage Ask 3 Questions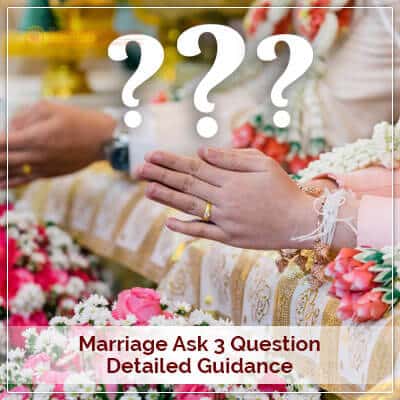 Get The Answers For All Your Marital Problems For Peaceful Union
Marriage Ask 3 Questions detailed guidance is a compact astrological report prepared by one of the leading figures in Astrology, Pt. Umesh Chandra Pant. It includes information concerning your marriage, unpredictable problems, guidelines and astrological remedies based on the proper analysis of your Kundali, study of planets and other important concerned astrological factors.
Important Information About Marriage Ask 3 Questions
Service Name: Marriage Ask 3 Questions, Service Type: Astrological Guidance and Solution, Language: English, Service Mode: Online (By e-mail only), Delivery: 5 Days, Features: Guaranteed solutions, Reliable services, Extensive results and best standard format of PavitraJyotish (YOUR REPORT WILL CONTAIN – Read it below), Benefits: It helps you settting short and long term goals with solution of your personal problems positively.
Why Marriage Ask 3 Question Report?
If you have multiple doubts related to marriage, in such a case, our Marriage Ask 3 Question Report will help you to know the accurate prediction and solution along with the suitable remedies to get rid of certain problems. It is applicable only for any 3 questions or doubts.
How Does It Work?
1. Share your birth details and ask your queries/problems.
2. Make the payment.
3. We will send an email for reconfirmation of your birth details through your registered email id.
4. After confirmation, within next 5 working days, we will provide detailed report as per our standard format and reply to your specific questions (Your Report Will Contain – Read it below).
5. You will receive your personalized report at your registered email id.
6. Read your report, and feel free to contact us via e-mail if you feel like having any doubt. We will respond you shortly by reverting your e-mail.
Our services encompass Marriage Ask A Question, Remedial Solution for Love, Remedial Solution for Marriage, Love and Marriage Prospects and many more. They are available at the most affordable price for you.
Info
Delivery : 5 Days
Get your manually analysed and Hand-Written report by expert Astrologer.
What Marriage Ask 3 Questions Report Will Contain?
1. Astrological Details of your Horoscope chart (i.e. Complete basic information, Ascendant, Rashi, Nakshatra, Placement of Planets, Dasha & Antardasha).
2. Response to Your 3 question.
3. Lucky measures to benefit to you (Lucky number, days, metal, time, direction and gemstone).
4. Mantra and Puja Remedies.
5. Lucky Yantra and Rudraksha.
6. Important tips to make situations easier for you.

Benefits Of Marriage Ask 3 Questions
1. You will be able to form your steps ahead once you know the possible areas of strength and work upon the areas of concern.
2. Having known the areas of strength, you can avoid the weak areas in your love life so that you can enjoy a blissful marital life.
3. Despite the apparent confusions, you will be able to understand your love and take a decision wisely.
4. Your fear, apprehension, worries, and stress will be taken off.

Hear From Our Customers
Panditji Umesh pantji is very patient and suggest very simple vedic solutions which give a lot of peace of mind as well as lost confidence. I got the great help in one of my major problems of life and my belief in astrology have been strengthened. Thank you panditji.
Savita Sharma, Rohini, New Delhi.
None would have provided me comprehensive astro solutions to my marriage problems than a learned and reputable astrologer, Umesh Chandra Pant Ji. Months back I had consulted to him for his astrological analysis over my existing marital situations. His answers were based on those three questions I was requested to share with the astrologer during our interaction in his office based in South Delhi. He offered me detailed guidance, plus key points to follow for the sake of my marriage. He interpreted cyclic transits of planets in my Kundali and suggested gemstone to rid of bad planetary influences as well. Overall it was a great experience being with him and receiving a concrete solution to my agonising marriage issue.
Manish Mehta, Agra, (UP).