Marriage Ask A Question Detailed Guidance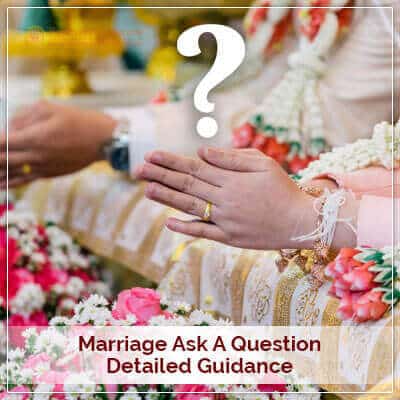 You are going to tie the knot with someone but you have no idea how your future spouse would be for your life. You have many marriage-related questions on your mind but are afraid of asking due to clouded judgment on your decision. In essence, you are being ambivalent about your decision because you feel disoriented.
Here's your solution – ask a question related to your Marriage Problems and get their detailed answers from our renowned Vedic Astrologer, Pt. Umesh Pant. Accurate information is provided based on an exhaustive study of your horoscope chart, its analysis, and conclusions made thereof. We offer you completely reliable report answering your marriage question with its solutions and remedies in the most satisfactory way.
Info
Delivery : 5 Days
Get your manually analysed and Hand-Written report by expert Astrologer.
Customer Care
If you have any confusion or need further clarification please contact our customer care.
Call +91-95821 92381 and 011-49901368
Your Report Will Contain:
1. Astrological Details of your Horoscope chart
2. Astrological analysis of your situation
3. Response to your question
4. How to make use of this report
5. Lucky measures to benefit to you (Lucky number, days, metal, time, direction and gemstone)
6. Impact of your Ascendant
7. Impact of Your Moon Sign
8. Guidance on the causes for concern
9. Mantra and Puja Remedies
10. Accurate remedial measures for your problems (Lucky Yantra and Rudraksha)
11. Important tips to make situations easier for you

Benefits of this report:
1. You will be able to make up your mind on marital matters, depending on the orientation of the planets.
2. Having known the areas of strength, you can avoid the weak areas in your love life. Psychologically you will be equipped to handle any odd.
3. Despite the apparent confusions, you will be able to understand your love and take a decision accordingly.
4. Your fear, apprehension, worries, and stress will be taken off.

Testimonials:
I am sharing my views & opinion. I feel that its really true person & always guide in a positive direction.
Ashutosh, Gurgaon NCR
Meeting with astrologer Umesh Ji went well with the solution of my marriage life. Interaction with the astrologer was something that I would love appreciating the time and again. Facts to be told, it was indeed a great experience to have his wise counseling and suggestion. His service was of quality magnitude. Detailed guidance for my question regarding marriage has helped me in a great deal. On a personal note, he is remarkably experienced and knows a great deal about astrology.
Manisha Nayak, Janakpuri, Delhi