Marriage Ask 1 Question Detailed Guidance
Date : June 11, 2016
|
Author : Astrologer Pt Umesh Chandra Pant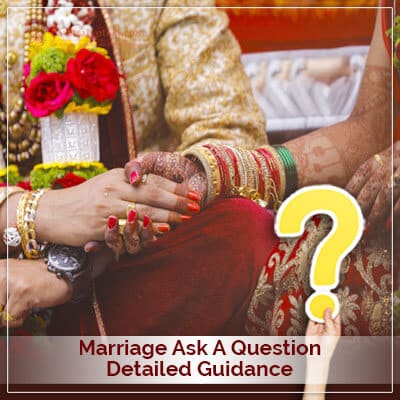 Important Information About Marriage Ask 1 Question Detailed Guidance
Service Name: Marriage Ask 1 Question Detailed Guidance, Service Type: Astrological Guidance and Solution, Language: English, Service Mode: Online (thru email reply), Delivery: 5 Days, Features: Guaranteed solutions, Reliable services, Extensive results and best standard format of PavitraJyotish (YOUR REPORT WILL CONTAIN – Read it below), Benefits: It help you set short and long term goals with solution of your personal problems positively.
How Does It Work?
1. Share your birth details and ask your queries/problems.
2. Make the payment.
3. We will send email for reconfirmation of your birth details through your registered email id.
4. After confirmation, with in next 5 working days, we will provide detailed report as per our standard format and reply to your specific questions (Your Report Will Contain – Read it below).
5. You will receive your personalized report on your registered email id.
6. Read your report, if you have any doubts feel free to contact us through email and we will respond definitely.
Your Ultimate Guidance For Peaceful Wedding Union With Partner
You are going to tie the knot with someone but you have no idea how your future spouse would be for your life. You have many marriage-related questions on your mind but are afraid of asking due to clouded judgment on your decision. In essence, you are being ambivalent about your decision because you feel disoriented.
Here's your solution – ask a question to Astrologer related to your Marriage Problems and get their detailed answers from our renowned Vedic Astrologer, Pt. Umesh Pant. Accurate information is provided based on an exhaustive study of your horoscope chart, its analysis, and conclusions made thereof. We offer you completely reliable report answering your marriage question with its solutions and remedies in the most satisfactory way.
We at PavitraJyotish offer a broad range of paid astrological services, including Education Ask 1 Question, Marriage Ask 1 Question, Puja For Marriage, and 2021 Ask 1 Question. Ensuring happiness and prosperity in your life defines the ulterior motive of these services.