Marriage Prospects 2018 – 50% Discount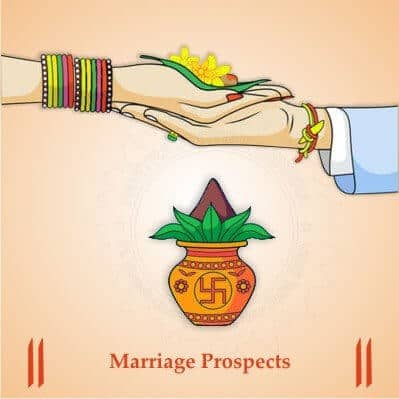 A happy married life is a boon presented by heavens. In the 2018 major planets like Saturn, Jupiter and both nodes of Moon viz. Rahu and Ketu change signs. It is good to know how this is to affect your chances of getting happily married. Pavitra Jyotish has this unique report to let you know in detail about prospects of getting married. Here we also let you know about the cause of delay in the ringing of wedding bells for you. In this report, information is given about supportive time for marriage. Then we also suggest about simple easily applicable remedy also helping your cause.
Our Chief Astrologer knows in detail about Vedic Astrology and its applications to foretell about events to unfold in future. He prepares this marriage prospects in 2018 report for you in detail. Umesh ji suggests a time-tested effective easily applicable remedy, which improves your prospects to get married. You need to post your query about marriage prospects in 2018 in this section of our website and trust us to do needful for you.
Info
Delivery : 7 Days
Manually Analysed and Hand-written by Expert Astrologer
Customer Care
If you have any confusion or need further clarification
Call +91-11-26496501
Your Report Will Contain:
1. Astrological Details of your Horoscope Chart
2. Effect of Ascendant and Ascendant lord
3. Effect of Moon Sign
4. Response to your Question
5. Marriage as noted from your Horoscope Chart
6. Impact of planets for you in 2018
7. Year in a Nutshell
8. Special observation
9. Accurate remedial measures for your problems
10. Important tips to make situations easier for you

Benefits of this report:
1. You can take smarter calculated decisions, with a clear view of the upcoming situation.
2. The guidelines offered will help you make effective planning
3. Risks of friction and confusion will be reduced
4. Efforts channelized in the right direction will yield better results

Testimonials:
Astrologer Umesh provides accurate and timely solutions based on his practical experience. His remedies have proven very helpful to me. His advice on different spheres like education, professional life and other fields are very effective. He is very patient and explains things in great detail. The gem stones he suggests are also very effective and bear results. Would suggest those seeking astrological advice and solutions should visit him once.
Anurag, Gurgaon NCR
I have recently consulted to Pandit Ji for my marriage prospects for the year 2018. I was surprised to know that planetary transit in my chart was responsible for creating hindrance in my marriage. I am very much aware that suggested measure by him would be very helpful for me. On a personal note, he is indeed down to earth and professional astrologer.
Sanjay Sharma, Mumbai, India