Nakshatra Dosh Shanti Puja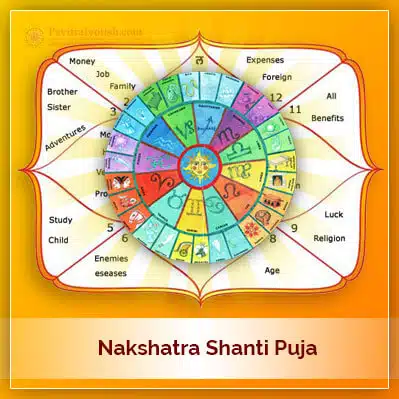 About Nakshatra Shanti Puja
(Birth chart of a new-born baby Janm Nakshatra similar to its parents)
The purpose of Nakshatra Dosh Shanti Puja is to neutralize or dispel a malefic energy power of a malevolent nakshatra found in the birth chart of a new-born baby nakshatra similar to its parents. In other words, when Nakshatra of a newborn child is similar in nature to that of his/her parents, then the infant is believed to be affected with malefic Nakshatra dosha. When nakshatra of a child matches with his mother and father's nakshatra, then this celestial combination causes problems, not only in the life of the affected infant, but also in the lives of baby's parents, depending on which type of one of the 27 Nakshatras is in question.
In this context, Nakshatra Dosh Shanti Puja is a holy ritual conducted to absolve the affected persons (child and his parents) from the evil influence of Nakshatra Dosha.
The position of lunar in Janma Nakshatra of a native/person at the time of his/her birth is the main reason that it casts off enormous celestial influences on the native's personality, future, and overall physical appearance. In fact, Janma Nakshatra is a prime force in someone's life, as it controls one's thinking pattern and subconsciousness, which gives birth to varying influences in the personality of the person/native. If nakshatra is found to be malicious, bad results start to happen in the life of the affected individual. Therefore, Nakshatra Dosh Shanti Puja is a recommended remedy against inimical Nakshatra in a person's Birth Nakshatra.
Why Nakshatra Dosh Shanti Puja Performed?
The main importance of conducting Nakshatra Dosh Shanti Puja is to pacify the harmful effects of an evil nakshatra. This way, the affected person's life is protected from experiencing the outcome of unhappiness and misery on the front of relationship, career, business, health, or in any aspect of his/her life. Sometimes, prevailing misfortunes in one's life can be attributed to a malefic nakshatra. Therefore, its Puja is suggested to be a great remedial measure to neutralize such an inauspicious impact of the hostile nakshatra.
Important Information About Nakshatra Shanti Puja
Puja Name: Nakshatra Dosh Shanti Puja (birth chart of a new-born baby Nakshatra similar to its parents), Puja Purpose: Blessing Of Nakshatra, Duration of Puja: 10-12 Hours, Ideal days for worshipping: Auspicious Muhurta as required, Activities for Nakshatra Shanti Puja: Poorvang Karma, Puja of Nakshatra (as per auspicious Muhurta), Ashtottara Namavali Path, Stotra path, Homa (Havan) and Prayer of Nakshatra (birth chart of a new-born baby Nakshatra similar to its parents), Important: We will send Puja Images at your registered email, Assurance:  PavitraJyotish assure you best puja according to shastra, Special For You: Special and powerful gift as per your problem.
What we will do?
1. Once you have booked the Puja, you will receive a booking confirmation mail.
2. You will be informed by your registered email, when your puja will be organized and what to do on the day of the puja yourself.
3. After Confirmation, we will worship (Ritual) for you according to Muhurta.
4. After Puja completion, we will send your siddh Yantra (Free Gift) and Prasadam through courier or by post.
5. Open the parcel, read our instructions and wear the siddh Yantra or establish siddh yantra on your worship place.
Benefits Of Nakshatra Dosh Shanti Puja
1. Nakshatra Dosh Shanti Puja helps one to neutralize the ill effects of planets especially during their period or sub period.
2. This puja removes the obstacles and pacify that associated planet with that bad Nakshatra.
3. Nakshatra Dosh Shanti Puja helps one to attain the positive vibes all around.
4. Nakshatra Shanti Puja helps one to enhance the inner strength and boost the confidence along with positive results.
5. This puja helps one to have the stability of thoughts and reduce confusing state of mind.
6. Nakshatra Shanti Puja helps native and his/her parents to get the success after the birth of the native.
7. Any health ailments to the parents or native get reduced by performing this particular Nakshatra Puja.
Activities For Nakshatra Dosh Shanti Puja
1. Purvang Karma (Ganesh Pujan, MatraPujan, Abhyudaya, Punyawachan, KalashSthapana, Rakshavidhan, Navgrah Puja).
2. Puja of Concerned Nakshatra (as per auspicious Muhurta).
3. Ashtottara Namavali Path and Jup of Nakshatra.
4. Homam (Havan).
5. Lord Vishnu Ji and Pitra Prayer and Aarti.
Complimentary Gift
Special gift as per your problems.
Our offering, such as Birthday Puja, Puja for Wealth, Puja for Health, Puja for Marriage and many others is affordably priced and result-oriented. These are the services you can avail to troubleshoot a particular type of astrological problem, like problem in love, relationship, health, education or something else.
Info
Puja Schedule:: Within 7 days, According to Muhurta.
The scholars and pundits of Pavitra Jyotish have performed your puja, for amazing and miraculous relief from suffering and alleviate your problems.