Navgrah Puja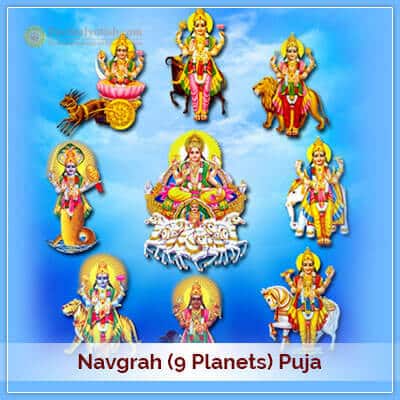 Navgrah Puja For Solution To Planetary Doshas In Life
Navgrah Puja is dedicated to all the 9 planets in Vedic Astrology. As the name itself suggests ritual performed to negate the malefic energy of multiple malefic planets in one's Horoscope. Multiple Doshas present in Kundali get removed and native attains happiness and peace all around. Worshipper gets the blessings of benefic planets and receives prosperity, good omen, happiness, wealth, good relations and respect in the society. We have our team of resourceful professionals who have the ability to conduct proper Puja and Anushthan with all rituals and correct mantras for all the nine planets.
Why Navgrah Puja performed?
Nav means nine and Grah means planet, so Navgrah consists of group of all the nine planets. In Vedic Astrology, these malefic planets are Sun, Moon, Mars, Mercury, Venus, Jupiter, Saturn, Rahu and Ketu. Rahu & Ketu are shadowy planets but its impact will be large in one's life. Anytime if more than one planets are afflicted in birth chart and provide bad results in life, Navagraha Shanti Puja or Navgrah Shanti Anushthan helps in one goal then to neutralize all the negative energy of malefic planets in one's horoscope.
Important Information About Navgrah Puja
Puja Name: Navgrah (9 Planets) Puja, Puja Purpose: Blessing Of 9 Planets, Duration of Puja: 10-12 Hours with 3 Pandits, Ideal days for worshipping: Auspicious Muhurta as required, Activities for Navgrah Puja: Poorvang Karma, Puja of Navgrah 9 Planets (as per auspicious Muhurta), Ashtottara Namavali Path, Navgrah Stotra path, 11000 (Eleven Thousand) Chanting of Navgrah Mantra (All Nine Planets), Homa (Havan) and Prayer of Navgrah (All nine Planets), Important: We will send Puja Images at your registered email, Assurance: PavitraJyotish assure you best puja according to shastra, Special For You: Special and powerful gift.
What we will do?
1. Once you have booked the Puja, you will receive a booking confirmation mail.
2. You will be informed by your registered email, when your puja will be organized and what to do on the day of the puja yourself.
3. After Confirmation, we will worship (Ritual) for you according to Muhurta.
4. After Puja completion, we will send your siddh Yantra (Free Gift) and Prasadam through courier or by post.
5. Open the parcel, read our instructions and wear the siddh Yantra or establish siddh yantra on your worship place.
Benefits Of Navgrah Puja
1. Best to neutralize the ill effects of multiple malefic planets in one goal.
2. It propitiates the malefic planets and strengthens the auspicious planets.
3. It is simple and powerful remedy to ensure success in every sphere of life.
4. Any associated Dosha with the malefic combinations of planets is eradicated.
5. Removes the challenges and hurdles in life.
6. Native becomes prosperous, healthy and wealthy.
7. Positive vibes are infused with the sacred hymns in life.
8. Native attains good education, knowledge and good career growth in his life.
9. It helps in improving your health and stay away from any prolong disease in life.
10. It helps one to win over enemies or opponents.
11. It ensures the success in legal matters.
12. During any unfavourable transit of planet, it protect from any adversity or misery in life.
13. Problems related to marriage, progeny, career, relations etc. can be sorted out.
Activities For Navgrah Puja
1. Purvang Karma (Ganesh Pujan, MatraPujan, Abhyudaya, Punyawachan, KalashSthapana, Rakshavidhan, Navgrah Puja).
2. Puja of Lord Navgrah (All Nine Planets) (as per auspicious muhurta).
3. Ashtottara Namavali Path, Navgrah (All Nine Planets) Chalisa path.
4. 12500 (Twelve Thousand Five Hundred) Chanting of Navgrah (All Nine Planets).
5. Homam (Havan).
6. Lord Navgrah (All Nine Planets) Prayer and Aarti.
Complimentary Gifts:
1. Special gift as per your problems.
Our specific puja service such as Chandra Puja, Mangal Puja, Budh Puja, Brihaspati Puja hold their relevance for solving a particular type of need in your life. Each of these services has its respective value in delivering positive outcomes like good fortune and peaceful living experience.
Info
Puja Schedule:: Within 7 days, According to Muhurta.
The scholars and pundits of Pavitra Jyotish have performed your puja, for amazing and miraculous relief from suffering and alleviate your problems.