Pearl (Moti) Gemstone 1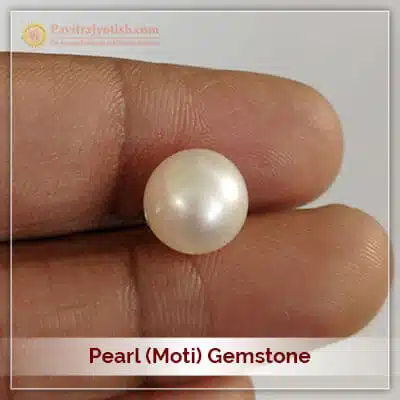 Bring Peace And Happiness With Pearl (Moti) Gemstone
Certified Pearl Natural Gemstone (Moti Ratna Stone)
Pearl (Moti) Gemstone is attached to planet Moon which reflects the human mind and thus it has an impact on one's thinking pattern. The user is bestowed with increased self- confidence and stability of mind. Also, relation with the mother is improved and the user gets benefits from the mother. Diseases related to a body fluid such as blood pressure are also controlled. You can Buy Original Pearl Gemstones Online or Lab Certified Moti Ratna Stone Online from the Religious Products store of PavitraJyotish.
Pearl is known commonly as "Moti". The position of Moon in a chart/Kundali plays a major role. Moon is linked with mind, emotions, feelings, mental health and decision-making ability. A person having weak Moon leads to instability, lack in taking the right decision in time. Instead of leading the folk, the person follows the leader. Effect of benefic planets on Moon can lead to prosperity. Effect of malefic over Moon can harm emotionally as well as mentally by disturbing peace of mind. In order to enhance gain through well-positioned Moon or to minimize negative aspect of ill-placed and weak Moon wearing a Pearl (Moti) Gemstone after energizing it surely helps your cause. More persons are to rally behind you to achieve the desired level of success on the work front and financial front on wearing energized Pearl (Moti) Gemstone.
Product Information For Pearl (Moti) Gemstone
Product Name: Pearl (Moti) Gemstone, Colour: White, Shape: Round, Weight: Approx. 6 Carat, Origin: Sea, Quality Effects: Energized by Scholar Pundits, Treatments Applied: Unheated and Untreated, Gemstone Type: Lab Certified, Certification: Authentic Lab Certified, Ideal For: Bracelets Or Necklace Or Ring, Usage/Application: Wearing method provided to you with Gemstone, Brand: PavitraJyotish, Packaging Type: box, Guarantee: Best Quality Gemstone With Assurance of PavitraJyotish.com.
How Does It Work?
1. Share your gemstone energization (puja) details, your wishes, complete address with postal pin code and phone number for dispatching authentic and 100% original Pearl (Moti) Gemstone.
2. Make the payment.
3. Once you have an order for the gemstone, you will receive an order confirmation email at your registered email id.
4. We will send an email for reconfirmation of your energization (puja) details, and your address through your registered email id.
5. After confirmation of your email, we will process your order and make the ring and energize the gemstone according to your best muhurta.
6. After that, we will send the gemstone by post or courier at your mentioned address. It will take 1-2 weeks to process your order for gemstone.
7. After dispatching the product, we will send tracking details of it by your registered email.
8. When you receive a gemstone please confirm through an email.
9. Open the parcel, read our instructions and wear the same.
Benefits Of Wearing Energized Pearl (Moti) Gemstone
1. This steadies mind.
2. Enhances right decision-making ability.
3. Maintains peace of mind.
4. Enhances creativity.
5. Enhances scope of prosperity.
6. Adds strength to your position on the financial front.
7. Helps in creating wealth.
8. Improves cordial relations with mother.
9. Makes life stable.
Weight: 6 Ratti (1 Carat = 200 mg)
We have developed a proprietary method to cleanse, energize and attune Gemstone and especially for you. It is based on our deep research and understanding of the Vedas and related astrological scriptures.
Diamond Gemstone, Zircon, Opal Gemstone, Blue Sapphire (Neelam) Gemstone and other astrological products contain the divine energy, thus being totally relevant for your needs and deliver result-oriented solutions. Buy these products for the solution when going gets tough.
Info
Delivery: 2 Week
Outside India an additional shipping and handling cost of USD 30