Personalised Report of Retrograde Saturn (From 5th June 2022 to 23rd October 2022)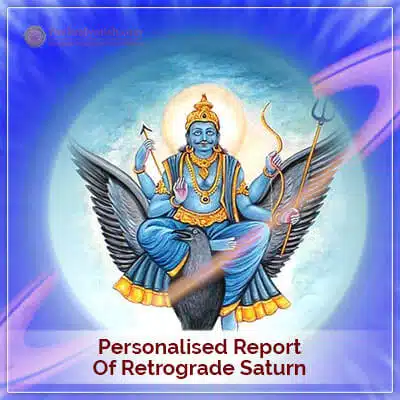 Planetary Solutions To Neutralise Impacts Of Retrograded Saturn
Personalised Report on Effects of Retrograde Saturn (Shani Dev) 5 June 2022
Get our Personalized Report Of Retrograde Saturn (Shani) prepared for you on the basis of thorough analysis of your birth chart with respect to Saturn retrograde motion (Starting from June 5, 2022, and becomes progressive on October 23, 2022) and let you know the impact of Saturn Retrograde motion on your different aspects of life along with suitable remedial measures if find malefic aspects and challenges coming your way.
Important Information About Personalised Report of Retrograde Saturn (Shani)
Service Name: Personalised Report of Retrograde Saturn (Shani), Service Type: Astrological Guidance and Solution, Language: English, Service Mode: Online (By e-mail only), Delivery: 5 Days, Features: Guaranteed solutions, Reliable services, Extensive results and best standard format of PavitraJyotish (YOUR REPORT WILL CONTAIN – Read it below), Benefits: It helps you setting short and long term goals with solution of your personal problems positively.
Why Personalised Transit Report of Retrograde Saturn or Shani?
Saturn Retrograde is a different phenomenon in the sky, which impacts an individual's life in a certain way. So Personalized Transit Report of Retrograde Saturn will help you to know the full impacts of planet Saturn during its retrograde motion on your various spheres of life, based on this, the suitable Remedies are also informed.
How Does It Work?
1. Share your birth details and ask your queries/problems.
2. Make the payment.
3. We will send an email for reconfirmation of your birth details through your registered email id.
4. After confirmation, within next 5 working days, we will provide detailed report as per our standard format and reply to your specific questions (Your Report Will Contain – Read it below).
5. You will receive your personalized report at your registered email id.
6. Read your report, and feel free to contact us via e-mail if you feel like having any doubt. We will respond you shortly by reverting your e-mail.
Protect yourself with Personalized Transit Report of Saturn Shani, Saturn Transit Report for your Career, Shani Transit Report for your Business, Saturn Transit Report for your Finance. You can book our premium astrological services for solutions to anything troublesome in your life.
Info
Delivery : 5 Days
Get your manually analysed and Hand-Written report by expert Astrologer.
What Personalised Report of Retrograde Saturn Will Contain?
1. Astrological Details of your Horoscope chart (i.e. Complete basic information, Ascendant, Rashi, Nakshatra, Placement of Planets, Dasha & Antardasha).
2. Response to your question.
3. Impact of retrograde Saturn on you at a different Level (From 5th June 2022 to 23rd October 2022).
• General Impact.
• Career.
• Finance.
• Health.
• Personal Life.
4. Lucky measures to benefit you (Lucky number, days, metal, time, direction and gemstone).
5. Mantra and Puja Remedies.
6. Lucky Yantra and Rudraksha.
7. Important tips to make situations easier for you.

Benefits Of Personalised Report of Retrograde Saturn
1. You are to get a clear picture about implications of retrograde Saturn, according to your horoscope.
2. Prepare yourself well enough to handle any negative aspect from retrograde Saturn.
3. Know about positive and negative aspects of retrograde Saturn.
4. Our suggestions for Remedies are to work well in reducing the malefic effect of Retrograde Saturn and in turn help you to perform efficiently.
5. Special Tips from Pavitra Jyotish is help in formulating a current and long-term strategy to move ahead on road to progress.

Hear From Our Customers
Pandit Umeshji has been a great support to us. His advice was quite helpful. He is a man of high integrity. He was very patient and kind enough to be available whenever his advise was required. His easy remedies gave positive results. Thanks & Regards.
Surbhi Luthra, Abu Dhabi
My zodiac is Virgo and I was told that I would be affected in the worst way due to effects of retrograded Saturn. Such type of Vakri graha was the reason for my petrification. Anyway, I thought of having my doubts clear before the malefic impacts of retrograded Saturn ruin my life. I consulted to Umesh Ji who is known to be one of the most famous astrologers in India. His listened to my queries patiently and advised me certain remedial measures to be followed. Well, not all the suggested remedial measures worked for me, but one thing is for sure – I did experience great results in my life.
Anirudha Negi, Haridwar, Uttrakhand