Pisces Weekly Horoscope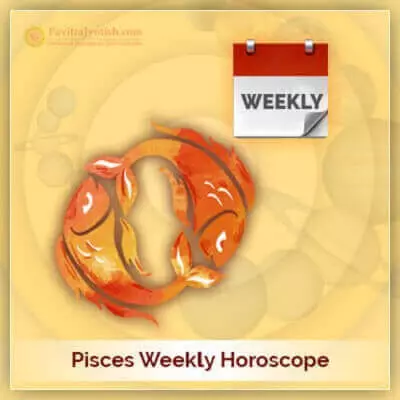 Get Your Thoughtful Weekly Astrology – Weekly Horoscope
Know about Pisces Weekly Horoscope Astrology (Born Between February 19 – March 20)
Do you have priorities to manage on a week basis? If you are Pisces-born, get to know your Weekly Astrology with our Pisces Weekly Horoscope service. In our Pisces Accurate Weekly Astrology Predictions, status of your weekly Planetary Transits, their effects on your kundali and real impacts in different facets of your life are discussed. This will help you to handle your weekly activities. Read Pisces Weekly Horoscope predictions.
Pisces Weekly Astrology Prediction for 25 September 2023 to 1 October 2023
25 September 2023 to 1 October 2023: From the first phase of the week, the efforts for gaining a job in the government or private organization would give the desired results. For the Pisceans, there is a pilgrimage on the cards. You will get the privilege of gaining experience from a senior person. During the middle of this week, you will be inclined to achieve a lot in your job and business. You will enjoy higher energy levels and a stronger health. You would bring a higher degree of joy and satisfaction for your parents. You will be interested to get involved in religious works and pilgrimages. During the final phase of the week, your financial position will be better. You will be busy in gathering some useful items for a comfortable life. You will get a chance to be friends with a noble person. If you are desiring to enhance your technical skills, this weekend will be a very favorable period for you. There might be problems with respect to residence or vehicles. Feeling worn-out because of poor career you are stuck with? Overcome your worry and get remedial solution to your career issue today.