Printed Horoscope For New Born Baby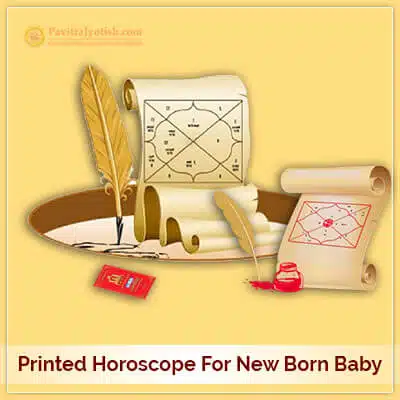 Get Affordable Horoscope Making, Prompt Service
Get the Printed Horoscope For New Born Baby (Above 50 Pages) prepared by our expert astrologer. Horoscope or Kundali lets you know about planetary positions and dasha patterns at the time of birth of your child enabling you to know the future predictions for your kid astrologically with suitable remedies to remove any obstacles coming in the way.
Why Printed Horoscope Making, Janampatri?
If you need of detailed Printed Horoscope For New Born Baby, then Printed Horoscope Making Janampatri is good to prepare the birth chart for your baby, which will always be there with you when you need any solution for your baby if he gets stuck in any hurdles in future.
Choose our services including Cesarean Birth Day and Time Report, Ask 1 Question, Ask 2 Question, Ask 3 Question, Ask 4 Question and others meant to solve your life's personal issues efficiently. Result-oriented solutions are offered based on your question and the subsequent answer given by our expert astrologer.
Info
Delivery: 2 Days
PDF Horoscope for OUTSIDE INDIA
What Printed Horoscope For New Born Baby Report Will Contain?
1. Your Birth chart and position of planets therein at the time of Birth.
2. Divisional charts for different aspects of life.
3. Aspects of Planets on a house and planets if any positioned in that house.
4. Major and Minor Dasha periods in present and future.
5. Other complete astrological details.

Benefits Of Printed Horoscope For New Born Baby
1. You have enough time to plan your activities in coming times.
2. You know about highs and lows in your life.
3. There is enough time to prepare for facing adverse time.
4. How to do things for achieving higher growth in your pursuit.
5. Plan things well and also your finances for future needs.
6. Now you can visit expert and experienced Astrologer to guide you and plan things to push ahead your prospects.

Hear From Our Customers
I met astrologer Umesh Ji and to tell the truth, I was spellbound by his magnetic energy. I had a horoscope reading and got inspired by his prudent analysis of my life's trajectory. I found him gifted, down to earth, professional, and very savvy for his acute understanding of my circumstances so better.
Raman Taneja, Delhi
Before subscribing to the year-wise astro service of PavitraJyotish, I asked 2 questions to astrologer Mr. Umesh Pant. The questions were very personal and reflected my agony. To my utter satisfaction and it was sort of unexpected as well, I was pleased to listen to his astro advice full of meaningful words and suggestions. None of my questions asked during the consultation was returned with an irrelevant answer. In fact, Umesh Ji patiently answered to them with remedial suggestions for my help.
Manoj Khanna, Delhi