Rahu-Ketu Transit Report for your Finance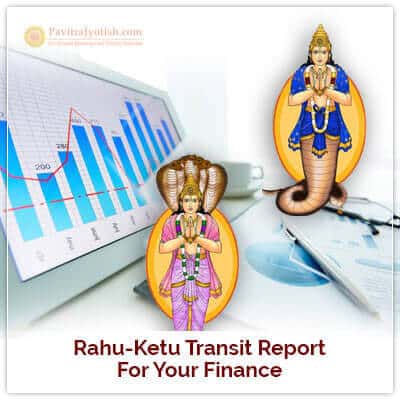 Rahu Ketu planets bear no physical visibility as they are positioned in the space close to an ecliptic place. Hence, they are called malefic, as they bring forth financial happiness and misery depending on their cyclic transit in your Kundli. While Rahu correlates its existence with Saturn, the Ketu is related to Mars. In transits, both the planets take nearly 18 months to traverse through one zodiac sign.
Rahu Ketu transit report for your finance is a detailed guidance of astrological details of your Kundli, astro-analysis of your situation, and the possible influence of your planetary transit and its relative financial impacts in your life. Based on our report, you will be able to plan out your financial activities accordingly. We prepare comprehensive transit report.
Info
Delivery: 7 Days
Get your manually analysed and Hand-Written report by expert Astrologer.
Customer Care
If you have any confusion or need further clarification please contact our customer care.
Call +91-95821 92381 and 011-49901368
Your Report Will Contain:
1. Astrological Details of your Horoscope chart
2. Astrological analysis of your situation
3. Response to your question
4. How to make use of this report
5. Lucky measures to benefit to you (Lucky number, days, metal, time, direction and gemstone)
Impact on your Finance life
6. How much favorable or unfavorable is transit of Rahu in Gemini and Ketu in Sagittarius.
7. Whether this is to help in pushing ahead your prospects on Financial front.
Special observations
8. Some notable developments are mentioned.
9. Mantra and Puja Remedies
10. Accurate remedial measures for your problems (Lucky Yantra and Rudraksha)
11. Important tips to make situations easier for you

Benefits of this report:
1. You get enough time to plan your activities in advance well enough.
2. The report lets you know when to press throttle to accelerate pace of progress on financial front.
3. The report also lets you know when to hold fire and maintain status quo.
4. You know in advance whether it is time pour more money to increase inflow of money for you or to take loan.
5. You also know whether it is good time to look for new avenue to push ahead your prospects on financial front.

Testimonials:
Umesh Ji is one of those rare professional who knows his subject and is a true guide. He has been helping me for quite some time now. His simple and effective advices have helped me to cope up in times of difficulties and are showing results. He has been a friend , guide and mentor for me and I wish him all success in his future services for mankind.
Debraj Chaki, Kolkata (West Bengal)
Though the financial condition was in mess the last year but I was not sure it was due to malefic planets like Rahu and Ketu in my Kundali. It was revealed to me by astrologer Umesh Ji, suggesting certain gemstone and rituals to be followed in order to lessen the impacts of the planets. His report for my finance contains all the details helpful and very practical.
Mukesh Kumar Nandagiri, Andhra Pradesh