Rahu-Ketu Transit Report for your Marriage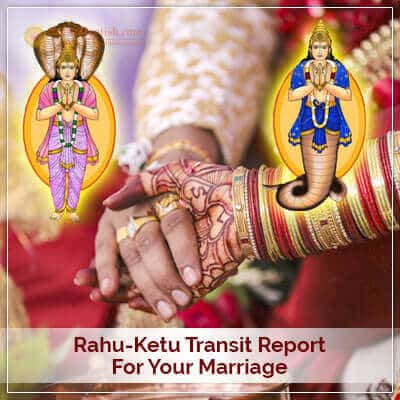 Rahu-Ketu delivers counterproductive results in your marital life, considering they are viewed as malefic planets in astrological narratives. Though they follow retrograde move, it, however, doesn't mean to say that they follow an orbital trajectory in the backward course, as it is technically impossible for planets moving in the solar orbits around the sun.
Generally, planets are on the cusp of retrograde at the movement you are born, which warrants an immediate consultation with a known astrologer to have an accurate birth chart prepared. It helps you know the exact starting phase of planetary retrograde.
At PavitraJyotish, our astrologer, Pt. Umesh Pant, is a known Vedic astrologer, who prepares correct Rahu-Ketu transit report for your marriage. The report will include astrological analysis and impact of the planetary position of Rahu in Gemini and Ketu in Sagittarius with their possible results in your marriage, apart from offering relevant tips in accordance with your astrological problems in the marriage. Get to know Rahu Ketu effects in your marriage as per your chart.
Info
Delivery : 5 Days
Get your manually analysed and Hand-Written report by expert Astrologer.
Customer Care
If you have any confusion or need further clarification please contact our customer care.
Call +91-95821 92381 and 011-49901368
Your Report Will Contain:
1. Astrological Details of your Horoscope chart
2. Astrological analysis of your situation
3. Response to your question
4. How to make use of this report
5. Lucky measures to benefit to you (Lucky number, days, metal, time, direction and gemstone)
Impact on your Marriage life
6. How much favorable or unfavorable is transit of Rahu in Gemini and Ketu in Sagittarius.
7. Whether this is to help in pushing ahead your prospects on getting happily married.
Special observations
8. Some notable developments are mentioned.
9. Mantra and Puja Remedies
10. Accurate remedial measures for your problems (Lucky Yantra and Rudraksha)
11. Important tips to make situations easier for you

Benefits of this report:
1. The report also lets you know right time to look for your soul mate.
2. You get enough time to know about person you intend to get marry.
3. The report lets you know to fix time to get happily married.

Testimonials:
I subscribed to Rahu-Ketu transit report for my marriage from astrologer Umesh Chandra Ji. I knew that presence of either malefic planet in my Kundali would jeopardize my marriage life in a certain way. Suggestions offered by the astrologer were helpful. It's been two years of my marriage and except minor incidents, no major things happened in my marital life. Shouldn't I thank astrologer for his apt solution? Of course, I should. Thank you, Pandit Ji, for your timely help.
Kuldeep Thakar, Gujarat.
It was a nice experience for me , he gives right advises to our problems , his knowledge has helped me anyways.
Arunima Negi, Dwarka, Delhi