Rahu-Ketu Transit Report for your Business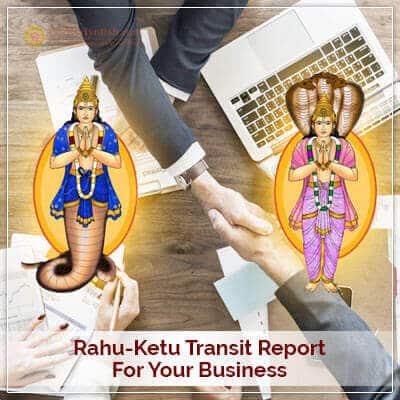 The malefic Rahu and Ketu are subject to methodical analysis based on your horoscope chart in order to figure out if your business is fated to earn risks or profit according to the cyclic transit of both the planets in your Kundli. Business as such follows uphill task and is consequently on the line of ups and downs.
In our astro-narrative, we view favourable or unfavourable occurrences in your business as a result derived from the transit of your Rahu and Ketu. As a matter of fact, Rahu Ketu effects in your business as per your chart is our astrological study made out of the meticulous analysis of your situation and relative impact of your business life in accordance with the transit of Rahu in Gemini and Ketu in Sagittarius.
Info
Delivery : 5 Days
Get your manually analysed and Hand-Written report by expert Astrologer.
Customer Care
If you have any confusion or need further clarification please contact our customer care.
Call +91-95821 92381 and 011-49901368
Your Report Will Contain:
1. Astrological Details of your Horoscope chart
2. Astrological analysis of your situation
3. Response to your question
4. How to make use of this report
5. Lucky measures to benefit to you (Lucky number, days, metal, time, direction and gemstone)
Impact on your business life
6. How much favorable or unfavorable is transit of Rahu in Gemini and Ketu in Sagittarius.
7. Whether this is to help in pushing ahead your prospects on business front.
Special observations
8. Some notable developments are mentioned.
9. Mantra and Puja Remedies
10. Accurate remedial measures for your problems (Lucky Yantra and Rudraksha)
11. Important tips to make situations easier for you

Benefits of this report:
You get enough time to plan your activities in advance well enough.
The report lets you know when to press throttle to accelerate pace of progress.
The report also lets you know when to hold fire and maintain status quo.
You know in advance whether it is time for expansion.
You also know whether it is good time to launch a new product.

Testimonials:
Astrologer Umesh is a genuine person who has the complete knowledge of jyotish in entire Delhi.
Peeyush, Ajmer
I met astrologer Umesh Ji long time back and was impressed with his astro-analytical skill. He is keen observant to the clients and their grievances. He listens to your problems attentively. What I found in him remarkable was his way of addressing your issues. He calmly attends everyone. When I approach to him for my questions, he offered me great solution. I had my Rahu Ketu transit report prepared by him for my business as I was having certain issues with it. I can't say his solutions immediately made me successful in my business, but most of what's been suggested still hold water in most of the circumstances with me.
Pradeep Sahu, Haryana