Remedial Solution for Education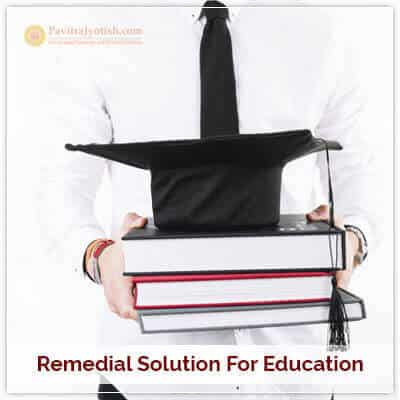 For almost everyone, choosing a right education that is helpful, career-centric, and fruitful for their pursuit of success in life is often a consideration too difficult to take. What is the right course to follow? What is my right education path? Can I have proper education solutions for my future? Questions like this lead to confusion for the unsettled mind.
Vedic Astrology has the power to edify you with decision-making skill enabling you can make a right decision and choose a right course that would be growth-defining for your career. At PavitraJyotish, have astrological Education Remedies provided in our comprehensive horoscope that can guide you in the matter of Remedial Solution for Education issues for your future.
In these days of multiple choices for getting educated are available. In a way, one can get confused about selecting particular subject line. Here Vedic Astrology can help you to arrive at a correct decision about selecting a subject line. Then there may be times when you may not be able to stay well focused and in turn not make due progress. PavitraJyotish guides you in detail about all aspects of your Education Horoscope. Along with this due remedial measure is also mentioned to help you to make progress and get well educated.
Chief Astrologer has a vast practical experience about using Vedic Astrology provisions to guide on all aspects of life. He prepares this personalized report in detail to guide you about selecting subject line and also remedial measure to make satisfactory progress. The remedy is about wearing an energized Gemstone, Rudraksha and Yantra. Post your query in this section of our website and we will provide you with detailed guidance about education and useful remedy to make your task easier.
Info
Delivery : 5 Days
Get your manually analysed and Hand-Written report by expert Astrologer.
Customer Care
If you have any confusion or need further clarification please contact our customer care.
Call +91-95821 92381 and 011-49901368
Your Report Will Contain:
1. Astrological Details of your Horoscope chart
2. Astrological analysis of your situation
3. Response to your question
4. How to make use of this report
5. Lucky measures to benefit to you (Lucky number, days, metal, time, direction and gemstone)
6. Impact of the Ascendant
7. Impact of the Moon Sign
8. Planetary Picture regarding your Education
9. Possible areas for your excellence
10. Mantra and Puja Remedies
11. Accurate remedial measures for your problems (Lucky Yantra and Rudraksha)
12. Important tips to make situations easier for you

Benefits of this report:
1. You can plan your future and take up your further education without much confusion
2. On being aware of the your positive and negative traits, you can easily put your best foot forward and avoid the negatives.
3. Your immediate problem will be addressed and thus your line of further education will be clear to you to make your mind easily.

Testimonials:
If I tell you how remedial solution for education provided by Pandit Ji in response to my questions worked for my life, perhaps it would be pretty hard to believe. As a matter of fact, I am so very thankful to the wisdom and experiential insights of Pandit Ji. He told me impact of the ascendant with suggested remedy that worked wonderfully in helping me find best education path for my life. Just one word for him – exceptional.
Akhil Yadav , Hisar, Haryana
Pandit Umeshji has been a great support to us. His advice was quite helpful. He is a man of high integrity. He was very patient and kind enough to be available whenever his advise was required. His easy remedies gave positive results. Thanks & Regards.
Surbhi Luthra, Abu Dhabi