Remedial Solutions for Personal Issues (10% Off)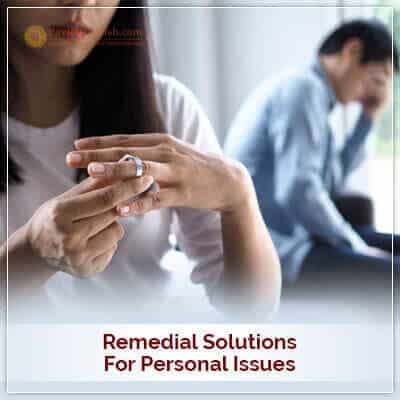 The stars and planets have their astrological significance by which they influence personal lives of people. They govern your happiness and misery at the same time. It is, therefore, this reason that astrological consultation becomes a necessity in order to gain insightful guidance and remedial solution for personal issues.
Personal Horoscope which is based on interpreting your kundali and its astrological relation is studied and analyzed by our astrologer. Based on his interpretative analysis of your astrological transits, dashas and their relative effects on your life, he offers personal solutions consisting of gemstones and other suitable remedial suggestions. Best analysis and effective solution have been his motto by which he serves clients.
Info
Delivery : 5 Days
Get your manually analysed and Hand-Written report by expert Astrologer.
Customer Care
If you have any confusion or need further clarification please contact our customer care.
Call +91-95821 92381 and 011-49901368
Your Report Will Contain:
1. Astrological Details of your Horoscope chart
2. Astrological analysis of your situation
3. Response to your question
4. How to make use of this report
5. Lucky measures to benefit to you (Lucky number, days, metal, time, direction and gemstone)
6. Report of the upcoming year in matters of Personal life
7. Mantra and Puja Remedies
8. Accurate remedial measures for your problems (Lucky Yantra and Rudraksha)
9. Important tips to make situations easier for you

Benefits of this report:
1. You can take smarter, calculated decisions, with a clear view of the upcoming situation.
2. The solutions to your confusions and problems will be resolved and thus empower you to face the odds with adequate protection
3. Stress due to ignorance will be reduced
4. You will be confident to take wise decisions since the problems will be handled with ease. This will help in clear thinking and happier planning ahead.

Testimonials:
My experience has been very rewarding and all the solutions given by Pandit Umesh ji have shown very positive results. They have instilled hope and positivity in me and are able to handle my life better. He is able to show a direction and is a beacon and panacea for all problems that we face in life.
Malvieka Joshi, Gurgaon NCR
Astrologer Umesh is a genuine person who has the complete knowledge of Jyotish in entire Delhi.
Arjun Manik, Gujarat