Sade Sati Report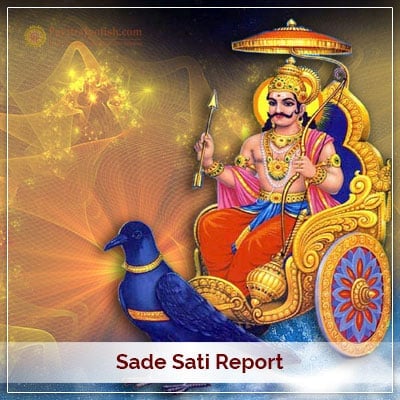 Sade Sati is the period of seven and half years measured as a harbinger of ominous results in your life. Entry of Saturn transit into your zodiac sign marks the dawn of sade sati which further emits the effects of Shani Sade sati in your life. The age-old concepts obfuscate if Shani sade sati in your birth chart bears good or bad implications for your life. This is where you need to have a full-fledged sade sati report to disabuse yourself of this quandary.
At PavitraJyotish, you will be offered sade sati report including the detail of Shani gochar and its undesirable effects on your life, based on horoscope report. You will know the exact period of sade sati, its impact on your chart including areas of concern, and remedial solutions to ease out your situation.
Info
Delivery : 5 Days
Get your manually analysed and Hand-Written report by expert Astrologer.
Customer Care
If you have any confusion or need further clarification please contact our customer care.
Call +91-95821 92381 and 011-49901368
Your Report Will Contain:
1. Astrological Details of your Horoscope chart
2. Astrological analysis of your situation
3. Response to your question
4. How to make use of this report
5. Lucky measures to benefit to you (Lucky number, days, metal, time, direction and gemstone)
6. Impact of Your ascendant
7. Impact of the Moon sign
8. Period of sade saati
9. Detailed information of Impact of sade sati in your chart and concern
10. Mantra and Puja Remedies
11. Accurate remedial measures for your problems (Lucky Yantra and Rudraksha)
12. Important tips to make situations easier for you

Benefits of this report:
1. You can take smarter, calculated decisions, with a clear view of the upcoming situation.
2. The solutions to your confusions and problems will be resolved and thus empower you to face the odds with adequate protection
3. Stress due to ignorance will be reduced
4. You will be confident to take wise decisions since the problems will be handled with ease. This will help in clear thinking and happier planning ahead.

Testimonials:
Panditji Namaskar, I am Dr Alok Jain. I met you and followed your advices. I was facing certain difficulties in life But with your blessings and remedies got cure and benefits, thank you will keep in touch with you.
Dr Alok Jain, Delhi
The implication of Sade Sati related to astrology and its results in someone's life was beyond my ability to understand until I consulted PavitraJyotish. Astrologer Umesh Pant Ji read my horoscope and let me know the detail of shani gochar and its effects in my life. However, at the same time, he assured me of concrete solutions for the same. He offered me certain gemstone related to it. Later, I had my Sade Sati report prepared by him which included many helpful details, including remedial measures to deal with my problem easily.
Abhijeet Talegaonkar, Madhya Pradesh