Sagittarius Monthly Horoscope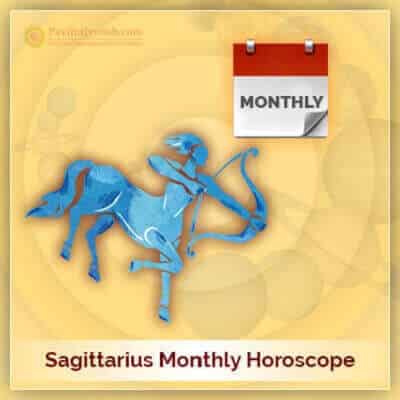 Get Your Monthly Activities Predicted – Sagittarius Horoscope
December 2022 Sagittarius Monthly Horoscope Predictions
Sagittarius Monthly Horoscope reveals free monthly astrological prediction about multilayered situations in your life so that an effective solution can help you win over difficulty and manage your priority well. Get your Free Sagittarius Monthly Astrology prediction from our expert Astrologer in South Delhi.
Career and Business:
Divide the month in 2 clear parts. Be ready to work unabated, even in face of small hurdles and troubles, as the month begins. Don't get deterred by what people say. Listen to your employees as well as customers, if you are a business-man. Later in the month, starry support comes your way in tones, helping you accomplish a lot. You will be able to establish your reputation, and may also receive a major deal, praises and rewards. Worry about your career? Not being able to make a right career choice. Avail our career report and demystify the success and unanswered mystery of your career's growth.
Love and Relationship:
You will benefit from your family support. Married ones must maintain good relations with their in-laws, as this will not only be relaxing, but shall also bring you gains. The initial weeks may not be very good for love matters, but the situation will improve from third week onwards. Around 25th and 26th, you will get to enjoy some close, cosy moments with your beloved. An intimate outing or a loving shopping trip is also likely. What causes a delay in your marriage? Choose love and marriage prospects and knows about your relationship prospect better.

Finances:
Barring a few roadblocks, this month looks set to enhance your financial standing. You will get opportunities and fortunate chances. Enhancing your income will be possible now. Investments, from a larger view, will be gainful. Things will be brightest in the monetary domain from the third week onwards. You will end the month on a financial high. Worried about financial conditions? Is there no solution in sight? Well, choose our financial report and get appropriately phrased answered to your financial conundrums in life. Quality solution promised.
Education and Knowledge:
You will be able to progress in fields like creative and performing arts, management, technology, teaching, literature and training. You will benefit from personal skills and talents. However, gaining knowledge and working to get better grades for exams will require a plenty of hard work. You will not be able to evade true, consistent hard work now. Second half of the month will be more useful in this regard. At this time, you will get opportunities to gain in terms of wisdom and knowledge. Get your education report and be the master of how your education takes it course to the success of your dream.
Health:
Your health graph indicates a mixed, down-up-down scenario, this month. You may not be feeling too great, as the month begins. Ones suffering from chronic or troublesome illnesses may find this period tough. Things will, thankfully, start to move uphill after 17th or so. If you try, you will be able to revive your health entirely. Transiting planets will help you in this regard. Does health concern get the best on your decision these days? Want to get the best astro solution about your health? Ask for health report, a complete guide to your sound well-being life.
Remedial Measures:
You may worship Lord Vishnu and Lord Ganesha to appease the planets. Offering help, donations and service to poor, under privileged and Brahmins will bring good results. You may also get done a Vedic worship to offer reverence to Lord Sun and Goddess Durga. Be loving and caring towards animals like cows etc. You may also plan a religious journey or pilgrimage.