Siddh Sampoorn Vyapar Vriddhi Indrani Yantra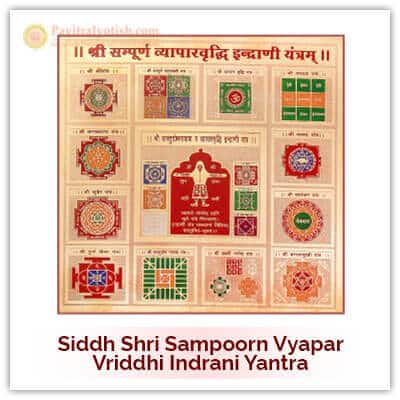 Product Information For Siddh Sampoorn Vyaapaar Vridhi Yantra
Product Name: Powerful Siddh Sampoorn Vyapar Vriddhi Indrani Yantra, Metal: Brass, Colour: Golden, Size: 8X8 inch, Yantra: Religious, Quality Effects: Energize by Scholar Pundits, Effect: 100% Authentic, Finish: Gold Plated, Usage/Application: Puja method provided to you with yantra, Brand: PavitraJyotish, Packaging Type: Single Piece, Guarantee: Best Quality Yantra With Assurance of PavitraJyotish.com.
How Does It Work?
1. Share your Powerful Yantra energization (puja) details, your wishes, complete address with postal pin code and phone no for dispatch of authentic and 100% original Powerful Siddh Sampoorn Vyapar Vriddhi Indrani Yantra.
2. Make the payment.
3. Once you have an order for the Siddh Powerful Yantra, you will receive an order confirmation email in your registered email id.
4. We will send an email for reconfirmation of your energization (puja) details, and your address through your registered email id.
5. After confirmation of your email, we will process your order and energize the Powerful Yantra according to your best muhurta.
6. After that, we will send the Powerful Yantra through courier or by post to your mentioned address. We need 1-2 weeks for the complete process of your order for Powerful Yantra.
7. After dispatch the product, we will be sent tracking details of it by your registered email.
8. When you receive a Powerful Yantra please confirm through an email.
9. Open the parcel and read our instructions and establish the same in your worship (puja) room.
Siddh Sampoorn Vyapar Vriddhi Indrani Yantra and Its Benefits
To bring forth success and wealth in your business, use Siddh Sampoorn Vyapar Vridhi Indrani yantra. This is powerful and energized yantra. The Siddh Sampoorn Vyapar Vridhi Indrani Yantra Benefits, Puja, Mantras you with long term success in your commercial venture. Cash flow and positive energy force in your life also come with this Powerful Yantra.
Sampoorn Vyapar Vriddhi Indrani Yantra is measured as a most powerful Yantra for the growth of the business. This Yantra works well to increase the inflow of money for a business person, trader. This Yantra needs to be placed in office, shop, showroom, factory or any other place of work. The Yantra radiates positive vibes leading to the higher growth of the business by way of increase in cash flow. This Yantra removes all kind of negative energy from the premises and paves way for progressive forces to work effectively. PavitraJyotish caters to a purified and energized Sampoorn Vyapar Vriddhi Indrani Yantra to help your cause.
How the Yantra is prepared
The Yantra is usually carved on either copper or brass plate. It is gold plated if necessary. We have developed a proprietary method to cleanse the Yantra of negative vibes and then energized, attuned especially for you. Our method is based on our deep research and understanding of Vedas and related astrological scriptures.
Benefits derived from the worship of purified and energized Sampoorn Vyapar Vriddhi Indrani Yantra
Obstacles coming in way of higher growth in business are removed.
It works well for an increase in cash flow.
All kind of negative energy in the premises is expelled.
Progressive forces start working effectively.
Peace and prosperity dwells
Free Gift:  Siddh Karya Siddhi Locket
Info
Delivery: 2 Week
Outside India an additional shipping and handling cost of USD 30
Customer Care
If you have any query or need further clarification
Call +91-95821 92381 and +91-96677 10281