Saturn Transit Report for your Marriage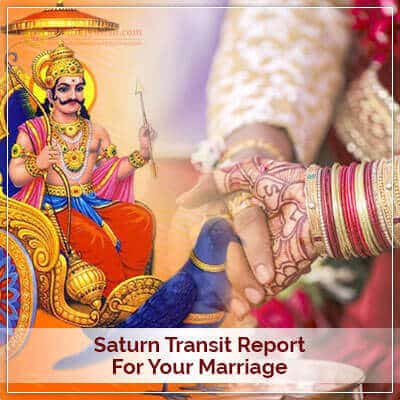 The planet Saturn holds key to unlocking the future of your marriage if its position is favourably in the right cyclic transit. In marriage, it matters a lot if prospective groom-bride stands compatible with each other. Study of Saturn's transit in your horoscope chart can reveal the truthful detail of whether your marriage will be delayed or happen at right time in your life. For example, delayed marriage mostly happens with people whose Saturn holds a position in either 1st, 4th, 8theighth or in the 12th House.
Saturn transit report for your marriage is a report prepared by an astrologer, Pt. Umesh Chandra Pant, at PavitraJyotish. Detailed analysis of Saturn planet effects in your marriage as per your chart is carried out in order to understand if the cyclic transit of your Saturn is going to be helpful or not.
Our Customised Marriage Report will include the details of your Kundli, analysis of your situation, the transit of Saturn in Sagittarius, expected time for getting married and special observations including a remedial measure for your problems and best tips to ease out them.
Info
Delivery : 5 Days
Get your manually analysed and Hand-Written report by expert Astrologer.
Customer Care
If you have any confusion or need further clarification please contact our customer care.
Call +91-95821 92381 and 011-49901368
Your Report Will Contain:
1. Astrological Details of your Horoscope chart
2. Astrological analysis of your situation
3. Response to your question
4. How to make use of this report
5. Lucky measures to benefit to you (Lucky number, days, metal, time, direction and gemstone)
Impact on your Marriage life
6. How much favorable or unfavorable is transit of Saturn in Sagittarius.
7. Whether this is to help in pushing ahead your prospects getting married.
Special observations
8. Some notable developments are mentioned.
9. Mantra and Puja Remedies
10. Accurate remedial measures for your problems (Lucky Yantra and Rudraksha)
11. Important tips to make situations easier for you

Benefits of this report:
1. You get enough time to know about person you intend to have love relationship.
2. The report lets you know when to propose to concerned person for having love relationship.
3. The report also lets you know right time to look for your soul mate.
4. You know in advance to know whether it is time for taking relationship to next stage.

Testimonials:
Thanks a lot Umesh Ji for your prompt report on my marriage. It contains pretty accurate and comprehensive details in relation with my situation that I was facing. My question is – can you predict what causes downfall in my career over the last few months? So far I have consulted to various astrologers but, none of them has pacified me with correct answer. Thanks again for your commendable report on my marriage. It's fantastic.
Savita Deshmukh, Karnataka,.
It was a nice experience for me , he gives right advises to our problems , his knowledge has helped me anyways.
Arunima Negi, Dwarka, Delhi