Siddh Sphatik Mala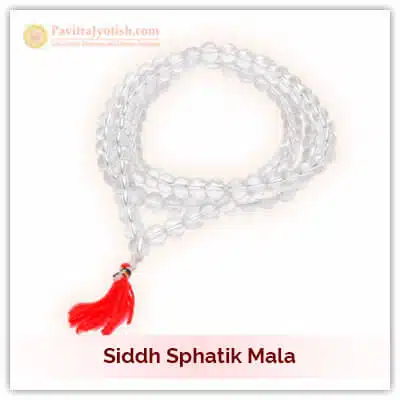 Bring In Your Life Fortunes With Siddh Sphatik Mala/Sfatik Mala
Siddh Sphatik Mala helps you attain higher growth in your job, career or business. Moreover, Siddh Sphatik Mala can bestow happiness and harmonious living for you. Spiritual refinement happens to the wearer of this rosary. Buy Sfatik (Sphatik) Mala Online and Sphatik Rosary Beads Online is very affordable at PavitraJyotish.
Sphatik is considered to repel negative vibes around you. Positive energy surrounds you. Remaining mentally agile and physically active will become possible by having a Siddh Sphatik Mala. Making desired level of progress in your pursuit becomes a reality. You are able to accelerate pace of progress. This leads to financial abundance for you. You are to feel confident and develop clear thinking and have positive approach all the while. Financial abundance lets you own a place of choice to reside peacefully. You can go to buy luxuries you always wished to possess. You are to get latest amenities fitted in your residence. You are able to make progress in spirituality.
We have developed a proprietary method to cleanse the Siddh Sphatik Mala of negative energy and energize and activate the Mala to render positive results for you. Siddh Sphatik Mala is based on our deep research and understanding of the Vedas and related astrological scriptures.
Product Information For Siddh Sphatik Mala | Siddh Sfatik Mala
Product Name: Siddh Sphatik Mala, Colour: White, No. Of Bead: 109, Usage: Chanting or Astrological Remedies, Guarantee: 100% Authentic, Quality Effects: Energized by Scholar Pundits, Purity: 100%, Usual: Best For Chanting Or Astrological Remedies, Finishing Type: Best, Usage/Application: Wearing method provided to you with Rosary Mala, Brand: PavitraJyotish, Packaging Type: Box, Guarantee: Best Quality Rosary Mala With Assurance of PavitraJyotish.com.
How Does It Work?
1. Share your Rosary (Mala) energization (puja) details, your wishes, complete address with postal pin code and phone no for dispatching authentic and 100% original Siddh Sphatik Mala.
2. Make the payment.
3. Once you have an order for the siddh Rosary (Mala), you will receive an order confirmation email at your registered email id.
4. We will send an email for reconfirmation of your energization (puja) details, and your address through your registered email id.
5. After confirmation of your email, we will process your order of siddh Rosary (Mala) according to your best muhurta.
6. After that, we will send the siddh Rosary (Mala) through courier or by post to your mentioned address. We need 1-2 weeks for the complete process of your order for Rosary.
7. After dispatching the product, we will send tracking details of it at your registered email.
8. When you receive a siddh Rosary (Mala) please confirm through an email.
9. Open the parcel, read our instructions and wear the same or use for chanting.
Benefits Of Having Purified And Activated Siddh Sphatik Mala
1. Having this purified and activated Siddh Sfatik Mala works well to clear thinking and have a positive approach all the times.
2. Higher growth in your pursuit becomes possible now.
3. This leads to having more money for you and in turn, you become strong financially.
4. On being in a strong financial position, you are able to own a place to reside peacefully.
5. You are able to buy luxuries and have latest gadgets in your residence.
6. You are to have peace of mind and happiness.
7. You are able to make desired level of progress in spirituality.
Our products Siddh Parad Mala, Siddh Rudraksha Mala are known for containing divine energy thus helping you find a real meaning in life, turning your melancholy into fortune, and pushing your luck toward success you always desired.
Info
Delivery: 2 Week
Outside India an additional shipping and handling cost of USD 30