Shat Chandi Path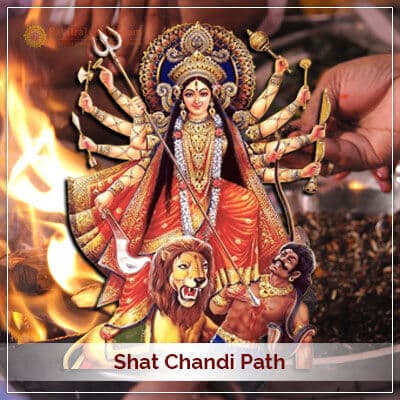 Shat Chandi Path To Benefit Yourself With Glee And Wealth
Shat Chandi Path is dedicated to Maa Chandi, one of the divine form of Maa Durga. Maa Chandi is believed to the te preserver of mankind. Shat Chandi path is mainly performed during Navratri. It also signifies as the DurgaSaptashati path, elucidating the victory of Nav Chandi over the demon.  The Shat Chandi Path is a very powerful and unique ritual having Saptashati mantras. This Anushthan is an act to get blessings and merits from the Divine Mother. We perform this path with all rituals so that the devotees receive benefits like good health, success, protection, and fulfillment of all their desires. The devotees get the blessings of Divine Goddess Maha Kali, Goddess Saraswati, and Maha Laxmi. This Anushthan prevents misfortunes and frees the devotees from debts. The powerful vibrations are invoked and all the obstacles are removed.
Book our Puja and Anushthan Services on the path to the devotees at reasonable prices.
Why Shat Chandi Path performed?
Sath Chandi Path bestows one with the fearless attitude and creates the protection around, from any negative influences in life. Anyone struggling with the issues relted to huge debt, challenges in daily life, and conflicts within the home can perform this path to get the resolution from these issues in life and get the blessings of Maa Chandi (The form of Maa Durga).
Important Information Shat Chandi Path
Puja Name: Shat Chandi Path, Puja Purpose: Blessing Of Maa Durga, Duration of Puja:  10-12 Hours with 7 Days and 5 Pandits, Ideal days for worshipping:  According to auspicious Muhurta as required,   Activities for Shat Chandi Path: Poorvang Karma, Puja of Maa Durga (as per auspicious Muhurta), Ashtottara Namavali Path, Durga Stotra path, 100 Saptsati Path of Maa Durga, Homam (Havan) and Prayer, aarti of Maa Durga, Important: We will send Anushthan Images at your registered email, Assurance: PavitraJyotish assure you best Anushthan according to shastra, Special For You: Special and powerful gift.
What we will do?
1. Once you have booked the Puja, you will receive a booking confirmation mail.
2. You will be informed by your registered email, when your puja will be organized and what to do on the day of the puja yourself.
3. After Confirmation, we will worship (Ritual) for you according to Muhurta.
4. After Puja completion, we will send your siddh Yantra (Free Gift) and Prasadam through courier or by post.
5. Open the parcel, read our instructions and wear the siddh Yantra or establish siddh yantra on your worship place.
Benefits Of Shat Chandi path
1. Shat Chandi path reduces the ill Doshas of birth chart and native attains the benefic results.
2. One gets the blessings of Maa Chandi and protection against enemies and opponents is created.
3. The shat chandi yagya is for the completion of the calmness of life. It gives lots of glee and wealth.
4. Shat Chandi Path is tribute to divine mother goddess Durga; hence, the devotees get blessed with her kindness.
5. One gets victory over death and become long lived and attains Moksha or Salvation too in the current birth.
6. Native gets free from challenges, struggles or debts in life.
7. With the grace of divine mother, the wishes or desires gets fulfilled.
8. It protects one from sufferings and the one gets success, wealth and become affluent in his/her lifespan.
9. It makes on courageous by making fearless.
10. Perpetual happiness and prosperity dwell in your life through Shat Chandi Path.
11. Shat Chandi path empowers your life with positive energy that can neutralize ill effects in your life.
12. This path can earn you the blessing of important three forms of Maa Durga, like Maha Kali, Maha Saraswati, and Maha Laxmi..
13. It helps one to find the suitable life partner.
Activities For Shat Chandi Path
1. Poorvang Karma (Ganesh Pujan, MatraPujan, Abhyudaya, Punyawachan, KalashSthapana, Rakshavidhan, Navgrah Puja).
2. Puja of Maa Durga (as per auspicious Muhurta).
3. Ashtottara Namavali Path, Durga Stotra path.
4. 100 Saptsati Path of Maa Durga.
5. Homam (Havan).
6. Prayer and Aarti of Maa Durga.
Complimentary Gifts:
Special gift as per your problems.
Our premium puja offers include Pancha Maha Parva 5 Days Diwali Lakshmi Puja, Navgrah Shanti Anushthan, Nav Avriti Path, Mahamrutinjay Anushthan and many others. Book them and solve your life's any problem you might have on the front of health, career, education or anything else.
Info
Puja Schedule:: Within 7 days, According to Muhurta.
The scholars and pundits of Pavitra Jyotish have performed your puja, for amazing and miraculous relief from suffering and alleviate your problems.