Strength Reading for Business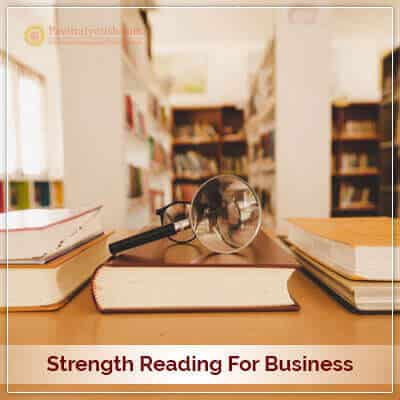 To make progressive headway in business is not a cakewalk for everyone, bearing in mind the competitive scenario of the marketplace one has to put up with. Under such pressing circumstances, it is up to you to walk in and face the challenge like a warrior or walk out and give up. The odds will surely take a litmus test of your willpower and cause to overshadow it with a sense of disparity. This is where you need to introspect and know your true business potential. Astrological Business Horoscope is therefore completely meant for people like you.
Such horoscope is a composite portfolio of guidance and practical suggestions, helping you with the right business opportunities, enabling you to understand what risks to avoid and new business opportunities to embrace. The suggested remedies in our astrological horoscope will help you get along with the stress faced in your business venture using an apt Business Growth analysis.  The horoscope is what conveys the Strength Reading for Business.
Success in business, delayed progress in business is well indicated by positions of planets in your birth chart. At the same transitory planets can have a significant effect on business. For some business is not suitable. Doing a job works well for some. Strength Reading for a Business report by PavitraJyotish answers all questions, concerns about doing business. We here access in detail your prospects of doing business, the possibility of the lean period or gainful period is mentioned to guide you. If planets do not seem supportive of doing business then we also let you know about this.
Under the able guidance of Chief Astrologer Pt. Umesh, Expert Astrologer prepares a comprehensive personalized report on Strength Reading for business for you. The useful and easily workable remedy is suggested for you. We let you know about Gemstone suitable for you. An optional remedy like Rudraksha and Yantra is also suggested. The report is to provide right direction to follow for having peace and prosperity in life. Post your query in this section of our website and we will do the needful for you.
Info
Delivery : 5 Days
Get your manually analysed and Hand-Written report by expert Astrologer.
Customer Care
If you have any confusion or need further clarification please contact our customer care.
Call +91-95821 92381 and 011-49901368
Your Report Will Contain:
1. Astrological Details of your Horoscope chart
2. Astrological analysis of your situation
3. Response to your question
4. How to make use of this report
5. Lucky measures to benefit to you (Lucky number, days, metal, time, direction and gemstone)
6. Special Tips which you should consider
7. Astrological Analysis of your Business aptitude
8. Mantra and Puja Remedies
9. Accurate remedial measures for your problems (Lucky Yantra and Rudraksha)
10. Important tips to make situations easier for you

Benefits of this report:
1. You will be able to chart your steps ahead once you know the possible areas of strength and work upon the areas of concern.
2. Having known the areas of strength, you can take the logical steps to empower your business with clear understanding.
3. Despite the apparent odds, you will note the implication and this will make you stronger and successful in your attempts.
4. Your fear, apprehension, worries and stress will be taken off.

Testimonials:
Panditji Namaskar, I am Dr Alok Jain. I met you and followed your advices. I was facing certain difficulties in life But with your blessings and remedies got cure and benefits, thank you will keep in touch with you.
Dr Alok Jain, Delhi
I am a businessman. I know losing confidence in business is serious knock-off for every businessperson. However, in certain moments, I felt if my strength was enough to handle the business pressure effectively. So I decided to consult Mr. Umesh Pant. Trust me his wisdom and deep knowledge in astrology was immense. It earned my trust on great proportion. I am happy to have consulted someone who knows strength reading for business with its proper solution. Always regards pandit ji
Rohan Arora, Punjab