Talk to An Astrologer – 60 minutes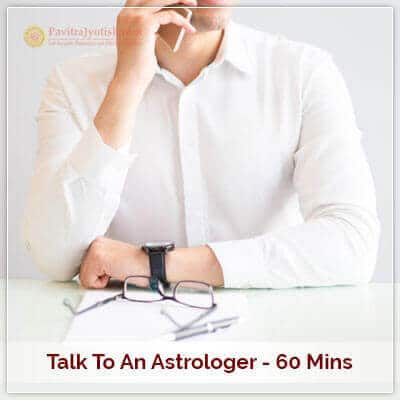 Phone Consultation For 60 Minutes
The pace of growth in technology has been a crucial factor by which online astrology has grown up to be a reliable solution provider for people facing different types of problems in their lives.In this regard, consulting astrologer is now the most convenient approach as you get seamless access to astrology solution online. Our chief astrologer, Pt. Umesh Chandra Pant, offers online astrology service that extends in the timeframe of 60 minutes.
You can also book an appointment for astrology consultation with our astrologer in person which also extends for one hour. The phone consultation with renowned astrologer will offer helpful remedial measures to satisfy your quandary for finding a right direction and solution pertaining to your life's problems. Your information is secured and private.
The Telephonic consultation slot is for an hour ( 60 minutes) only and you can discuss one horoscope in this slot.
Customer Care
If you have any confusion or need further clarification
Call +91-11-26496501
Your Phone Consultation will include:
1. Astrological Details of your kundali
2. Current planetary transit and their effect
3. Response to your Question
4. Accurate remedial measures to deal with this problem
5. Important tips to make situations easier for you

Benefits of this Consultation:
1. You can take smarter, calculated decisions and plan your times ahead.
2. The guidelines will help you to make the right moves and avoid a possible pitfall.
3. The Consultation will help you to note the time period for possible fructification of your concern.
4. You will be confident to take wise decisions since the problems will be handled with ease.
5. Stress due to ignorance will be reduced.

Testimonials:
I Found panditji in Google and met him. I was facing a lot of problem in my life. none of my plans used worked out. I got proper answer related my issues. He has guided us properly with his accurate predictions and remedies. There is no doubt that panditji is the best destination to get all types of astrology services. I will recommend his astrology services to all.
Girija, Ghaziabad, UP
I was having many problems in my life for past few years. than i got in touch with panditji umesh ji …since then i have just been following his advise and slowly my problems have faded away and my life has come on a positive track with his guidance and advise…and his predictions have been accurate….i have full faith and trust in him.
Gaurav Dhama, Meerut, UP