Your Future In 2018 – Monthwise Predictions – 50% Discount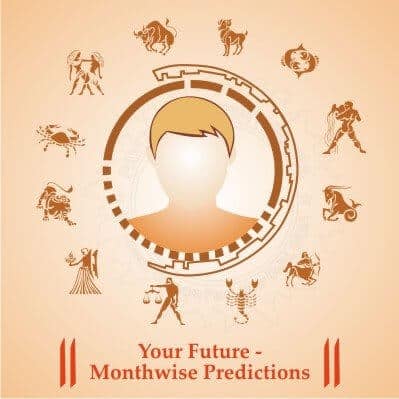 Knowing about things for the year ahead serves a useful purpose. This way you can plan your activities in advance. Planning things helps to avoid confusion. You are then well prepared to handle any challenging situation. You know about any major changes in the offing. The report mentions all aspects of career or business, finance, health and personal life. Career oriented becomes aware of any coming up change or crisis affecting your growth prospect. If you are to have any health issues to come up during the year, you can due to precaution to save from complications. The report gives a prediction on monthly basis precisely.
Chief Astrologer Pt. Umesh Ji has years of practical experience to predict on various issues in life. He prepares a comprehensive personalized yearly report month wise. This report keeps you aware of development on monthly basis. Along with this Umesh Ji lets you know about useful and easily workable optional remedies to help your cause. You need to post your Query for month wise yearly report in this section of our website and let us do the needful.
Info
Delivery : 7 Days
Manually Analysed and Hand-written by Expert Astrologer
Customer Care
If you have any confusion or need further clarification
Call +91-11-26496501
Your Report Will Contain:
1. Astrological Details of your Horoscope chart
2. Response to your Question
3. Special Observation
4. Monthwise Prediction of the year ahead in 12 months
In areas that include-
a. Career/Business
b. Finances
c. Health
d. Personal life
e. What to do
f. What not to do
5. Summary 2018
6. Accurate remedial measures for your problems
7. Important tips to make situations easier for you

Benefits of this report:
1. You can take smarter, calculated decisions, with a clear view of the upcoming situation.
2. The solutions to your confusions and problems will be resolved and thus empower you to face the odds with adequate protection
3. Stress due to ignorance will be reduced
4. You will be confident to take wise decisions since the problems will be handled with ease. This will help in clear thinking and happier planning ahead.

Testimonials:
Astrologer Umesh is a genuine person who has the complete knowledge of jyotish in entire Delhi.
Peeyush, Ajmer
I was surprised to know that it was possible to get to know month-wise prediction of the year with astro consultation of Pandit Ji. However, he really impressed me with his acute analysis and predictions about my career, some of which have been very useful for me. I've got practical experience by his suggested remedial measures.
Karan Sherawat, Delhi