Siddh Parad Mala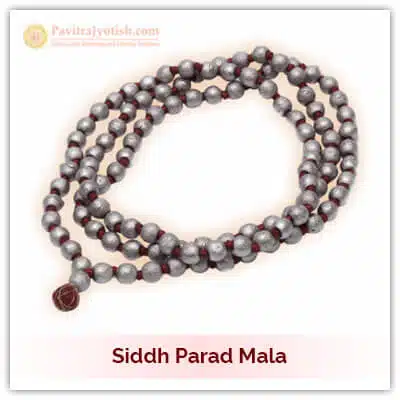 Gain Protection From Evil Force With Siddh Parad Mala
Siddh Parad Mala or Parad Rosary is the harbinger of joy and peace in your life, apart from giving you the benefit of prosperity that keeps going on in your life. This powerful Mercury Rosary Mala, if worn as per rituals suggested by our Renowned Astrologer can give birth to reformative changes in your life, on the front of health, finance, and success in your chosen pursuit. Buy Siddh Parad Mala Online at PavitraJyotish.com.
Siddh Parad Mala can have negative energy initially. We have developed a proprietary method to cleanse, energize and attune Original Rosary Mala and especially for you. It is based on our deep research and understanding of the Vedas and related astrological scriptures.
Product Information For Siddh Parad Mala
Product Name: Siddh Parad Mala, Colour: Silver, No. Of Bead: 109, Usage: Chanting or Astrological Remedies, Guarantee: 100% Authentic, Quality Effects: Energized by Scholar Pundits, Purity: 100%, Usual: Best For Chanting Or Astrological Remedies, Finishing Type: Best, Usage/Application: Wearing method provided to you with Rosary Mala, Brand: PavitraJyotish, Packaging Type: Box, Guarantee: Best Quality Rosary Mala With Assurance of PavitraJyotish.com.
How Does It Work?
1. Share your Rosary (Mala) energization (puja) details, your wishes, complete address with postal pin code and phone no for dispatching authentic and 100% original Siddh Parad Mala.
2. Make the payment.
3. Once you have an order for the siddh Rosary (Mala), you will receive an order confirmation email at your registered email id.
4. We will send an email for reconfirmation of your energization (puja) details, and your address through your registered email id.
5. After confirmation of your email, we will process your order of siddh Rosary (Mala) according to your best muhurta.
6. After that, we will send the siddh Rosary (Mala) through courier or by post to your mentioned address. We need 1-2 weeks for the complete process of your order for Rosary.
7. After dispatching the product, we will send tracking details of it at your registered email.
8. When you receive a siddh Rosary (Mala) please confirm through an email.
9. Open the parcel, read our instructions and wear the same or use for chanting.
Benefits Of Having Purified And Activated Siddh Parad Mala
.1. Wearer can get relived from major health issue like irregularity in blood pressure, lung related issue like Asthma, skin disease etc.
2. Wearer enjoys good general health all the times.
3. You enjoy success in your pursuit.
4. Inflow of money increases encouragingly.
5. Financial abundance lifts spirits and gives enough cause to cheer up.
6. Deity you worship is to keep blessing you.
7. Wearer has mental peace and enjoys prosperity at all levels.
8. Intelligence becomes more sharper.
9. Blessings of Mercury give good memory and business sense.
Buy our premium Siddh Rudraksha Mala, Siddh Shwet Chandan Mala for attaining positive results such as happiness, good fortune, and everlasting prosperity. Depending on your situation and personality type, our expert will recommend to you the best and relevant Mala. Consult us for more details
Info
Delivery: 2 Week
Outside India an additional shipping and handling cost of USD 30