Gemstones Recommendations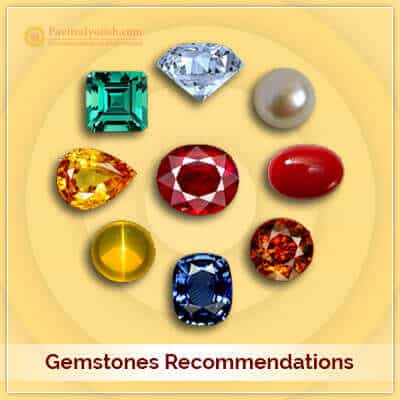 Gemstone recommended as per your Kundali (birth- chart) holds the importance of great magnitude. In astrology, the planetary alignment at the time of the birth continues its astrological effects on the person for the rest of his/her life. In other words, anything that happens in your life is actually the result of the planetary position of your Personalised Horoscope in your Kundali. It needs to be studied carefully by an experienced astrologer.
Pt. Umesh Chandra Pant is a well-known astrologer with several years of experience in astrology. He resolves astrological problems creating a stalemate in people's life by recommending suitable gemstone based on the thorough study of your horoscope and how it is affected by your planetary movement. Various other factors related to astrological science are also studied in this regard by the astrologer in order to recommend appropriate gemstones, if necessary.
Info
Delivery : 5 Days
Get your manually analysed and Hand-Written report by expert Astrologer.
Customer Care
If you have any confusion or need further clarification please contact our customer care.
Call +91-95821 92381 and 011-49901368
Your Report Will Contain:
1. Astrological Details of your Horoscope chart
2. Astrological analysis of your situation
3. Response to your question
4. How to make use of this report
5. Lucky measures to benefit to you (Lucky number, days, metal, time, direction and gemstone)
6. Impact of your ascendant and ascendant lord
7. Impact of your Moon
8. Mantra and Puja Remedies
9. Accurate remedial measures for your problems (Lucky Yantra and Rudraksha)
10. Important tips to make situations easier for you

Benefits of this report:
1. You can take smarter, calculated decisions, with a clear view of the upcoming situation.
2. The solutions to your confusions and problems will be resolved and thus empower you to face the odds with adequate protection
3. You will be confident to take wise decisions since the problems will be handled with ease. This will help in clear thinking and happier planning ahead.

Testimonials:
My experience has been very rewarding and all the solutions given by Pandit Umesh ji have shown very positive results. They have instilled hope and positivity in me and are able to handle my life better. He is able to show a direction and is a beacon and panacea for all problems that we face in life.
Malvieka Joshi, Gurgaon NCR
Consulting astrologer Pandit Umesh Chandra, as I believe, is one of the most important days of my life, because had I not consulted him for my astro related problems, perhaps life would ended up in something really bad. I was suffering from malefic planetary effects in my life, as told by the astrologer. Subsequently he recommended gemstone that was quite consistent with the bad planetary effects as narrated based on my Kundali. The gemstone helped me stay steady in my life, with bad planetary influences reduced to a greater extent.
Sonia Chauhan, Gaya, Bihar