Budh Puja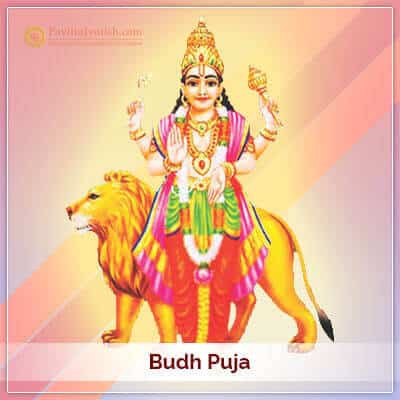 Achieve Courage And Confidence, Victory Over Obstacles – Budh Puja
Budh puja or Mercury Planet Puja or Budha Grah Pooja is dedicated to Lord Budha or Lord Ganesha. Mercury symbolizes the memory, intelligence and logical ability in one's horoscope, thus, worshipping Lord Ganesha or planet Mercury on Wednesday, Mercury gets pacified or appeased. If problems caused by malefic Mercury planet in your kundali are serious, our Mercury Planet Puja offers solutions for the same.
Why Budh Puja is performed?
Mercury is closest to planet Sun and the smallest planet in solar system. It moves fast and revolves around Sun within 20-22 days. Thus, the impact of Mercury in one's daily life is more than any other planet. Anytime weak placement of planet Mercury in horoscope causes difficulty in decision making ability, sharp intelligence and memory. Ill placed or afflicted Mercury also causes the issues related to nervousness, fear or speech in daily life. Thus, helping you to overcome with these daily shortcomings of life, Budh Puja is the perfect solution. By performing this Online Puja, blessings of Lord Ganesha and Lord Budh will be received to improve your communication skills and other related issues.
Important Information About Budh Puja
Puja Name: Budh Puja, Puja Purpose: Blessing Of Lord Budh, Duration of Puja: 10-12 Hours with 3 Pandits,  Ideal days for worshipping: Wednesday, Activities for Budh Grah Pooja: Poorvang Karma, Puja of Lord Budh (as per auspicious Muhurta), Ashtottara Namavali Path, Budh Stotra path, 9000 (Nine Thousand) Chanting of Budh Dev, Homa (Havan) and Prayer of Lord Budh, Important: We will send Puja Images at your registered email, Assurance: PavitraJyotish assure you best puja according to shastra, Special For You: Special and powerful gift.
What we will do?
1. Once you have booked the Puja, you will receive a booking confirmation mail.
2. You will be informed by your registered email, when your puja will be organized and what to do on the day of the puja yourself.
3. After Confirmation, we will worship (Ritual) for you according to Muhurta.
4. After Puja completion, we will send your siddh Yantra (Free Gift) and Prasadam through courier or by post.
5. Open the parcel, read our instructions and wear the siddh Yantra or establish siddh yantra on your worship place.
Benefits Of Budh Grah Pooja
1. Those having afflicted Mercury in horoscope should perform Budha Puja to negate the impact of malefic planet Mercury.
2. It is good to perform Budha Puja on Budha Purnima Jayanti in order to receive maximum benefits.
3. Students facing issues in studies and lack of concentration should perform Budha Puja.
4. Helps one to be more decisive and logical.
5. It is an effective remedy to enhance intelligence and wisdom.
6. Native gets the good intelligence, speech, communication, sharp intellect and good memory.
7. Problem related to health issues such as memory loss, skin disease, nervousness will get reduced.
Activities For Budh Dev (Mercury Planet) Devotees
1. Purvang Karma (Ganesh Pujan, MatraPujan, Abhyudaya, Punyawachan, KalashSthapana, Rakshavidhan, Navgrah Puja).
2. Puja of Lord Budh Dev (as per auspicious muhurta).
3. Ashtottara Namavali Path, Budh Chalisa path.
4. 9000 (Nine Thousand) Chanting of Budh Dev.
Mantra – Om Bram Breem Broum Sah Budhaay Namah (ॐ ब्रां ब्रीं ब्रौं स: बुधाय नम:).
5. Homam (Havan).
6. Lord Budh Prayer and Aarti..
Complimentary Gifts
Special gift as per your problems.
Our premium puja offers such as Akshaya Tritiya Puja, Lakshmi Puja, Pancha Maha Parva 5 Days Diwali Lakshmi Puja, Navgrah Shanti Anushthan can serve your individual purpose with brilliant solutions. You can attain peace, success in your chosen endeavor or solve your problematic relationship etc.
Info
Puja Schedule:: Within 7 days, According to Muhurta.
The scholars and pundits of Pavitra Jyotish have performed your puja, for amazing and miraculous relief from suffering and alleviate your problems.