Business Report 1 Year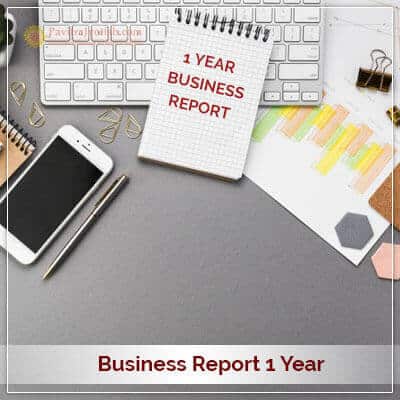 Success does not always happen in business. It is always under constant threat of fiasco. Therefore, taking a proactive measure concludes the success of such venture. Astrological Guidance, in this regard, can help you significantly compared to relying on the mainstream methods for saving your business. In every business, it is must to take important steps backed by astrological information based on your Horoscope Chart and its strategic relation with the planetary movements.
Our Business Report one year gives you a detailed analysis of how your existing or new business would turn out in terms of profit or loss. Choosing this option will help you get a proper guidance so that you could be able to make a right decision and avoid unnecessary risks.
Doing business needs a lot of determination to succeed. For startups, at times it is a matter of selecting right kind of business. Further knowing about your gainful times is indicated in this report. The Business Report helps you know about right time to launch a new product or undertake expansion activity. The report also let you know whether the business in partnership suits you according to the position of planets in your birth chart. We take into consideration planets in Natal chart and effect of transitory planets on your business. The report helps you to plan your activities for the year in advance. The report lets you know the supportive time for major financial involvement in achieving higher growth.
Our Chief Astrologer Pt. Umesh Pant is well versed in Vedic Astrology. With his vast practical experience, he prepares a personalized yearly Business report for you. He can also guide about a simple remedy to help your business flourish.
You can ask for 2, 3, 4 and 5 Years business report to suit your needs.
Info
Delivery : 5 Days
Get your manually analysed and Hand-Written report by expert Astrologer.
Customer Care
If you have any confusion or need further clarification please contact our customer care.
Call +91-95821 92381 and 011-49901368
Your Report Will Contain:
1. Astrological Details of your Horoscope chart
2. Astrological analysis of your situation
3. Response to your question
4. How to make use of this report
5. Lucky measures to benefit to you (Lucky number, days, metal, time, direction and gemstone)
6. Business as noted from your kundali
7. Your Progression in Business
8. Year in a Nutshell
9. Detailed report of the Year in 4 quarters
10. Mantra and Puja Remedies
11. Accurate remedial measures for your problems (Lucky Yantra and Rudraksha)
12. Important tips to make situations easier for you

Benefits of this report:
1. You can take smarter, calculated decisions, with a clear view of the upcoming situation.
2. The solutions to your confusions and problems will be resolved and thus empower you to face the odds with adequate protection
3. Risks in your business will be reduced
4. You will be confident to take wise decisions since the problems will be handled with ease. This will help in clear thinking and happier planning ahead.

Testimonials:
I am impressed with Pt Umesh Chandra's Astrology services. Liked the advice provided by Mr Umesh. Thanks for your true services.
Regards Naveen, New Delhi
I chose business report for 1 year from astrologer Umesh Chandra Pant Ji as his service was recommended to me by a well-wisher. I contacted the astrologer on phone. He listened to my problems and questions very patiently and did not interrupt until I was done and sought his answers to my questions. His apt answers and interpreting my situations left me impressed with his expertise and experience. I recommend everyone to go for his astro guidance and service. He is a well-rounded professional.
Rohan Goyal, Mumbai, Maharashtra