Business Report 1 Year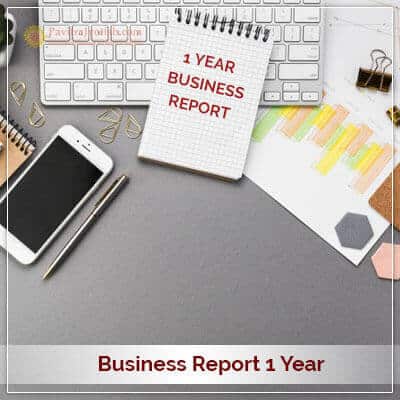 Your One Year Of Fantastic Business Guidance For Success
Our Business Report 1 Year enables you to avoid any unnecessary risk or loss for the next one year in business. Our expert astrologer analyzes the concerned houses such as 2nd house of finance, 6th house of competitors, 10th house of profession, 11th house of profit and gains for you to provide you apt solutions with remedies to obtain maximum benefits by reducing any market threat to your business.
Important Information About Business Report 1 Year
Service Name: Business Report 1 Year, Service Type: Astrological Guidance and Solution, Language: English, Service Mode: Online (By e-mail only), Delivery: 5 Days, Features: Guaranteed solutions, Reliable services, Extensive results and best standard format of PavitraJyotish (YOUR REPORT WILL CONTAIN – Read it below), Benefits: It helps you setting short and long term goals with solution of your personal problems positively.
Why Business Report 1 Year?
Business Report 1 Year is good for the Business people. Those looking for the favourable and unfavourable time period for the next one year with regards to their business can buy Vedic Astrology Services. By means of this report, you will be assisted with the all beneficial & important points for the next one year with effective remedial solutions.
How Does It Work?
1. Share your birth details and ask your queries/problems.
2. Make the payment.
3. We will send an email for reconfirmation of your birth details through your registered email id.
4. After confirmation, within next 5 working days, we will provide detailed report as per our standard format and reply to your specific questions (Your Report Will Contain – Read it below).
5. You will receive your personalized report at your registered email id.
6. Read your report, and feel free to contact us via e-mail if you feel like having any doubt. We will respond you shortly by reverting your e-mail.
Get Remedial Solution for Education, Finance Ask 1 Question, Career Ask 1 Question, Business Ask 1 Question at the most completive price for you. Achieve desired success and growth in your life.
Info
Delivery : 5 Days
Get your manually analysed and Hand-Written report by expert Astrologer.
What Business Report 1 Year Will Contain?
1. Astrological Details of your Horoscope chart (i.e. Complete basic information, Ascendant, Rashi, Nakshatra, Placement of Planets, Dasha & Antardasha).
2. Response to your question.
3. Business as noted from your kundali.
4. Prediction of the next 1 year in 4 quarters.
5. Lucky measures to benefit to you (Lucky number, days, metal, time, direction and gemstone).
6. Mantra and Puja Remedies.
7. Lucky Yantra and Rudraksha.
8. Important tips to make situations easier for you.

Benefits Of Business Report 1 Year
1. You can take smarter, calculated decisions, with a clear view of the upcoming situation.
2. The solutions to your confusions and problems will be resolved and thus empower you to face the odds with adequate protection.
3. Risks in your business will be reduced.
4. You will be confident to take wise decisions since the problems will be handled with ease. This will help in clear thinking and happier planning ahead.

Hear From Our Customers
I am impressed with Pt Umesh Chandra's Astrology services. Liked the advice provided by Mr Umesh. Thanks for your true services.
Regards Naveen, New Delhi
I chose business report for 1 year from astrologer Umesh Chandra Pant Ji as his service was recommended to me by a well-wisher. I contacted the astrologer on phone. He listened to my problems and questions very patiently and did not interrupt until I was done and sought his answers to my questions. His apt answers and interpreting my situations left me impressed with his expertise and experience. I recommend everyone to go for his astro guidance and service. He is a well-rounded professional.
Rohan Goyal, Mumbai, Maharashtra