Lal Kitab Report and Remedies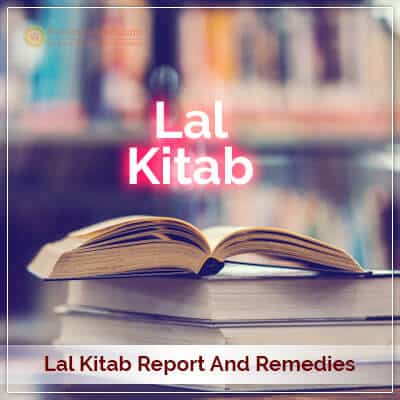 Avoid All Problems With Their Astrological Answers By Lal Kitab
Lal Kitab Report and Remedies enables you to know the accurate prediction on the basis of study of concerned Khana (The houses in Vedic Astrology) and the planets placed into these Khanas. Lal Kitab is the art of predicting an event different from Vedic Astrology. Lal Kitab Report and Remedies report includes the effective remedial measures along with the impacts of all the 9 planets in your life.
Important Information About Lal Kitab Report and Remedies
Service Name: Lal Kitab Report and Remedies, Service Type: Astrological Guidance and Solution, Language: English, Service Mode: Online (By e-mail only), Delivery: 5 Days, Features: Guaranteed solutions, Reliable services, Extensive results and best standard format of PavitraJyotish (YOUR REPORT WILL CONTAIN – Read it below), Benefits: It helps you settting short and long term goals with solution of your personal problems positively.
Why Lal Kitab and Remedies Report?
Lal Kitab Remedies is a good report for those looking for the solution with the help of Lal Kitab, other than Vedic Astrology. Here, you would be assisted with the influence of each & every planet upon you along with the suitable remedies.
How Does It Work?
1. Share your birth details and ask your queries/problems.
2. Make the payment.
3. We will send an email for reconfirmation of your birth details through your registered email id.
4. After confirmation, within next 5 working days, we will provide detailed report as per our standard format and reply to your specific questions (Your Report Will Contain – Read it below).
5. You will receive your personalized report at your registered email id.
6. Read your report, and feel free to contact us via e-mail if you feel like having any doubt. We will respond you shortly by reverting your e-mail.
Get your answer for Ask 1 Question, Ask 2 Question, Ask 3 Question, Ask 4 Question with the prompt assistance made available for you by our expert and profoundly-enlightened astrologer. Get the most dependable solutions for your life.
Info
Delivery : 7 Days
Get your manually analysed and Hand-Written report by expert Astrologer.
What Lal Kitab Report and Remedies Will Contain?
1. Astrological Details of your Horoscope chart.
2. Astrological analysis of your situation.
3. Response to your question.
4. How to make use of this report.
5. Lucky measures to benefit to you (Lucky number, days, metal, time, direction and gemstone).
6. Nine Planets and its Impact in your Horoscope and Remedies.
i) Sun (Surya).
ii) Moon (Chandra).
iii) Mars (Mangal).
iv) Mercury (Budh).
v) Jupiter (Guru).
vi) Venus (Shukra).
vii) Saturn (Shani).
viii) Rahu - Ketu.
7. To Conclude.
8. Accurate remedial measures for your problems (Lucky Yantra and Rudraksha).
9. Important tips to make situations easier for you.

Benefits Of Lal Kitab Report and Remedies
1. You will be able to plan your short and long term goals on various dimensions of your life.
2. It will be easy for you to direct your attention to the plausible areas instead of wasting in meaningless pursuit.
3. You will be able to add value to your own life.
4. Stress and frustrations will be significantly reduced with your positive outlook.
5. Your fear, apprehension and anxiety will be reduced.

Hear From Our Customers
The first time I consulted to Umesh Ji for astrological Lal Kitab report and remedy, it was long time back. Truth to be told, there was no scary fortune-teller kind of stuff that I had to suffer there. On the contrary, Pandit Ji made me relaxed with his considerably helpful report and remedy pertaining to my astrological problems. Instead of getting flummoxed by astrological intricacy, he helped me get solutions which worked well in simplifying my situations.
Naina Sharma, Amritsar, Punjab
Astrologer Umesh is a genuine person who has the complete knowledge of jyotish in entire Delhi. Umesh is like a family now to me. i have consulted them often, and the results have been very good and their analysis straightforward. When I confused about my career and it turning into a boring story. I consult Astrologer Pant and now very happy. I will advise them in each new work. Thanks to Astrologer Umesh Ji.
Naveen Verma, Delhi