Lal Kitab Report and Remedies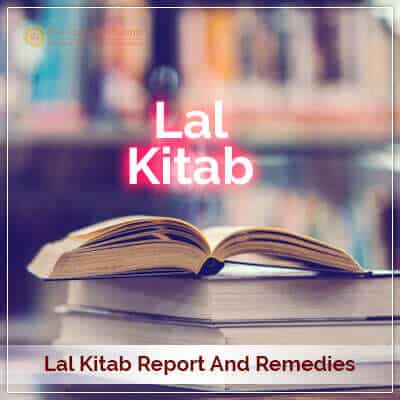 The basis of Lal Kitab Prediction is how the nine planets dwell in the twelve houses and the influence of each one based on its planetary position. This is one of the most wonderful and workable remedies to have yourself benefited with predictions. So, if you want your life sans trouble, trust the mystical remedy of Lal Kitab. It may sound like a new phenomenon to you, but the healing effect of Lal Kitab report and remedies is now famous widespread.
Good news is the opportunity of blessing your life with peace and prosperity is just at your door. At PavitraJyotish, Best Astrological Guidance in accordance with our astrological analysis based on Lal Kitab predictions can be provided, helping you bring forth peace, harmony, and balance in your life.
Info
Delivery : 7 Days
Get your manually analysed and Hand-Written report by expert Astrologer.
Customer Care
If you have any confusion or need further clarification please contact our customer care.
Call +91-95821 92381 and 011-49901368
Your Report Will Contain:
1. Astrological Details of your Horoscope chart
2. Astrological analysis of your situation
3. Response to your question
4. How to make use of this report
5. Lucky measures to benefit to you (Lucky number, days, metal, time, direction and gemstone)
6. Nine Planets and its Impact in your Horoscope and Remedies
i) Sun (Surya)
ii) Moon (Chandra)
iii) Mars (Mangal)
iv) Mercury (Budh)
v) Jupiter (Guru)
vi) Venus (Shukra)
vii) Saturn (Shani)
viii) Rahu - Ketu
7. To Conclude
8. Accurate remedial measures for your problems (Lucky Yantra and Rudraksha)
9. Important tips to make situations easier for you

Benefits of this report:
1. You will be able to plan your short and long term goals on various dimensions of your life.
2. It will be easy for you to direct your attention to the plausible areas instead of wasting in meaningless pursuit.
3. You will be able to add value to your own life
4. Stress and frustrations will be significantly reduced with your positive outlook.
5. Your fear, apprehension and anxiety will be reduced

Testimonials:
The first time I consulted to Umesh Ji for astrological Lal Kitab report and remedy, it was long time back. Truth to be told, there was no scary fortune-teller kind of stuff that I had to suffer there. On the contrary, Pandit Ji made me relaxed with his considerably helpful report and remedy pertaining to my astrological problems. Instead of getting flummoxed by astrological intricacy, he helped me get solutions which worked well in simplifying my situations.
Naina Sharma, Amritsar, Punjab
Astrologer Umesh is a genuine person who has the complete knowledge of jyotish in entire Delhi. Umesh is like a family now to me. i have consulted them often, and the results have been very good and their analysis straightforward. When I confused about my career and it turning into a boring story. I consult Astrologer Pant and now very happy. I will advise them in each new work. Thanks to Astrologer Umesh Ji.
Naveen Verma, Delhi