Astrologer On Phone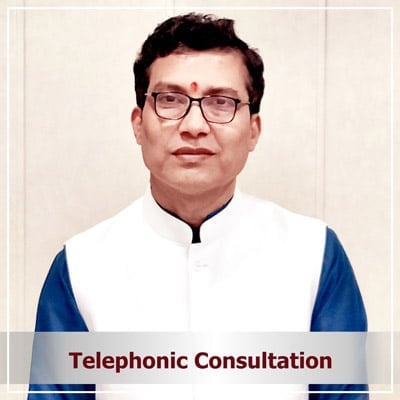 Talk to Famous Astrologer
What questions keep on the edge for the last few days? Is it downswing in your career? Is it something related to money? Talk to Astrologer on Phone and have your queries answered immediately. Do you know the benefits if you talk to astrologer? They are many. Just call our expert to avail best answers for your astro-related questions.
How does it feel like having an effective Astrological Solution instantly on the phone? Sort of great, right? Here at PavitraJyotish, you can simply find an answer to your dreams by merely talking to our erudite Astrologer On Phone 30 Min. Talking to the Best Astrologer In Delhi on the phone is indeed a crucial phase helping you get the best and pertinent astrological solutions from the highly experienced astrologer.
The 30-minutes of phone astrology consultation with the astrologer Umesh Pant at PavitraJyotish would spell transformative result as an answer to your life's worrisome issues caused by unpleasant celestial movements creating malefic effects.
Get Astrological Phone Consultation with our astrologer and be familiar with the most helpful Astrological Guidance on the phone that would pacify your life's upsetting and disturbing moments. In case you prefer the internet way of getting connected with our astrologer, feel free to engage through online medium. You will be offered best and quality Online Astrological Solutions regarding your problems caused by unfamiliar and ominous effects.
Important Information About

Talk to Astrologer 
Service Name: Talk to Astrologer – 30 minutes, Service Type: Astrological Guidance and Solution, Language: Hindi, Service Mode: Telephonic, Delivery: 24 Hours, Features: Guaranteed solutions, reliable services, extensive results, Benefits: It helps you setting short and long term goals with solution of your personal problems positively.

Why Talk To Our Astrologers?
We have expert astrologers who can assist you with the maximum accuracy in predictions. By getting 30 mins telephonic session, you can have a Astro Consultation with our expert, wherein you will be assisted with your multiple queries within 30 mins. Based on the planetary placement, our expert astrologer also gives you apt remedies to help you and reduce obstacles in your desired area.
How it works?
1. Share your birth details and ask your queries/problems.
2. Make the payment.
3. We will send you an e-mail for reconfirmation of your birth details and telephonic appointment.
4. We will discuss over the phone about your horoscope reading and solutions.
5. If you have any doubts, feel free to ask. We will respond or resolve your every query or doubt one by one over the phone.
OTHER PAYMENT OPTION:
Paytm, Google Pay and PhonePe Payment Options Available. Please pay Rs 1101 at Mobile Number +91-9582192381 Or Pay Thru VPA ID: PavitraJyotish@ICICI  And share your payment screenshot and birth details to WhatsApp no 9582192381.
Whether to meet an Astrologer On Call – 15 Minutes or Googling "Best Astrologer In Delhi Near Me", we are just around the corner, for your help. Ask Expert Astrologer or choose our exclusive Finance Ask I Question for answer demystifying your doubt then and there!
HEAR FROM OUR CUSTOMERS
Mr. Omar Jose, United States America
Mr. Harjeet Singh, New Delhi, India
Info
Duration: 30 Min
Paytm, Google Pay and PhonePe Payment Option Available: Please Pay Rs 1101 to +91-9582192381
What Phone Consultation will include:?
1. Astrological Details of your kundali
2. Current planetary transit and their effect
3. Response to your Question
4. Accurate remedial measures to deal with this problem
5. Important tips to make situations easier for you

Benefits of this Consultation:
1. You can take smarter, calculated decisions and plan your times ahead.
2. The guidelines will help you to make the right moves and avoid a possible pitfall.
3. The Consultation will help you to note the time period for possible fructification of your concern.
4. You will be confident to take wise decisions since the problems will be handled with ease.
5. Stress due to ignorance will be reduced.

Hear From Our Customers
I had one of my best experiences with Pavitra Jyotish Kendra and Pandit Umesh Chandraji gives the best advice and all his recommendations are result oriented. I strongly recommend his guidance and consultations for ones benefit and upliftment. Way to go, Panditji. My sincere and heartfelt thanks to you.....
L Narasimha Murthy, Bengaluru, Karnataka
It was nice talking to Pt Umesh Chandra Pant of Pavitra Jyotish Kendra and I would say that he is really good in his methodology and communicates difficult things with ease. His way of explaining things and simplifying the meaning of your planets, your horoscope chart and everything related to your future is very simple and easy. My warm regards to Panditji for their constant guidance and support. thank you sooo much
Bhuwan Chauhan, Delhi