Shravan Somwar Shiv Puja On 28 August 2023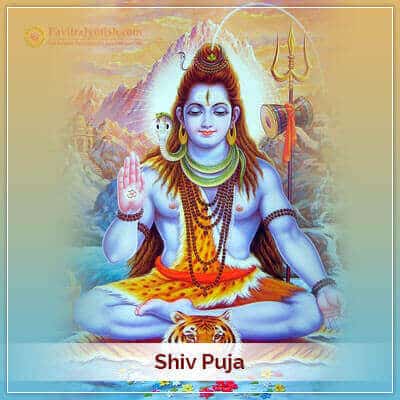 Invoke The Presence Of Lord Shiva In Your Life With

Shravan Somwar Shiv Puja On 28 August 2023
Rudra Puja and Abhishek
Shiv Puja is dedicated to Lord Shiva. Lord Shiv is a supreme lord and Moon symbolizes the lord Shiv in Vedic Astrology. To appease the planet Moon in Astrology, perform Shiv Puja to get the blessings of Lord Shiv along with Maa Parvati and Lord Ganesha too. Mahesha Puja is a powerful remedy to please Lord Shiv and attain stability in thoughts. It is believed worshiping the Lord Shiv, most of the Doshas of Kundali gets removed or its impacts become weak in one's life.
Get Blessings Of Lord Shiva by our Puja and Anushthan Services by Reliable and Learned Pandits.
Shiva is the ancient most gods ever worshiped by humans since time immemorial. Shiva is the symbol of auspiciousness, positivity, the emblem of purity and kindness. The occasion of Shravan Month Shiv Puja or Maha Shivratri Festival or every month of Shiv Chaturdashi is a special month to get your desire fulfilled by the grace of Lord Shiva. By performing a special Shiva puja with the abhishekam (with different articles) during Maha Nishitha Kaala on this special day with the procedures prescribed in the scriptures one is certain to achieve success on Maha Shivratri.
Why Shiv Puja performed?
Shankara Puja is performed to please Lord Shiva, the Supreme Lord. It enables one to attain the stability of thoughts, peace of mind and removes the issues related to mood swings, impulsiveness, and impatient behaviour. With the blessings of Lord Shiva, one attains positivity, good mental and physical health and gains confidence. Girls can perform this puja to get the good life partner in life too.
Important Information About Shravan Somwar Shiv Puja On 28 August 2023
Puja Name: Shiv Puja, Puja Purpose: Blessing Of Lord Shiva, Duration of Puja: 6-8 Hours, Ideal days for worshipping: Maha Shivratri Or Shravan Month OR Auspicious Muhurta as required, Activities for Mahadev Puja: Poorvang Karma, Puja of Lord Shiva (as per auspicious Muhurta), Ashtottara Namavali Path, Shiva Stotra path, Homa (Havan), and Prayer of Lord Shiva, Important: We will send Puja Images at your registered email, Assurance: PavitraJyotish assure you best puja according to shastra, Special For You: Special and powerful gift.
What we will do?
1. Once you have booked the Puja, you will receive a booking confirmation mail.
2. You will be informed by your registered email, when your puja will be organized and what to do on the day of the puja yourself.
3. After Confirmation, we will worship (Ritual) for you according to Muhurta.
4. After Puja completion, we will send your siddh Yantra (Free Gift) and Prasadam through courier or by post.
5. Open the parcel, read our instructions and wear the siddh Yantra or establish siddh yantra on your worship place.
Benefits Of Shravan Somwar Shiv Puja On 28 August 2023
1. Neelakanta puja removes obstacles in one's life and bestows one with valour.
2. Shiva Puja boosts the confidence and blesses one with good health.
3. Maheshvara helps one to attain the knowledge and bestows peace and harmony.
4. Trilokinatha puja removes the hurdles in getting married or delay in marriage.
5. One attracts positivity to his life and surroundings.
6. Any malefic planetary alignment present in Kundali gets neutralized with Lord Shiv's energy.
7. It is the best time to burn out the accumulated negative karmas.
8. Longevity increases and health gets improved.
9. It brings harmony and peace in life.
10. Positive vibes will be all around and cordial relations with family members can be well maintained.
11. It helps to control impulsiveness, anger and aggression in one's life.
12. Unmarried girl pleases the Lord Shiv to get the good life partner.
13. Married woman pleases Lord Shiva to get the good health & wealth of husband and children.
14. The spiritual quotient in the life is enhanced.
15. One is surely blessed with progeny and their children are also blessed.
16. Any unfavourable current transit occurring in sky gets neutralized with the Lord Shiv's energy.
Activities For Shravan Somwar Shiv Puja On 28 August 2023
1. Purvang Karma (Ganesh Pujan, MatraPujan, Abhyudaya, Punyawachan, KalashSthapana, Rakshavidhan, Navgrah Puja).
2. Puja of Lord Shiva (as per auspicious Muhurta).
3. Ashtottara Namavali Path, Shiva Stotra path.
4. Rudra Abhishek.
5. Prayer and Aarti of Lord Shiva.
Complimentary Gifts:
1- Ask one question to Renowned Astrologer, Pt Umesh Chandra Pant – In which you can ask, the answer to the important 1 question of your life.
2- Very special and powerful gift as per your problems.
Our myriad range of premium puja services such as Hanuman Puja, Satyanarayan Puja, Sri Krishna Puja, Akshaya Tritiya Puja and others are intended to help you gain peace of mind, happiness and good fortune in your life. Solution to any particular issue in your life on the front of health, education, career etc. can be weeded out, based on the specific puja you choose from the above list.
Info
Puja Schedule:: Within 7 days, According to Muhurta.
The scholars and pundits of Pavitra Jyotish have performed your puja, for amazing and miraculous relief from suffering and alleviate your problems.