Love Ask 3 Questions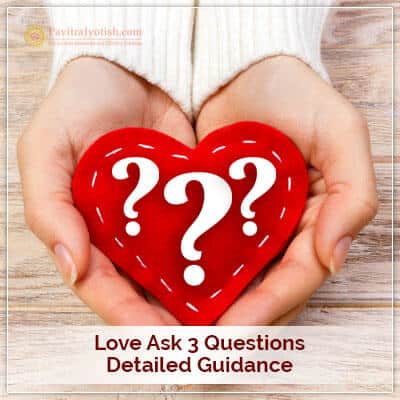 Important Information About Love Ask 3 Questions
Service Name: Love Ask 3 Questions, Service Type: Astrological Guidance and Solution, Language: English, Service Mode: Online (thru email reply), Delivery: 5 Days, Features: Guaranteed solutions, Reliable services, Extensive results and best standard format of PavitraJyotish (YOUR REPORT WILL CONTAIN – Read it below), Benefits: It help you set short and long term goals with solution of your personal problems positively.
How Does It Work?
1. Share your birth details and ask your queries/problems.
2. Make the payment.
3. We will send email for reconfirmation of your birth details through your registered email id.
4. After confirmation, with in next 5 working days, we will provide detailed report as per our standard format and reply to your specific questions (Your Report Will Contain – Read it below).
5. You will receive your personalized report on your registered email id.
6. Read your report, if you have any doubts feel free to contact us through email and we will respond definitely.
Is Girlfriend suspicious of you? No speaking terms with the spouse of late? Have love-related questions in mind? Well, we have love relationship guidance compatible with every kind of issue you might be facing in your love life. Ask our Famous Astrologer, Pt. Umesh Chandra Pant through consultation on the telephone or online depending on your preferred mode of communication. Information regarding your questions and their love solutions and love remedies from our Best Astrologer in India will strictly be kept confidential. Based on your details such as birth date, time of birth, etc. the accurate answers will be provided regarding your Love Problems. Love Ask 3 Questions will be answered based on your horoscope if you don't have specific details like time of birth etc.
Info
Delivery : 5 Days
Get your manually analysed and Hand-Written report by expert Astrologer.
Customer Care
If you have any confusion or need further clarification please contact our customer care.
Call +91-95821 92381 and +91-96677 10281
Your Report Will Contain:
1. Astrological Details of your Horoscope chart
2. Astrological analysis of your situation
3. Response to your question
4. How to make use of this report
5. Lucky measures to benefit to you (Lucky number, days, metal, time, direction and gemstone)
6. Impact of your Ascendant
7. Impact of Your Moon Sign
8. Guidance on the causes for concern
9. Mantra and Puja Remedies
10. Accurate remedial measures for your problems (Lucky Yantra and Rudraksha)
11. Important tips to make situations easier for you

Benefits of this report:
1. You will be able to make up your mind on love related matters, depending on the orientation of the planets. This will help you understand yourself much better.
2. Having known the areas of strength, you can avoid the weak areas in your love life. Psychologically you will be equipped to handle any adversity and make your life easier.
3. Having resolved all apparent confusions, you will be able to understand your love and take a decision accordingly.
4. Your fear, apprehension, worries, and stress will be taken off.

Testimonials:
It was a nice experience for me , he gives right advises to our problems , his knowledge has helped me anyways.
Arunima Negi, Dwarka, Delhi
Strength and weak points of my love relationship were told by astrologer Umesh Chandra Ji during our interaction with him a few months back. It was an experience with a surreal mix of knowledge and prediction as I was benefited in both ways. I got familiar with what needs to be done in my marriage to push it in a right direction as well as I got the knowledge to understand how planetary movements have their repercussions in your life. Seems they are interlinked with our life. Pandit Ji provided me detailed guidance on three questions that I asked during our interaction.
Rahul Kapur, Punjab