Progeny Report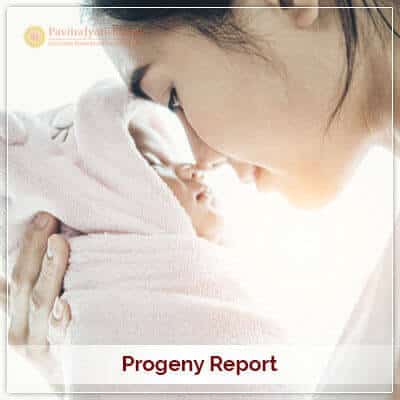 Astro-service concerning progeny report helps individuals understand an ideal time for having a baby. Understandably, our service is extremely valuable for the couples who are going to plan their family near time soon, either through natural conception or medical recourse like IVF. In all likelihood, our progeny report is a guiding principle of when to plan for family based on our thorough study of astrological transits and their relationship with regard to your zodiac sign, horoscope chart and its implication on your future child.
At PavitraJyotish, our Renowned Astrologer, Pt. Umesh Chandra Pant, has deep understanding and knowledge of the Occult Science of Astrology. He has helped many families in the past with ideal time period for family planning. Our concentrated focus always rests on giving accurate guidance to people seeking our help in astrological problems.
Info
Delivery : 5 Days
Get your manually analysed and Hand-Written report by expert Astrologer.
Customer Care
If you have any confusion or need further clarification please contact our customer care.
Call +91-95821 92381 and 011-49901368
Your Report Will Contain:
1. Astrological Details of your Horoscope chart
2. Astrological analysis of your situation
3. Response to your question
4. How to make use of this report
5. Lucky measures to benefit to you (Lucky number, days, metal, time, direction and gemstone)
6. Effect of ascendant in your chart
7. Effect of Moon sign in your chart
8. Effect of ascendant in your partner's chart
9. Effect of Moon sign in your partner's chart
10. Progeny as noted from your (and your partner's) kundali
11. The positive and negative points
12. Opportune period for you
13. Mantra and Puja Remedies
14. Accurate remedial measures for your problems (Lucky Yantra and Rudraksha)
15. Important tips to make situations easier for you

Benefits of this report:
1. You can take smarter, calculated decisions, with a clear view of the upcoming situation.
2. The solutions to your confusions and problems will be resolved and thus empower you to face the odds with adequate protection
3. Stress due to ignorance will be reduced
4. You will be confident to take wise decisions since the problems will be handled with ease. This will help in clear thinking and happier planning ahead.

Testimonials:
We were concerned about ideal time for having a baby but were clueless about it. In consultation with Umesh Ji for our concern, we came to know that it was January 2016 that was the perfect time for conceiving baby. The newborn child looked healthy. We noted its time of birth and other details to be used for astrological predictions. For that, we also contacted to Pandit Ji for horoscope preparation for our kid. He helped us in a great deal for which we are thankful.
Pratik Shetty, Karnataka
A day was searching in Google about astrologers in Delhi and find in first page Pt Umesh Chandra Pant. I opened up their website and read in details of Pandit Umesh Ji. Then I decided that to meet him. I take prior appointment with pandit ji. I am extremely surprised with their effective remedies. Really I have gained a lot. Panditji's remedies are very cheap and effective. I must say that all met once. And also recomend Umeshji for all of peoples who belive in astrology science. With great respect –
Vikram Walia, Delhi