Remedial Solution for Business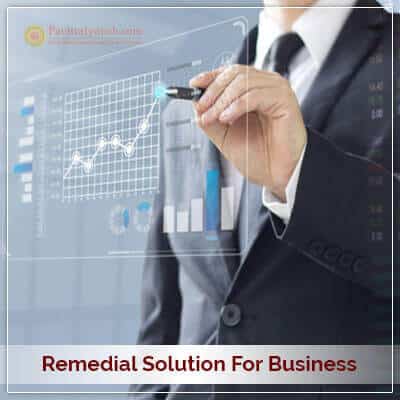 A business enterprise often comes across certain complications too difficult to manage, not because you are not able to, but because they catch you unaware. Therefore, Remedial Solution for Business issues as Astrological Guidance and suggestions would drastically help you run your business smoother and progressive.
Business Horoscope prepared by our popular astrologer, Pt. Umesh Chandra Pant, in accordance with the guiding principles of Vedic astrology, will help you with right business solutions to run your venture without any issue. The Astrological Business Remedies provided simply come through telephonic discussion with the astrologer or by consulting the astrologer in person, as per your convenience.
Vedic Astrology is a great resource to foresee event unfolding in future and also give a useful remedial solution to make your task easier. PavitraJyotish prepares this unique personalized report to guide you to flourish your business. Here we also give a due remedial measure, solution to soar over hindrances and help you to keep marching on the road to success. We let you know about the lean period, crisis period and ways to come out from the same unscratched. You can also ask a specific question about business and its development.
Chief Astrologer Pt. Umesh has acquired detail knowledge about Vedic Astrology and its applications on various aspect of human life. Under his able guidance, a Detail guidance report about the running of the business and Remedial Solution for warding off obstructive forces is provided with. Post your query in this section of our website for knowing about a Remedial Solution for Business in detail.
Info
Delivery : 5 Days
Get your manually analysed and Hand-Written report by expert Astrologer.
Customer Care
If you have any confusion or need further clarification please contact our customer care.
Call +91-95821 92381 and 011-49901368
Your Report Will Contain:
1. Astrological Details of your Horoscope chart
2. Astrological analysis of your situation
3. Response to your question
4. How to make use of this report
5. Lucky measures to benefit to you (Lucky number, days, metal, time, direction and gemstone)
6. Details about your business for the year ahead
7. Astrological Advice and Guidance
8. Mantra and Puja Remedies
9. Accurate remedial measures for your problems (Lucky Yantra and Rudraksha)
10. Important tips to make situations easier for you

Benefits of this report:
1. You will be able to chart your steps ahead after using the proper remedial measure suggested after careful study of your kundali.
2. You will be able to lessen the odds and consider your opportunities for progress.
3. Your efforts will be channelized for productive pursuit and make rapid progress
4. With the help of remedial measures, you will be able to look into the positive factors instead of being apprehensive.

Testimonials:
I first consulted to Umesh Ji early this January during troubled business situations I was facing. On meeting, I told him everything that concerned my personal and professional life. Reasons for my life were not in order and other details baffling my life to a certain extent were told to him. Pandit Ji attentively listened to my grievances. He nodded in the meantime signifying he had all ears to my problems. What I found about him was his manner of being professional, humble, and civilized. I am sure he is one of the most authentic professionals you can trust for astro solutions. Being attentive to the client, in my viewpoint, is the first sign of honesty. Astrologer Umesh ji fits well on that criterion.
Mahesh Sharma, Rohini, New Delhi.
It was a nice experience for me , he gives right advises to our problems , his knowledge has helped me anyways.
Arunima Negi, Dwarka, Delhi