5 Years Predictions (10% Off)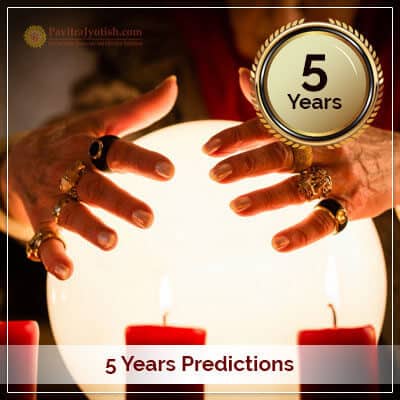 Our 5 years prediction is a comprehensive astro-service intended to serve you with information regarding your finance, career, marriage, job, and other aspects of your life. Such prediction is helpful for you in a way that you will be guided by the best choice that is befitting of year-wise plans in your business or career or in your personal life.
We help you understand which choice would lead you to a better result and serve you financially. Considering the unpredictable scenarios in business or finance that sometimes turn against your favor, our 5 years prediction is a thorough guide for the steps you ought to take for the next five years, thus helping you make a right choice and avoid unnecessary risks.
Info
Delivery : 5 Days
Get your manually analysed and Hand-Written report by expert Astrologer.
Customer Care
If you have any confusion or need further clarification please contact our customer care.
Call +91-95821 92381 and 011-49901368
Your Report Will Contain:
1. Astrological Details of your Horoscope chart
2. Astrological analysis of your situation
3. Response to your question
4. How to make use of this report
5. Lucky measures to benefit to you (Lucky number, days, metal, time, direction and gemstone)
6. Effects of ascendant, moon sign, etc. Planets
7. Prediction of the years ahead in 4 quarters
a. Career/ Business
b. Personal Life
c. Health
d. Finances
e. What to do
f. What not to do
8. Summary
9. Mantra and Puja Remedies
10. Accurate remedial measures for your problems (Lucky Yantra and Rudraksha)
11. Important tips to make situations easier for you

Benefits of this report:
1. You can take smarter, calculated decisions, with a clear view of the upcoming situation.
2. The solutions to your confusions and problems will be resolved and thus empower you to face the odds with adequate protection
3. Stress due to ignorance will be reduced
4. You will be confident to take wise decisions since the problems will be handled with ease. This will help in clear thinking and happier planning ahead.

Testimonials:
Panditji Umesh pantji is very patient and suggest very simple vedic solutions which give a lot of peace of mind as well as lost confidence. I got the great help in one of my major problems of life and my belief in astrology have been strengthened. Thank you panditji.
Savita Sharma, Rohini, New Delhi.
With service related to 5-year prediction, I become quite confident about the situations in my life. That being said, Pandit Umesh Chandra Ji has offered correct and factual guidance to me with regard to my astrological situations. Moreover, his keen understanding of the matters associated with astrology also astounded me beyond words to express. I must say he is one of the fewest astrologers in our time who can understand pangs of clients.
Anil Subramanian, Chennai