Face To Face Consultation with India's Best Astrologer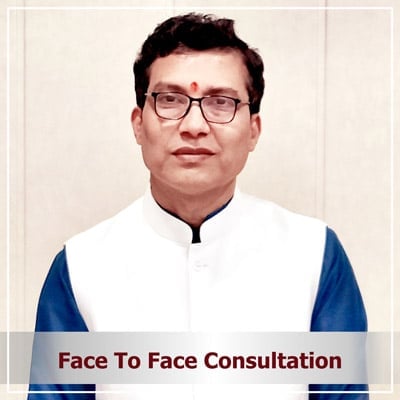 Make an Appointment with Astrologer Pt Umesh Chandra Pant
Book An Appointment With Renowned Astrologer Delhi NCR for 60 Min for having best and accurate answers to your questions. Book An Appointment With Renowned Astrologer for one hour in which the consultation by our astrologer will address your questions with answers aiming to help you ease out your situations on the front of career, finance, business etc.
With the advance in technology, one gets to answer and solution online astrologically. Then at times, the person may not feel fully satisfied. There can be nothing more satisfying than to meet the Astrologer in person and talk about your concern. Here you can get all your concerns to get addressed that to in detail. Pt. Umesh Chandra Pant, Chief Astrologer, Pavitra Jyotish Kendra invites you to meet him in person. The sitting extends for One hour. This gives you ample time to discuss the issue concerning you from a different perspective as well. You then know in detail the basics based on which the astrologer comes to conclusion.
Meeting the Astrologer in person has many advantages. During a personal meeting with the Best Astrologer in India you know the exact cause of your concern and understand well enough about Astrological Remedies which you need to follow, It is a kind of win situation for you all the way, so Book an Appointment with Renowned Astrologer in Delhi NCR Pt. Umesh Chandra Pant at earliest to satisfy your quest for finding the right solution and right direction to follow for success in pursuit. The one hour slot will be fulfilling as his guidelines are authentic and practical.
Important Information About

Book an Appointment 
Service Name: Book an Appointment 60 Min, Service Type: Astrological Guidance and Solution, Language: Hindi, Service Mode: face to face meeting, Delivery: 24 hours, Features: Guaranteed solutions, reliable services, extensive results, Benefits: It helps you setting short and long term goals with solution of your personal problem positively.
Why Face to Face Consultation 60 Min?
Booking an appointment for an hour will be good to clarify all of your doubts and get the instant solution & astrological remedies. During an hour, our astrologer will get enough time to analyze birth chart completely, and your doubts will be cleared one by one with effective remedies.
How it works?
1. Share your birth details and ask your queries/problems.
2. Make the payment.
3. We will send you an e-mail for reconfirmation of your birth details and face to face meeting appointment.
4. We will discuss face to face about your horoscope reading and solutions.
5. If you have any doubts, feel free to ask. We will respond or resolve your every query or doubt one by one over the phone.
OTHER PAYMENT OPTION:
Paytm, Google Pay and PhonePe Payment Options Available. Please pay Rs 2100 at Mobile Number +91-9582192381 Or Pay Thru VPA ID: PavitraJyotish@ICICI And share your payment screenshot and birth details to WhatsApp no 9582192381.
Your query regarding the Best Astrologer In Delhi Near Me comes to its perfect solution at PavitraJyotish where you can Book An Appointment With Astrologer – 30 Minutes. Our expert knows solutions for your problems, including puja for health. If you're Leo, you can get your 2021 Leo Health Horoscope prepared by the Best Astrologer In South Delhi.
HEAR FROM OUR CUSTOMERS
Mr. Omar Jose, United States America
Mr. Harjeet Singh, New Delhi, India
Info
Duration: 60 Min
Paytm, Google Pay and PhonePe Payment Option Available: Please Pay Rs 2100 to +91-9582192381
What 60 Minutes Face to Face Consultation will Contain?
1. Astrological Details of your kundali
2. Current planetary position, dasha, transit and their effect
3. Response to your Questions
4. Accurate remedial measures to deal with your problem
5. Important tips to make situations easier for you

Benefits of Face to Face Consultation
1. You can take smarter, calculated decisions and plan your times ahead.
2. The guidelines will help you to make the right moves and avoid a possible pitfall.
3. The Consultation will help you to note the time period for possible rectification of your concern.
4. You will be confident to take wise decisions since the problems will be handled with ease.
5. Stress due to ignorance will be reduced.

Hear From Our Customers
My experience has been very rewarding and all the solutions given by Pandit Umesh Ji have shown very positive results. They have instilled hope and positivity in me and are able to handle my life better. He is able to show a direction and is a beacon and panacea for all problems that we face in life.
Malvieka Joshi, Gurgaon NCR
Pandit Pant is a well educated astrologer and communicates very well with his clients. He patiently hears you out and than start explaining you the complete process in a simple lucid manner. He will answer all the queries very patiently till you are completely satisfied unlike other astrologers who keep looking at their watch. Another best part about Pant ji is that he will give you an e mail written in simple words with remedies and how to perform them effectively.He is always available on phone and is ready to help you anytime . He is a good human being and very good person to talk to and share your issues and concerns. Highly recommend and probably the best astrologer in India.
Anshu Tandon, Greater Kailash, Delhi