Astrologer on Call – 15 minutes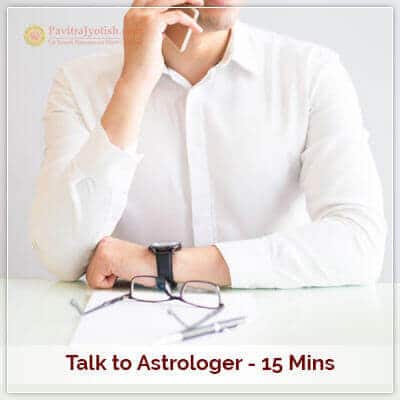 Phone Consultation With Astrologer 15 Minutes
Want to get service of astrology on call? Call our expert Jyotish today and get your questions answered right away! Astrological Phone Consultation or Call Astrology is so easy to have your questions revered with great answers by our expert. The applicable charge for the said consultation is also very low, thus giving you more reasons to phone our famous astrologer today for having your queries solved.
There can be nothing more exciting than Talking to the Astrologer and getting your doubts cleared. Talk to Our Expert Astrologer Umesh Pant, and get guidance for the problems that are bothersome for you. Your framed questions and the respective answers will help you sort out your problems and progress in a manner that is least troublesome.
For Astrological Guidance at PavitraJyotish dedicated to resolving your life's problems multiplied by malefic planetary influences, we encourage you to Call Astrologer, Pt. Umesh Chandra Pant. He is broadly popular for his immense experience in making accurate astrology and Horoscope Predictions with 100% satisfaction guaranteed.
Phone Consultation with our Astrologer extends for 15 minutes in which you get to know comprehensive astrological details of your Kundli, good response to your questions, ideal remedial measure for your problems and key tips to simplify your problems. The consultation serves the purpose of helping you find right direction and solutions to your troubled marriage, career or any problem related to your life caused by malefic planets.
Have you ever queried yourself "Who's the best astrologer in Delhi near me?" Well, you don't need Google for that answer. Your instant access to Astrologer On Phone – 30 Minutes, best astrologer in South Delhi is right at your fingertips. Book an appointment with astrologer – 60 minutes to see for yourself the expertise of our veteran astrologer.
Important Information About

Astrologer On Call 15 Min
Service Name: Astrologer on Call 15 Min, Service Type: Astrological Guidance and Solution, Language: Hindi, Service Mode: Telephonic, Delivery: 24 Hours, Features: Guaranteed solutions, reliable services, extensive results, Benefits: It helps you setting short and long term goals with solution of your personal problems positively.

Why Talk To Our Astrologers 15 Min?
Astrologer On Call 15 Mins would help you to get the instant solution to your problem. With this consultation over phone, your birth chart will be analyzed with respect to your query and based on that the predictions are made to help you with suitable time period, and remedial solution is provided in order to increase the success rate.
How it works?
1. Share your birth details and ask your queries/problems.
2. Make the payment.
3. We will send you an e-mail for reconfirmation of your birth details and a telephonic appointment.
4. We will discuss over the phone about your horoscope reading and solutions.
OTHER PAYMENT OPTION:
Paytm, Google Pay and PhonePe Payment Options Available. Please pay Rs 601 at Mobile Number  +91-9582192381 Or Pay Thru VPA ID: PavitraJyotish@ICICI And share your payment screenshot and birth details to WhatsApp no 9582192381.
Your query regarding the Best Astrologer In Delhi Near Me comes to its perfect solution at PavitraJyotish where you can Book An Appointment With Astrologer – 60 Minutes. Our expert knows solutions for your problems, including puja for health. If you're Leo, you can get your Leo health horoscope prepared by the Best Astrologer In South Delhi.
HEAR FROM OUR CUSTOMERS
Mr. Debraj Chaki, Kolkata, West Bengal
Mr. Mukesh Kumar, United Kingdom
Info
Duration: 15 Min
Paytm, Google Pay and PhonePe Payment Option Available: Please Pay Rs 601 to +91-9582192381
What Phone Consultation will include?
1. Astrological Details of your kundali
2. Current planetary transit and their effect
3. Response to your Question
4. Accurate remedial measures to deal with this problem
5. Important tips to make situations easier for you

Benefits of Phone Consultation
1. You can take smarter, calculated decisions and plan your times ahead.
2. The guidelines will help you to make the right moves and avoid a possible pitfall.
3. The Consultation will help you to note the time period for possible fructification of your concern.
4. You will be confident to take wise decisions since the problems will be handled with ease.
5. Stress due to ignorance will be reduced.

Hear From Our Customers
I know pandit Ji from 2012. he helped me a lot when i was going through bad phase of my life Remedies which he suggest are very effective and helpful i have even took suggestions and remedies for my friends who live abroad even for them his remedies and suggestions worked.
Sandy, Moscow, Russia
I was introduced to Acharya Umesh ji through my sister. Thanks to his guidance and upaya, I got positive results in my legal dealings. I am very grateful for his timely intervention and support. And highly recommend him.
Pranita Nayar, Chicago, USA