Remedial Solution for Finance – Detailed Guidance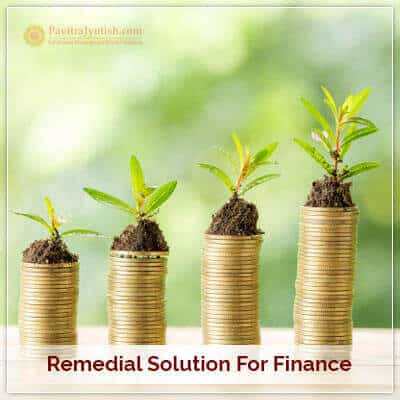 Money is one of the most crucial things that everyone wants to accumulate in their life, up to the limit where survival is no longer a problem. A visible lack of money could spell depressing outcome in the life of those going through a financial crunch. If your life is under similar kind of situation and you want a remedial solution for finance through the means quite helpful for your needs, here's Astrological Guidance from one of the most Renowned Astrologers, Pt. Umesh Chandra Pant.
Astrologer at PavitraJyotish is educated and experienced in the matter associated with the occult science of astrology. Financial Horoscope prepared by our well-known astrologer is intended for those facing some difficult financial phases in their lives. Included in the horoscope is the detail of Financial Guidance which would help you map outer plan your finances systematically.
Finance plays a substantial role in our life. Finance is a great driving force to keep a person motivated to work and put best efforts. Some get stuck with lack of needed finance at times. Earning well is not the end of the story. It is how much you save and invest money plays a major role in life. PavitraJyotish prepares this report to provide a detailed guidance about a remedial solution for finance. Planning your finances effectively is a must. This way you can derive the best benefit from your money. You can ask any specific question about finance.
Our Chief Astrologer Pt Umesh Pant has a vast knowledge of Vedic Astrology and its provisions. Under his guidance Remedial Solution for finance in detail is provided. He lets you know about Gemstone good for you and also optional remedy like Rudraksha and Yantra are given. Use this report for the fulfillment of your wish for finance. Post your query in this section of our website and Pavitra Jyotish does the rest for you.
Info
Delivery : 5 Days
Get your manually analysed and Hand-Written report by expert Astrologer.
Customer Care
If you have any confusion or need further clarification please contact our customer care.
Call +91-95821 92381 and 011-49901368
Your Report Will Contain:
1. Astrological Details of your Horoscope chart
2. Astrological analysis of your situation
3. Response to your question
4. How to make use of this report
5. Lucky measures to benefit to you (Lucky number, days, metal, time, direction and gemstone)
6. Impact of your Ascendant
7. Impact of your Moon Sign
8. Planetary Picture regarding Finances
9. Mantra and Puja Remedies
10. Accurate remedial measures for your problems (Lucky Yantra and Rudraksha)
11. Important tips to make situations easier for you

Benefits of this report:
1. You can plan your future and secure your finances in proper time.
2. On being aware of the possible obstructions, your effective planning will help you protect wealth
3. Your immediate problem will be addressed to help you resolve and move ahead without stress.

Testimonials:
I approached Pt. Umesh and we get astrology report. The answers were clear, predictions correct and they even told us the bitter truth. Whatever happened, but I am now relaxed. I will recommend Pt. Umesh.
Shyam Sunder, Delhi
Thank you very much, Pandit Ji, for answering my questions in such a great detail and professional manner. Based on your remedial solution for my financial state, I have been able to follow right directions aiming to manage my situation well. Your detailed guidance pretty much opened my eyes to things that I needed to take care in my life. Gladly I found financial relief.
Susan Sharma, Hyderabad, Talengana