Siddh Rudraksha Mala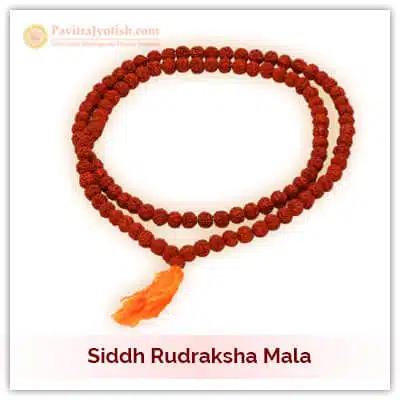 Rid The Confinement Of Fear With Siddh Rudraksha Mala
To attain the blessing of Lord Shiva and make progress in your chosen endeavor, Siddh Rudraksha Mala is the best choice you can go for. Rudraksha Rosary Beads helps you in the attainment of success in, for example, career or business. Moreover, it can also strengthen spiritual side of your personality. Fear or planetary doshas also get burnt out by it. You can Buy Siddh Rudraksha Mala Online at competitive price at PavitraJyotish.com.
Mala is normally used to recite a mantra and keep a count of the same. Here this Siddh Rudraksha Mala carries much importance. This protects you from negative vibes and makes you feel confident. Siddh Rudraksha Mala can be worn in neck. Resultantly positive energy surrounds you. On occupational front, you can achieve desired level of success in your pursuit. Rudraksha is a bead growing on a tree naturally. Lord Shiva is measured as linked with Real Rudraksha. Viewing having this Rudraksha Mala works well to appease Lord Shiva. You receive blessing from Lord Shiva. Stability and progress in your pursuit can be achieved by having this Siddh Rudraksha Mala. In turn, you remain in a strong financial position.
We have developed a proprietary method to cleanse the Original Rudraksha Mala of negative energy and energize and activate the Original Rosary Mala to render positive results for you. It is based on our deep research of the Vedas and related astrological scriptures.
Product Information For Siddh Rudraksha Mala
Product Name: Siddh Rudraksha Mala, Colour: Brown, No. Of Bead: 109, Usage: Chanting or Astrological Remedies, Guarantee: 100% Authentic, Quality Effects: Energized by Scholar Pundits, Purity: 100%, Usual: Best For Chanting Or Astrological Remedies, Finishing Type: Best, Usage/Application: Wearing method provided to you with Rosary Mala, Brand: PavitraJyotish, Packaging Type: Box, Guarantee: Best Quality Rosary Mala With Assurance of PavitraJyotish.com.
How Does It Work?
1. Share your Rosary (Mala) energization (puja) details, your wishes, complete address with postal pin code and phone no for dispatching authentic and 100% original Siddh Rudraksha Mala.
2. Make the payment.
3. Once you have an order for the siddh Rosary (Mala), you will receive an order confirmation email at your registered email id.
4. We will send an email for reconfirmation of your energization (puja) details, and your address through your registered email id.
5. After confirmation of your email, we will process your order of siddh Rosary (Mala) according to your best muhurta.
6. After that, we will send the siddh Rosary (Mala) through courier or by post to your mentioned address. We need 1-2 weeks for the complete process of your order for Rosary.
7. After dispatching the product, we will send tracking details of it at your registered email.
8. When you receive a siddh Rosary (Mala) please confirm through an email.
9. Open the parcel, read our instructions and wear the same or use for chanting.
Benefits Of Having Purified And Activated Siddh Rudraksha Mala
1. You remain blessed by Lord Shiva.
2. Negative vibes around you are repelled and you remain surrounded by positive energy.
3. It helps get the peace and stability of mind.
4. Stability and progress on occupational front are assured.
5. You achieve desired level of success in your pursuit.
6. You remain in a strong financial position.
7. You can make advancements in spirituality.
Buy Siddh Moonga Mala, Siddh Moti Mala at the most affordable price. They are original and have gone through energization, a process conducted by our erudite pandits. Experience peace and positivity, plus prosperity that never goes away. Consult our astrologer pandit for more details.
Info
Delivery: 2 Week
Outside India an additional shipping and handling cost of USD 30