Best Astrologer in India

Get In Touch With Renowned Astrologer For Best Solutions
More About Best Indian Astrologer Pt Umesh Chandra Pant
Before you take an important decision, you need to contact the World Famous Jyotish Pandit in India at Pavitra Jyotish Kendra – Best Astrologer in India Umesh Chandra Pant.
Astrology It's more than what you think, there is much more to horoscope predictions than what you find every day in the newspaper. Sun signs – Western Astrology, Moon sign – Indian Vedic Astrology, even the time of day all that affects our life's journey. Renowned Astrologer in India and trusted mentor, Umesh Chandra Pant has dedicated over fifteen years to providing the deepest, most accurate predictions possible.
He is well known throughout India, and the world for his guidance concerning a host of subjects from love and marriage , career, business, money, education, property, personal matters, transfer, enemy, marriage, partnership, Karmakanda, Vastu Shastra , Shubh Muhurta ( Auspicious time for any important task ). It only takes a quick look at comments from consumers to see how valuable his guidance has been. Customers praise him for his motivation, diligence, and commitment to guide every individual he possibly can. His predictions are met with trust, respect, and often with awe bt their clarity. Astrologer In South Delhi Pt Umesh Chandra Pant has a wealth of knowledge on astrology, allowing him to derive insightful, well thought out predictions to keep your life on track and moving forward. You can contact Astrologer Umesh online on website "pavitrajyotish.com" Looking for a best answer to your questions? Ask questions and get to know reliable astro answers from Best Astrologer In India.
Why is Vedic Astrologer the Best?
Indian Astrology is different from the Western Astrology in certain aspects. In India, different astrologers follow different astrology principles to predict future. However, Vedic Astrology is the best kind of Astrology available in the world today. Vedic Astrology was developed by the ancient Indian sages several thousand years ago. Their findings stand true even today.
In India, majority numbers of Astrologers follow Vedic astrology. It's true that Vedic astrologers give better predictions to their clients. It's difficult to master Vedic astrology as it has too many rules and sub-rules. Vedic astrologers are gifted with God's grace and power. Astrologer Umesh can answer all your questions and solve all your problems with ease. As a Vedic astrology expert, he recommends some effective remedies to his clients so as to reduce the malefic effects caused by the planets.
Our Astrology Services Portfolio
Pavitra Jyotish Kendra –was founded by Pt Umesh Chandra, Astrologer in Delhi, India.
This South Delhi based Astrologer is well known for his top varied Astrology Services in Delhi, India, and the world. Owing to vast experience and immense knowledge about astrology, we are recognized as Astrology expert. Famous Jyotishi in Delhi, India does Astrology Consultancy, acts as Vastu Shastra Consultant, Good in Numerology, Lal Kitab and more. By gaining in-depth insight into an individual's life and problem areas, we offer our unmatched services and commitment to accuracy.  Our wide range of services includes:
| | |
| --- | --- |
| Instant Ask a Question | Ask a Question |
| Ask 3 Questions | Ask 5 Questions |
| Love & Marriage Prospects | Detailed Kundali Matching |
| Business Reports for One, Two and Three years | Career Reports for One, Two and Three years |
| Finance Report for One, Two and Three years | Health Report |
| Love Report | Marriage Report |
| Progeny Report | Education Report |
| 5 Years Life Reading | Detailed Life Reading |
| Year Ahead Report | Annual Birthday Report/Varshfal |
| Gemstone Recommendation | Mangal Dasha Report |
| Sade Sati Report | Horoscope Dosha & Remedies |
| Marital Problems Analysis | Dasha Analysis |
| Muhurta(Auspicious time for any task) | Prashna Shastra(Not having birth details) |
| Name Correction Report | Numerology Report |
| Vastu Suggestion and Remedies | Lal Kitab Report and Remedies |
Apart from these services, we offer various other products as follows
1. Gemstones: Ruby (Manik), Pearl (Moti), Coral (Moonga), Emerald (Panna), Yellow sapphire (Pukhraaj), Diamond (Heera), Blue Sapphire (Neelam), Hessonite (Gomed), Cat's Eye (lahsunia)…………..
2. Rudraksha: One to fourteen Mukhi, Gauri Shankar, Ganesha………….
3. Powerful Yantra: Sri Sri Yantra, Ganesha, Durga, Navgrah, Vyaapaar Vridhi, Vastu, Kuber, Kanakdhara, Mahamrityunjai, Gayatri, Baglamukhi, Mahalaxmi, Yantra related to all Planets, Lagna Vighna Nivarak, Sarva Karya Siddhi Yantra………..
4. Kavach: Nazar dosh, Durga Visa, Baglamukhi, Saraswati, Gayatri……………
5. Parad Samagri: Ganesha, Laxmi, Durga………….
6. All Type Of Mala: Rudraksha, Moti, Coral, Kamalgatta…………
7. Sfatik (Crystal): Sri Yantra, Laxmi Ganesh, Shivling……
Top 10 Best Astrologers In India News In Pt Umesh Chandra Pant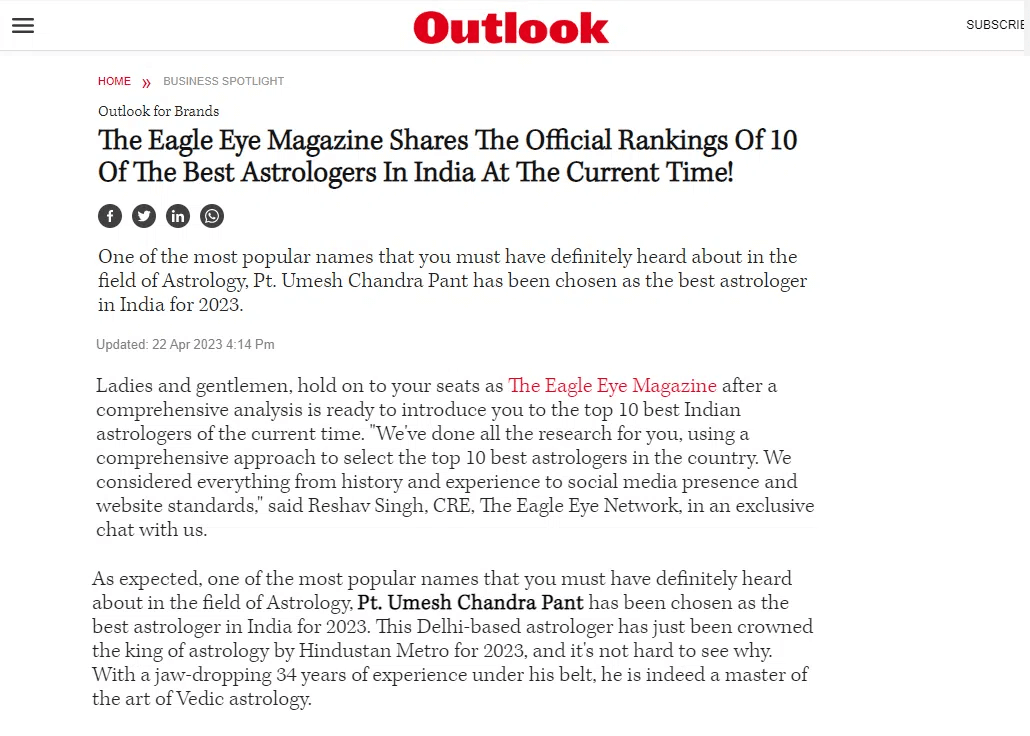 Pt Umesh Pant Astrologer in Outlook Newspaper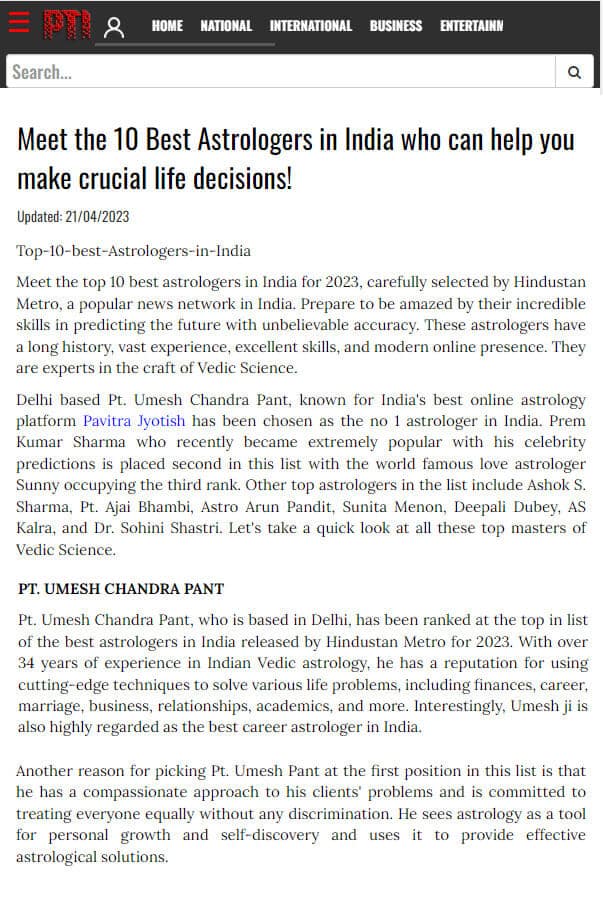 Umesh Jyotish In PTI Newspaper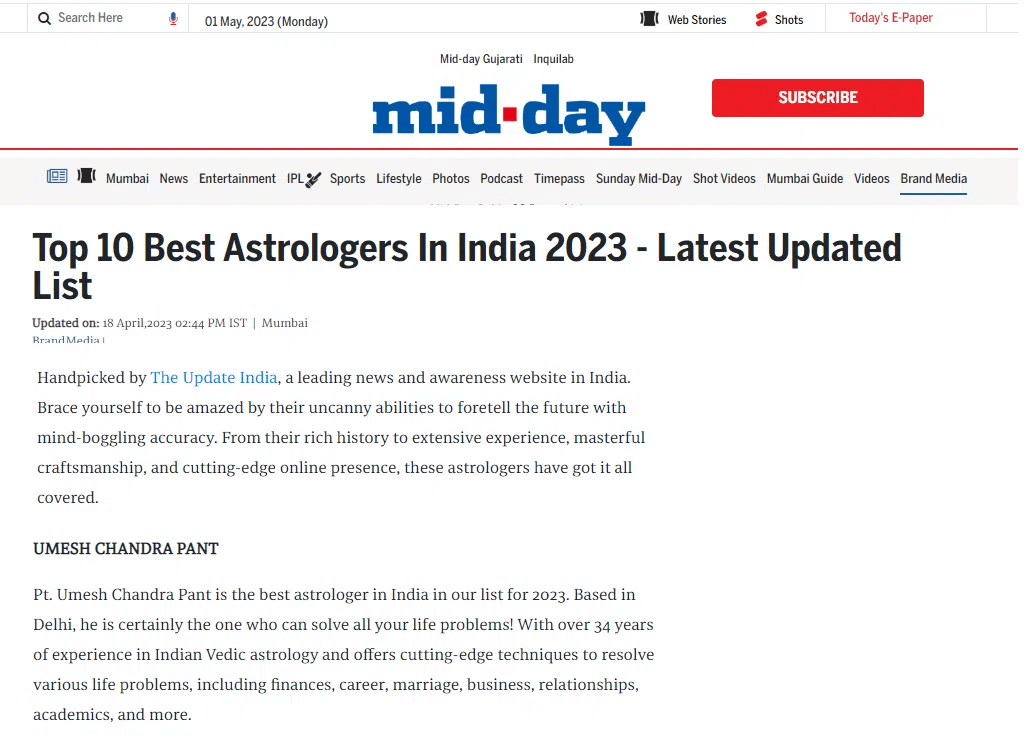 Pandit Umesh Chandra Pant In Mid Day Newspaper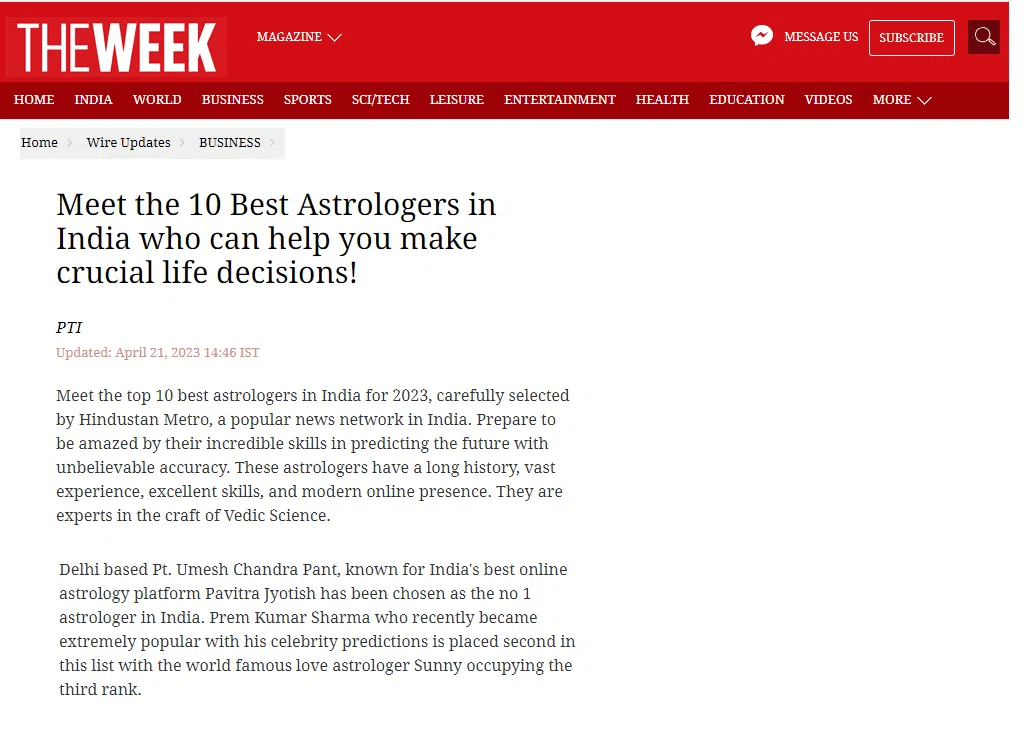 Pt Umesh Chandra Astrologer In The Week Newspaper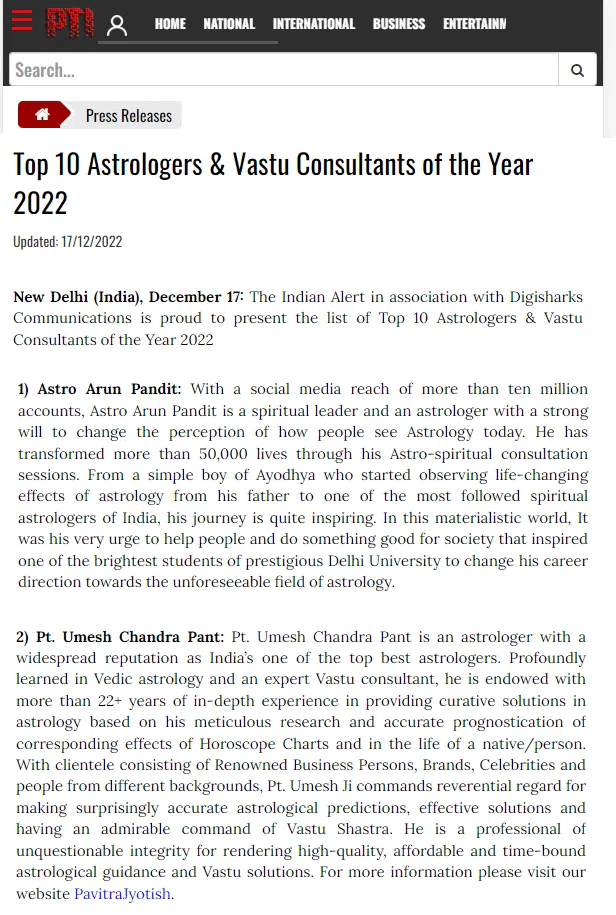 Umesh Pant Astrologer In PTI Newspaper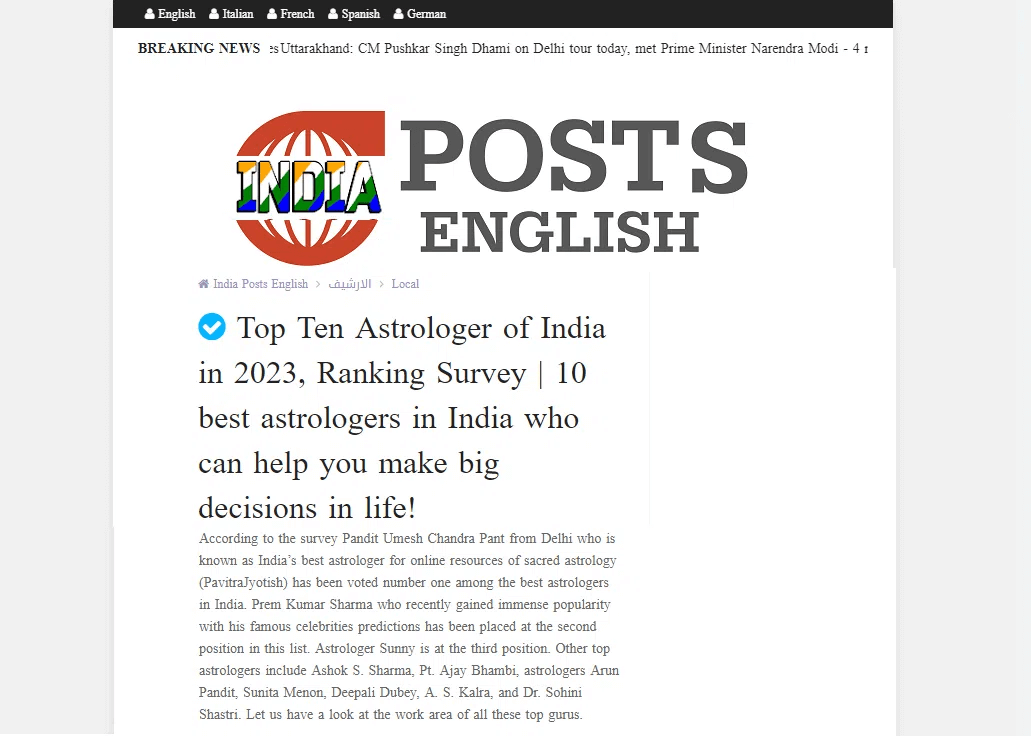 Umesh Chandra Pant Astrologer in Indian Posts Newspaper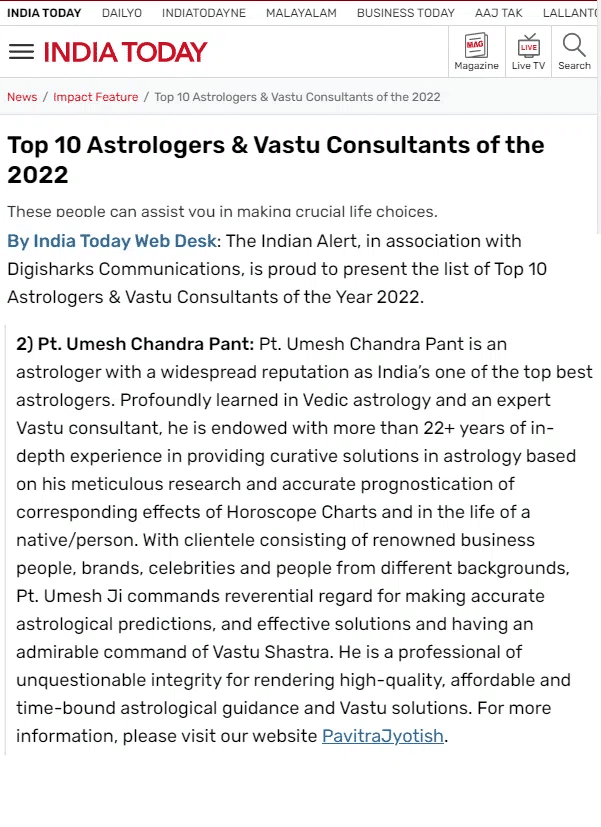 Umesh Jyotish In India Today Newspaper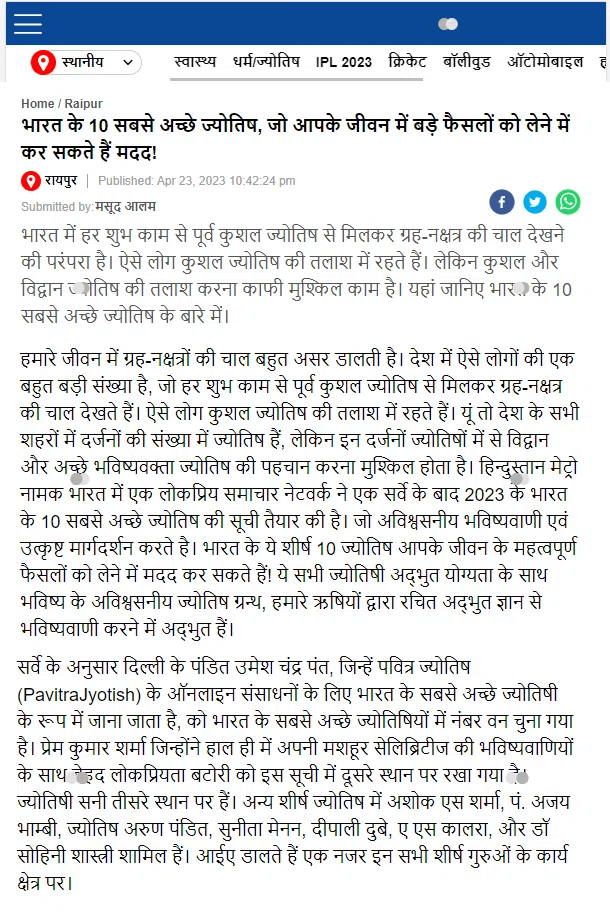 Pandit Umesh Pant In Patrika NewsPaper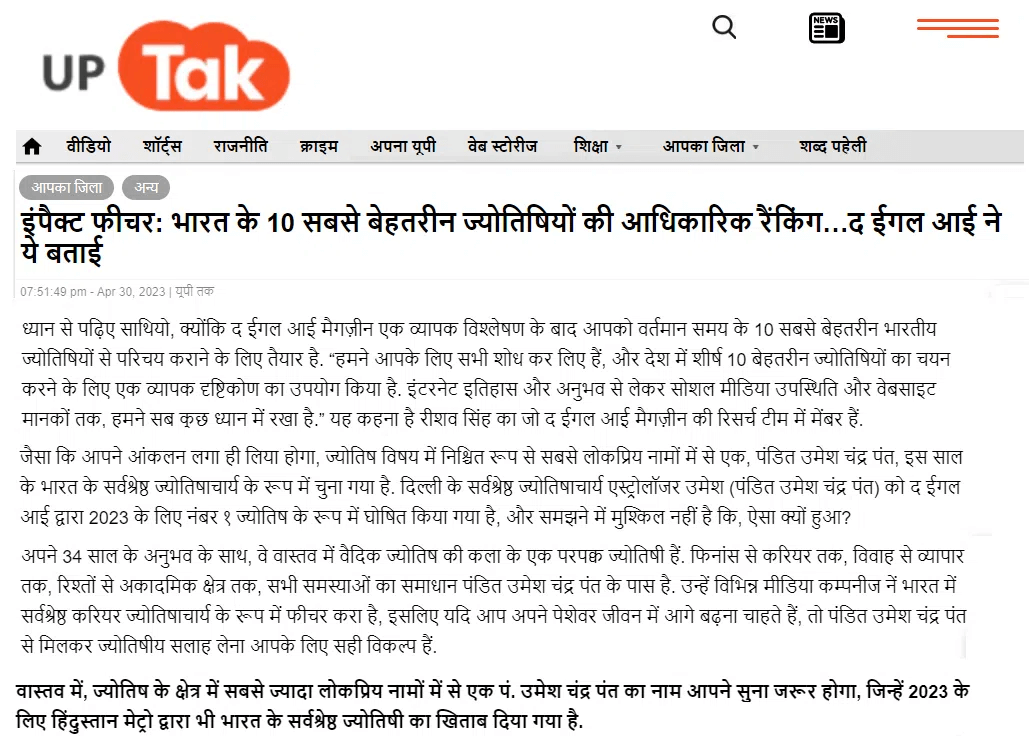 Pt Umesh Chandra Astrologer In UP Tak Newspaper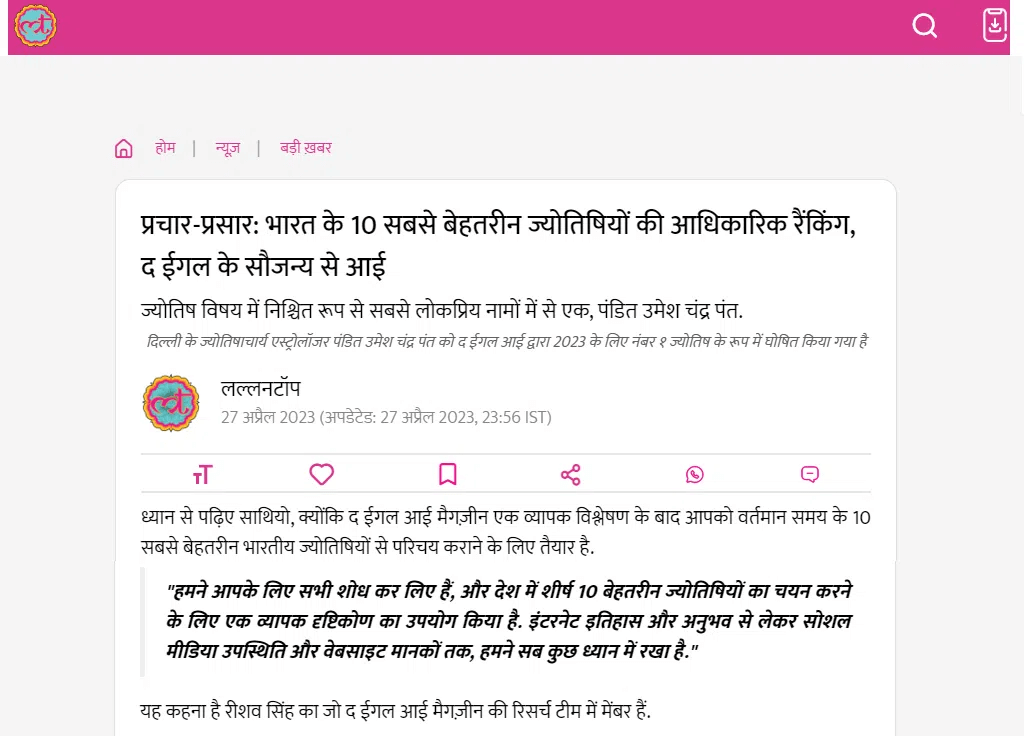 Pandit Umesh Chandra Pant In Lallantop Newspaper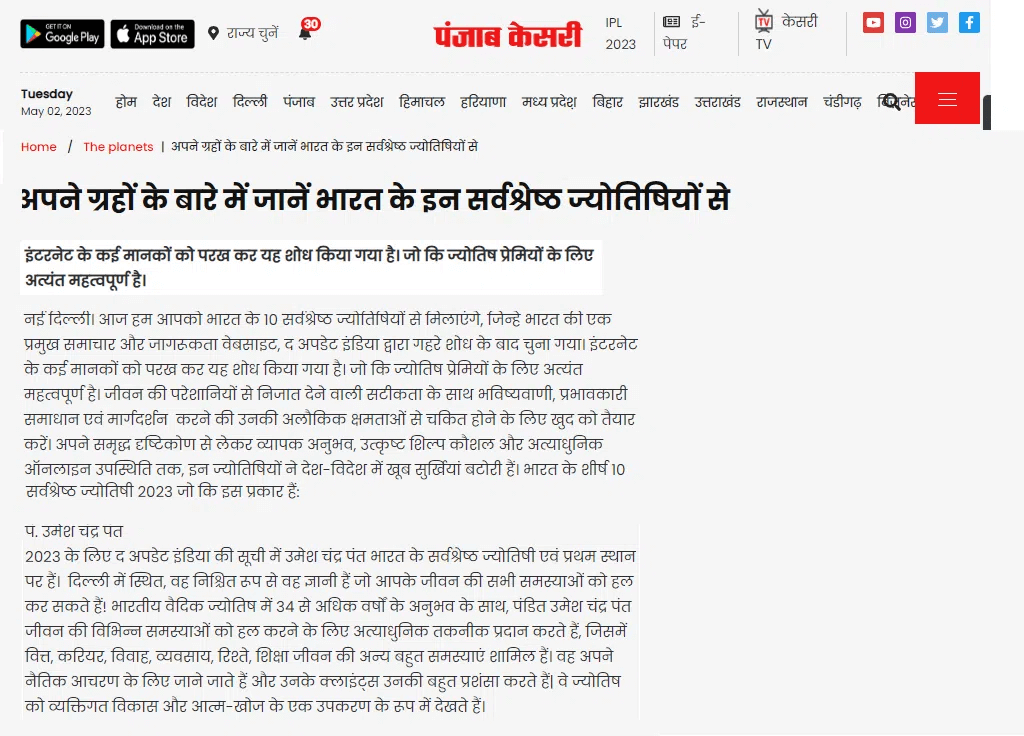 Umesh Chandra Pant Astrologer Punjab Kesari Newspaper