Ask 4 Questions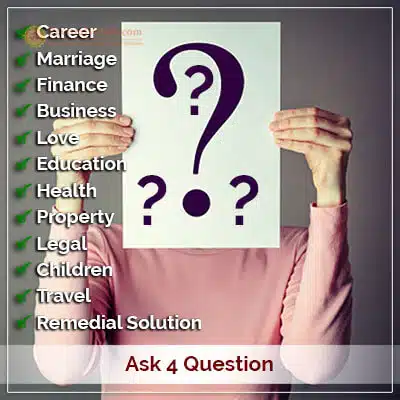 Four Answers Of Your Questions Helping You Get Clear Set Of Mind
If you want to Ask 4 Questions regarding your personal or professional fronts, get their accurate solutions from India's one of the leading Astrologer, Pt. Umesh Chandra Pant, at PavitraJyotish. We analyze a complete birth chart with respect to your queries and based on your planetary alignments, apt remedial measures are provided to remove obstacles or problems.
Important Information About Ask 4 Questions
Service Name: Ask 4 Questions, Service Type: Astrological Guidance and Solution, Language: English, Service Mode: Online (By e-mail only), Delivery: 5 Days, Features: Guaranteed solutions, Reliable services, Extensive results and best standard format of PavitraJyotish (YOUR REPORT WILL CONTAIN – Read it below), Benefits: It helps you setting short and long term goals with solution of your personal problems positively.
Why Ask 4 Question Report?
If you have couple of questions or doubts in your daily life and looking for an accurate solution for the same, you can order our Ask 4 Question report, it would be the best guide and will provide you accurate and the point answer to your asked query along with the suitable remedial measures.
How Does It Work?
1. Share your birth details and ask your queries/problems.
2. Make the payment.
3. We will send an email for reconfirmation of your birth details through your registered email id.
4. After confirmation, within next 5 working days, we will provide detailed report as per our standard format and reply to your specific questions (Your Report Will Contain – Read it below).
5. You will receive your personalized report at your registered email id.
6. Read your report, and feel free to contact us via e-mail if you feel like having any doubt. We will respond you shortly by reverting your e-mail.
Our solution thorough predictive astrology such as Progeny Report, Birth Time Rectification, 10 Year Prediction, Lal Kitab and Remedies can help you with the most efficient and result-oriented solutions in your life. Get your needed service at the most affordable price.
Info
Delivery : 7 Days
Get your manually analysed and Hand-Written report by expert Astrologer.
What Ask 4 Questions Report Will Contain?
1. Astrological Details of your Horoscope chart (i.e. Complete basic information, Ascendant, Rashi, Nakshatra, Placement of Planets, Dasha & Antardasha).
2. Response to your 4 questions.
3. Lucky measures to benefit to you (Lucky number, days, metal, time, direction & gemstone).
4. Mantra and Puja Remedies.
5. Lucky Yantra and Rudraksha.
6. Important tips to make situations easier for you.

Benefits Of Ask 4 Questions
1. You will be able to form your steps ahead once you know the possible areas of strength and work upon the areas of concern.
2. Having known the choice possible, you can avoid the weak areas and focus your attention on areas that are benefic in your life so that you can enjoy a blissful marital life.
3. Despite the apparent confusions, you will be able to understand your love and take a decision wisely.
4. Your fear, apprehension, worries and stress will be reduced.

Hear From Our Customers
I wanted to have astrological analysis of my situations which were turning bad with each passing days. The name of Pandit Umesh Ji came from a well-wisher whose problems were solved by the astrologer meaningfully. I had impression of him as a hard-core professional who knows money than client satisfaction. However, after meeting with him and being counselled, I realised Pandit Ji was gifted and savvy in his way of astro predictions. I asked four questions related to astrology and I must say they were answered professionally. Umesh Ji also offered certain remedial measures for my life's problems..
Savita Upreti, Uttrakhand
Astrologer Umesh provides accurate and timely solutions based on his practical experience. His remedies have proven very helpful to me. His advice on different spheres like education, professional life and other fields are very effective. He is very patient and explains things in great detail. The gem stones he suggests are also very effective and bear results. Would suggest those seeking astrological advice and solutions should visit him once.
Anurag, Gurgaon NCR