Shani Puja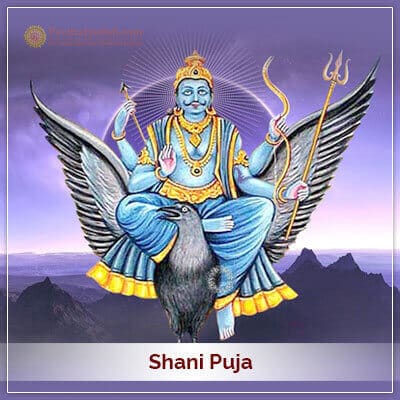 Significance of Sri Shani (Saturn) Puja
Shani puja or Saturn worship aims at pacifying the malefic effects of the planet, thus blessing you with abundant peace, prosperity and continuous growth in your chosen endeavor. Book your shani puja and experience the divine blessings of Lord Shani in your life. We follow every rituals and correct puja vidhi in Shani pooja so that the positive effects of the same you can have in your life faster.
Lord Shani (Saturn) is the second biggest planet in our solar system. It is every peculiar planet because of its gaseous composition and due to its unique rings. It is the most popular planet in terms of astrology. Saturn is believed to be the son of Lord Surya (Sun). It is the planet of justice and persistence. It is one of the slowest moving planet and hence known as "Amanda". Saturn usually is one of the most feared planets because of its longer transits (when unfavorable). It is very important to rectify the effects of a malefic Saturn in the chart or when the Saturn's transit is unfavorable.
Pavitra Jyotish Kendra will organize a special Shani puja on a Saturday during the Pradoshakaalam. Our well-trained group of Vedic priests will perform this puja as per the protocols of the Shastras. A detailed Shodashopachara puja will be performed along with the Kalashasthapana, and invocation. During the Sankalpa, your birth details will be taken into account. Various Vedic and Puranic mantras of Lord Saturn will be chanted during the puja. Along with this, various hymns like Shani Vajra Panjarika Stotram will also be recited.
After the completion of puja, we will mail you holy ash and Prasadam of the puja via courier to your address. Moreover, we will also provide you with an energized Shaniyantraand Sri Shanishwarakavacha. This will ward off the negative influences of malefic Saturn and you will be protected by the blessings of Lord Shaneeshwara.
Benefits of Sri Shani Pujan
It is very vital for those undergoing an unfavorable transit (ShaniSaadeSaati).
It is highly recommended for those with a malefic Saturn in their birth charts.
Those who are facing misfortunes frequently should perform it.
It is a powerful remedy for those suffering from evil eye or black magic.
It is very effective in the case of any prolonged illness.
It is an effective way to dilute the negative karmas.
It is very helpful in case of depression, low confidence etc.
It is extremely beneficial for those in the service sector.
Complimentary Gifts:
Siddh Shani Yantra
Siddh Hanuman Locket
Info
Delivery: 7 days According to Muhurta.
The scholars and pundits of Pavitra Jyotish have performed your puja, for amazing and miraculous relief from suffering and alleviate your problems.
Customer Care
If you have any query or need further clarification
Call +91-95821 92381 and 011-49901368