Horoscope Reading (10% Off)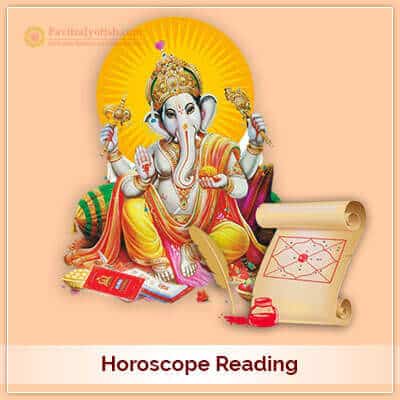 Problems in life get compounded due to the absence of proper solutions. If they are connected with astrological origins, then your situation to handle such nagging issues requires astrological consultation with a renowned astrologer. This is where popular astrologer, Pt. Umesh Chandra Pant, comes in picture.
With many years of experience in astrology and its continued practice has established his name as one of the most reliable astrologers whose Astrological Remedies are trusted. Horoscope reading by Umesh includes close analysis of your astrological transits and their relative impacts on your kundali in your birth chart. As a result, he helps with proper solutions aiming to reduce the planetary bad influence and bring happiness to your life.
Info
Delivery : 5 Days
Get your manually analysed and Hand-Written report by expert Astrologer.
Customer Care
If you have any confusion or need further clarification please contact our customer care.
Call +91-95821 92381 and 011-49901368
Your Report Will Contain:
1. Astrological Details of your Horoscope chart
2. Astrological analysis of your situation
3. Response to your question
4. How to make use of this report
5. Lucky measures to benefit to you (Lucky number, days, metal, time, direction and gemstone)
6. Impact of Ascendant and Ascendant Lord
7. Impact of Moon sign
8. General analysis
9. Education, Career, Ambition
10. Health
11. Finances and Property
12. Family and Relations
13. Love, Marriage and Children
14. Important planetary influences in the near future
15. Mantra and Puja Remedies
16. Accurate remedial measures for your problems (Lucky Yantra and Rudraksha)
17. Important tips to make situations easier for you

Benefits of this report:
1. You will be able to plan your short and long term goals on various dimensions of your life.
2. It will be easy for you to direct your attention to the plausible areas instead of wasting in meaningless pursuit.
3. You will be able to add value to your own life
4. Stress and frustrations will be significantly reduced with your positive outlook.
5. Your fear, apprehension and anxiety will be reduced

Testimonials:
I am sharing my views & opinion. I feel that its really true person & always guide in positive direction.
Ashutosh, Gurgaon NCR
Astrologer Umesh is like a family now to me. i have consulted them often, and the results have been very good and their analysis straightforward. When I confused about my career and it turning into a boring story, I consult Astrologer Pant and now very happy. I will advise them in each new work. thanks to Astrologer Umesh.
Malti Mehra, Gurgaon NCR