Strength Reading for Career (10% Off)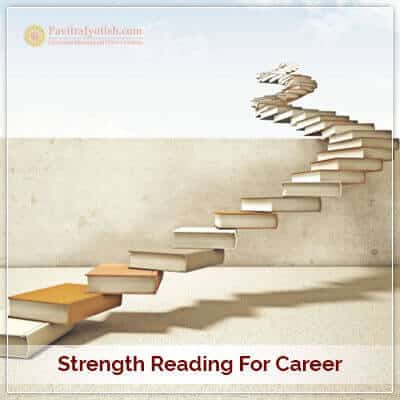 Certain moments in your career blindfold your vision and thus, you feel like a disoriented and lifeless soul unable to make a significant career growth. Lack of a right opportunity and timely supports from family also contribute a 'cleft stick' situation in your career. You feel like being confined to a darkened tunnel where your fate for exit seems to have been ceased by the dead-end route. Any direction leading to Career Opportunities, under such messy situations, is like a ray of hope in the darkened tunnel. What should you do then?
Career Horoscope presents to you detailed and valuable suggestions, helping you with strength reading for a career. You get to know the right career opportunities and leverage on your strength to make a big jump in your profession, irrespective of hard situations you come across in the process. Prepared by a renowned astrologer, Pt. Umesh Chandra Pant, our career horoscope is a blessing in disguise for everyone who's lost in the doldrums of a challenging career.
Having right career plays a substantial role in having a healthy financial position and enjoy a comfortable life. Ups and downs in career are experienced mostly by a person. PavitraJyotish has prepared this unique report about Strength Reading for Career. This report dwells in detail about all aspects of the career. Here we access the strength of planets in your birth chart and also the effect of transitory planets. You know about break if any in career and also chances to climb up the ladder. Here all your concerns about career are answered systematically in detail.
At PavitraJyotish, under the guidance of chief Astrologer Pt. Umesh a comprehensive personalized report on Strength Reading for Career is prepared. Umesh has an in-depth knowledge of Vedic Astrology and its practical applications. He also guides about simple easily workable remedy like helpful Gemstone, Rudraksha, and Yantra as needed for you. Post your query in this section of our website and we will do the needful for you.
Info
Delivery : 5 Days
Get your manually analysed and Hand-Written report by expert Astrologer.
Customer Care
If you have any confusion or need further clarification please contact our customer care.
Call +91-95821 92381 and 011-49901368
Your Report Will Contain:
1. Astrological Details of your Horoscope chart
2. Astrological analysis of your situation
3. Response to your question
4. How to make use of this report
5. Lucky measures to benefit to you (Lucky number, days, metal, time, direction and gemstone)
6. Impact of your Ascendant
7. Impact of your Moon Sign
8. Astrological Analysis of your Professional aptitude
9. Positive traits
10. Your area of concern
11. Mantra and Puja Remedies
12. Accurate remedial measures for your problems (Lucky Yantra and Rudraksha)
13. Important tips to make situations easier for you

Benefits of this report:
1. You will be able to chart your steps ahead once you know the possible areas of strength and work upon the areas of concern.
2. Having known the areas of strength, you can take the logical steps to empower your career with clear understanding.
3. Despite the apparent odds, you will note the implication and this will make you stronger and successful in your attempts.
4. Your fear, apprehension, worries and stress will be taken off.

Testimonials:
Astrologer Umesh is a genuine person who has the complete knowledge of jyotish in entire Delhi.
Peeyush, Ajmer
A day was searching in Google about astrologers in Delhi and find in first page Pt Umesh Chandra Pant. I opened up their website and read in details of Pandit Umesh Ji. Then I decided that to meet him. I take prior appointment with pandit ji. I am extremely surprised with their effective remedies. Really I have gained a lot. Panditji's remedies are very cheap and effective. I must say that all met once. And also recomend Umeshji for all of peoples who belive in astrology science. With great respect –
Vikram Walia, Delhi