Strength Reading for Career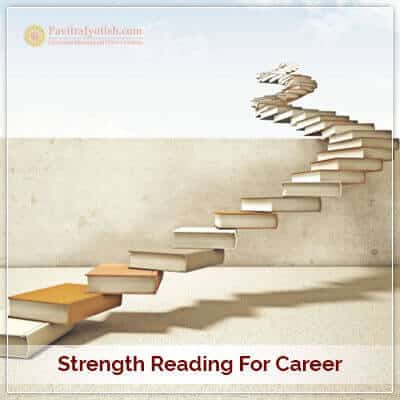 Let The Astrology Decode Your Career Suited To Your Personality Trait
Strength Reading for career enables you to reach out exactly the true potential. Helping you with your core strengths towards the profession or career will help you to make remarkable growth at work. Astrology says a lot more about your core strengths based on your zodiac sign arising in your natal chart.  Many times, we are unaware about our hidden traits, hence Strength reading will enable you to unravel your inherent traits and mark the level of growth and success. Thus, Strength Reading For Career report will help you to know and utilize your right strength in the right profession and also provide Career Remedies.
Important Information About Strength Reading For Career
Service Name: Strength Reading for Career, Service Type: Astrological Guidance and Solution, Language: English, Service Mode: Online (By e-mail only), Delivery: 5 Days, Features: Guaranteed solutions, Reliable services, Extensive results and best standard format of PavitraJyotish (YOUR REPORT WILL CONTAIN – Read it below), Benefits: It helps you setting short and long term goals with solution of your personal problems positively.
Why Strength Reading for Career Report?
To take your career at heights and at different level with your true & natural skills, our Strength reading report for career will help you in such case to understand you better about your inner & true talent and the best-suited field wherein you can show your maximum potential to grow yourself.
How Does It Work?
1. Share your birth details and ask your queries/problems.
2. Make the payment.
3. We will send email for reconfirmation of your birth details through your registered email id.
4. After confirmation, within next 5 working days, we will provide detailed report as per our standard format and reply to your specific questions (Your Report Will Contain – Read it below).
5. You will receive your personalized report at your registered email id.
6. Read your report, and feel free to contact us via e-mail if you feel like having any doubt. We will respond you shortly by reverting your e-mail.
Our services like Career Ask A Question, Business Ask A Question, Career Ask 3 Question, Business Ask 3 Question offer you concrete solutions for problems associated with any aspect of your life, such as career, business, education and so on. The most appropriate solution will be offered through puja.
Info
Delivery : 5 Days
Get your manually analysed and Hand-Written report by expert Astrologer.
What Strength Reading for Career Report Will Contain?
1. Astrological Details of your Horoscope chart (i.e. Complete basic information, Ascendant, Rashi, Nakshatra, Placement of Planets, Dasha & Antardasha).
2. Response to your question.
3. Astrological Analysis of your Professional aptitude.
4. Your Strength and Weakness.
5. Your area of concern.
6. Lucky measures to benefit you (Lucky number, days, metal, time, direction & gemstone).
7. Mantra and Puja Remedies.
8. Lucky Yantra and Rudraksha.
9. Important tips to make situations easier for you.

Benefits Of Strength Reading for Career
1. You will be able to chart your steps ahead once you know the possible areas of strength and work upon the areas of concern.
2. Having known the areas of strength, you can take the logical steps to empower your career with clear understanding.
3. Despite the apparent odds, you will note the implication and this will make you stronger and successful in your attempts.
4. Your fear, apprehension, worries and stress will be taken off.

Hear From Our Customers
Astrologer Umesh is a genuine person who has the complete knowledge of jyotish in entire Delhi.
Peeyush, Ajmer
A day was searching in Google about astrologers in Delhi and find in first page Pt Umesh Chandra Pant. I opened up their website and read in details of Pandit Umesh Ji. Then I decided that to meet him. I take prior appointment with pandit ji. I am extremely surprised with their effective remedies. Really I have gained a lot. Panditji's remedies are very cheap and effective. I must say that all met once. And also recomend Umeshji for all of peoples who belive in astrology science. With great respect –
Vikram Walia, Delhi