Marriage Report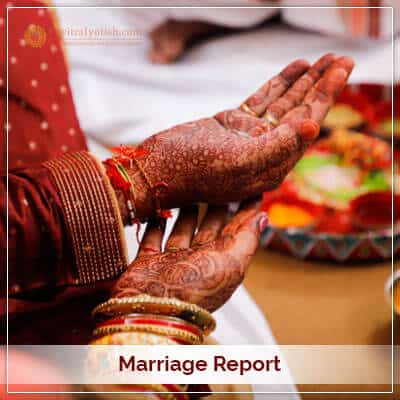 Get The Clarity Of Your Wedding Union As Seen Astrologically
Are you facing issues related to obstacles and delays in marriage? Here is our Marriage Report to help you with suitable outcomes. Our astrologer analyzes your birth chart completely to understand the cause of delay and getting obstacles every time in getting married and recommends suitable astrological remedies.
Important Information About Marriage Report
Service Name: Marriage Report, Service Type: Astrological Guidance and Solution, Language: English, Service Mode: Online (By e-mail only), Delivery: 5 Days, Features: Guaranteed solutions, Reliable services, Extensive results and best standard format of PavitraJyotish (YOUR REPORT WILL CONTAIN – Read it below), Benefits: It helps you settting short and long term goals with solution of your personal problems positively.
Why Marriage Report?
Marriage Report is good for those facing obstacles in getting married or for those too, who want to know the marriage prospects and timing of this event. So by considering all these factors, we have prepared the report containing all those important factors helping you to reduce delay in marriage or Marriage Problem Solution along with suitable remedies.
How Does It Work?
1. Share your birth details and ask your queries/problems.
2. Make the payment.
3. We will send an email for reconfirmation of your birth details through your registered email id.
4. After confirmation, within next 5 working days, we will provide detailed report as per our standard format and reply to your specific questions (Your Report Will Contain – Read it below).
5. You will receive your personalized report at your registered email id.
6. Read your report, and feel free to contact us via e-mail if you feel like having any doubt. We will respond you shortly by reverting your e-mail.
Make your life blessed with happiness and positivity with our services including Love Report, Love Ask 1 Question, Marriage Ask 1 Question, Marriage Ask 3 Question.
Info
Delivery : 7 Days
Get your manually analysed and Hand-Written report by expert Astrologer.
What Marriage Report Will Contain?
1. Astrological Details of your Horoscope chart (i.e. Complete basic information, Ascendant, Rashi, Nakshatra, Placement of Planets, Dasha & Antardasha).
2. Response to your question.
3. Marriage as noted from your Horoscope Chart.
4. Prospects of marriage.
5. Arranged or Love Marriage.
6. Expected Time for Marriage.
7. Lucky measures to benefit to you (Lucky number, days, metal, time, direction and gemstone).
8. Mantra and Puja Remedies.
9. Lucky Yantra and Rudraksha.
10. Important tips to make situations easier for you.

Benefits Of Marriage Report
1. You can take smarter, calculated decisions, with a clear view of the upcoming situation.
2. The solutions to your confusions and problems will be resolved, and thus empower you to face the odds with adequate protection.
3. Stress due to ignorance will be reduced.
4. You will be confident to take wise decisions since the problems will be handled with ease. This will help in clear thinking and happier planning ahead.

Hear From Our Customers
Hi this is Harish from New Delhi. I was facing lot of problems in life. on the advise of Pandit Umesh i choose to wear emerald as a remedy. This was the most wonderful decision I had ever made , since it help me a lot of deal with my problems. Thanks to pandit ji i always remember and regards to pandit Umesh for their astrological guidance and help.
Harish Tiwari, Hardwar, Uttarakhand
I sought assistance from leading astrologer of our time Mr Umesh Pant regarding marriage. I came to know of his incredible experience and expertise in astrology through some reliable sources. Hence, I held face to face consultation with him few days back and was extremely glad to know his guidance and recommended solutions, plus way of listing in the marriage report some of the crucial details for my assistance. To speak in brief, Umesh Ji is great and proficient astrologer I have ever privilege to have interaction with.
Suman Lahiri, West Bengal