Marriage Report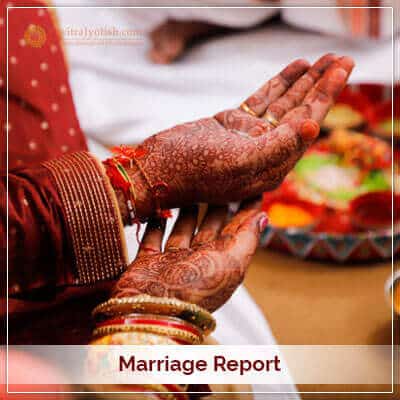 If your marriage is getting delayed or you want to know the right time for getting engaged, there is a reliable solution for you in this regard with our Renowned Astrologer, Pt. Umesh Chandra Pant. He is one of the most sought-after names in astrology due to having many years of experience in preparing accurate Marriage Report. His incredible insight into Marriage Astrology has placed his reputation on top, with people coming to seek his marriage predictions for their marriage-related query.
The wedding report prepared by our astrologer will include comprehensive details like the effect of your moon sign, prospects of your marriage, situations like if you're having arranged or love marriage, and you will be offered the most accurate remedial measure for your problems like 'when will I get married'. The report will also include the detail of expected time for getting betrothed. Suitable Gemstone or Yantra will also be suggested by the astrologer based on any problem creating hindrance into your marriage.
Info
Delivery : 7 Days
Get your manually analysed and Hand-Written report by expert Astrologer.
Customer Care
If you have any confusion or need further clarification please contact our customer care.
Call +91-95821 92381 and 011-49901368
Your Report Will Contain:
1. Astrological Details of your Horoscope chart
2. Astrological analysis of your situation
3. Response to your question
4. How to make use of this report
5. Lucky measures to benefit to you (Lucky number, days, metal, time, direction and gemstone)
6. Effect of Ascendant and Ascendant lord
7. Effect of Moon Sign
8. Marriage as noted from your Horoscope Chart
9. Prospects of marriage
10. Arranged or Love Marriage
11. Expected Time for Marriage
12. Mantra and Puja Remedies
13. Accurate remedial measures for your problems (Lucky Yantra and Rudraksha)
14. Important tips to make situations easier for you

Benefits of this report:
1. You can take smarter, calculated decisions, with a clear view of the upcoming situation.
2. The solutions to your confusions and problems will be resolved and thus empower you to face the odds with adequate protection
3. Stress due to ignorance will be reduced
4. You will be confident to take wise decisions since the problems will be handled with ease. This will help in clear thinking and happier planning ahead.

Testimonials:
Hi this is Harish from New Delhi. I was facing lot of problems in life. on the advise of Pandit Umesh i choose to wear emerald as a remedy. This was the most wonderful decision I had ever made , since it help me a lot of deal with my problems. Thanks to pandit ji i always remember and regards to pandit Umesh for their astrological guidance and help.
Harish Tiwari, Hardwar, Uttarakhand
I sought assistance from leading astrologer of our time Mr Umesh Pant regarding marriage. I came to know of his incredible experience and expertise in astrology through some reliable sources. Hence, I held face to face consultation with him few days back and was extremely glad to know his guidance and recommended solutions, plus way of listing in the marriage report some of the crucial details for my assistance. To speak in brief, Umesh Ji is great and proficient astrologer I have ever privilege to have interaction with.
Suman Lahiri, West Bengal