About Meghan Markle Horoscope
Published On : June 18, 2018
|
Author : Astrologer Pt Umesh Chandra Pant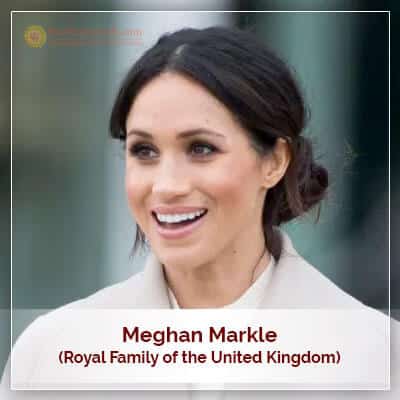 Read Our Astrological Viewpoints On Meghan Markle
Meghan Markle – Royal Family of the United Kingdom
Meghan Markle, born as Rachel Meghan Markle, is a celebrity icon because of her connection to British royal family after her marriage with Prince Harry, a younger son of Charles, Prince of Wales, and Diana, Princess of Wales. Also a former American actress born and raised in Los Angeles, Meghan did acting jobs starting first in General Hospital, a daytime running soap opera. She also worked as a freelance calligrapher to support herself financially. After doing a couple of guest roles in television shows, she worked in notable films, Get Him to the Greek, Remember Me, and Horrible Bosses. She also owns a successful lifestyle website, The Tig which is a reservoir of information on travel, beauty, fashion, food and profiled inspirational women. Earlier her romantic courtship with actor/producer Trevor Engleson resulted in break-up due to irreconcilable differences, so was the fate of a subsequent relationship with restaurateur Cory Vitiello that survived the lifespan of just two years. Later, through a blind date set up by a mutual friend, Meghan dated Prince Harry. The announcement of their royal engagement took place on November 27, 2017, triggering a slew of reactions, most of them positive. Post official royal engagement and announcement of the same that follows, Meghan abjured acting jobs confirming Meghan Markal, Royal Family of the United Kingdom would commence the process of becoming a British citizen. The couple married on May 19 at St George's Chapel, Windsor Castle. Meghan is very active in public life and is said to have supported candidature of Hillary Clinton but denounced Donald Trump for his slurs on women during the presidential election of the United States on 2016.
At PavitraJyotish, we are conducting astrological analysis on the life of Meghan Markle through the following Horoscope chart.
Birth Details of Meghan Markle are as per given below:
Date of Birth: August 04, 1981, Birth Day: Tuesday, Birth Time: 04:46:00, Birth Place: Los Angles Illinois, USA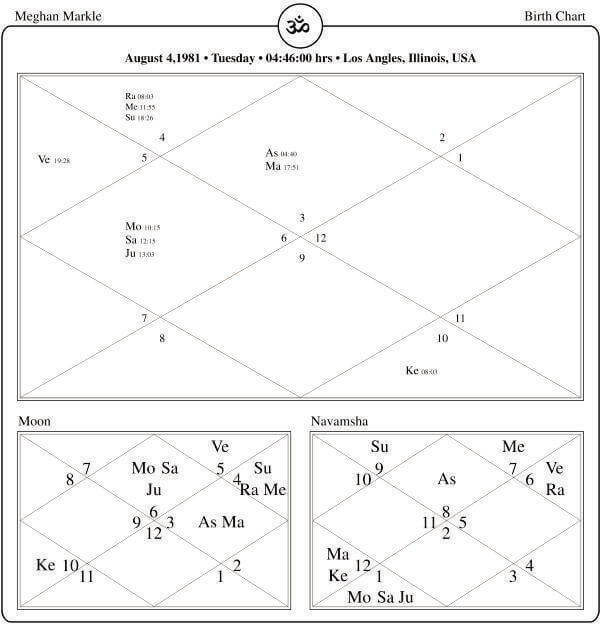 Astrological Highlights and short analysis
Meghan Markle is born with Gemini Ascendant. Crafty Mercury rules the Ascendant. Gemini is the third sign of the zodiac and is symbolized with 'The Twins'. The behavior of a Gemini can be compared with the functioning of our nervous system, which transmits signals from body parts to the brain and vice-versa. Communication is the buzzword for Geminian. Mars is the ruler of the eleventh and the sixth house is positioned in the Ascendant alias the first house. Ruler of the Ascendant Mercury is in a water sign Cancer known for being emotional. Mercury is in company with mighty Sun and Rahu (North node) and stationed in the second house. This position makes her intelligent in handling financial matters. Ruler of the second house Moon is in a dual-natured earth sign Virgo along with benevolent Jupiter and wily Saturn and gets placed in the fourth house. Mercury exchange signs with each other. This position makes her highly ambitious and keen to achieve perfection in what she does to achieve her objective. She remains active on the work front. Dear Venus holds a portfolio of the fifth and the 12th house. Venus is in a fire sign Leo and positioned in the third house. She does value what is old and at the same believes giving a fair trial to new. Malefic shadow planet Ketu (south node) is in last of earth sign Capricorn and camps in the eighth house.  For resolving your problems? Ask To Astrologer can help your cause.

Effects of transiting planets in near future
For the whole of the year 2018 and 2019, wily Saturn traverses through a dual-natured last of fire sign Sagittarius. Saturn then moves through the seventh house in her chart. During transit through the seventh house, Saturn moves in direct opposition to the natal position of Mars camping in the first house. This is indicative of challenging time ahead for Meghan Markle. Transiting Saturn also eyes the fourth house along with its own natal position along with that of Jupiter and Moon. In view of this, she is to keep doing something meaningful in general. She has to do things which are congenial to her position in the royal family. Some controversy on social front is to trouble her. Meghan needs to keep her cool and handle this much tactfully. Meghan is to have kind of trying time for her in times ahead in confirm relationship and socially as well.
Overall Saturn Transit is to prove a kind of challenging time for Meghan Markle. She needs to trade cautiously and not go overboard on social front as well as her marital life.
From May 2018 to around the beginning of November 2018, Mars traverse in its own sign of exaltation last of the earth sign Capricorn. Exalted Mars moves through the eighth house. In process crosses over the natal position of Ketu placed therein. Natal positions of mighty Sun, combust Mercury and malefic Rahu stationed in the second house are being influenced by exalted Mars moving through the eighth house. This can lead to a temperamental tendency on her part. There is also a possibility of getting injured unexpectedly. Meghan needs to take due care in this regard. Disturbance in her family life is also envisaged. She needs to handle matters related to finance very much care to avoid financial loss.  Know about Love And Marriage Prospects by our Love Marriage Problem Solution Astrologer in Delhi.
From around beginning of August 2018 till the end of the year 2018 dear Venus moves through its own sign air sign Libra. Now Venus traverses through the fifth house in his birth chart. This can lead to her becoming pregnant. She and her husband are eager to have a kid at earliest.
Malefic shadow planets Rahu and Ketu are currently repeating their own natal position in the second and the eighth house respectively. From around March 2019, Rahu enters Gemini in the first house. Ketu enters a dual-natured last of fire sign Sagittarius and moves through the seventh house in the company of wily Saturn. This indicates the kind of challenging time to maintain harmony in confirm relationship that is with Prince Harry. She needs to raise the level of compatibility and be more accommodative about traditions of the royal family. Breaking this relationship with Prince Harry cannot be ruled out. Viewing this she needs to be much tactful and avoid conflicts to maintain warmth and harmony in her marital life.
Benevolent Jupiter traverses in air sign Libra through the fifth house till around mid of October 2018. Jupiter then moves into a fix natured water sign Scorpio and moves through the sixth house in her chart. Around April 2019 Jupiter makes move in its own sign dual natured last of fire sign Sagittarius. Here Jupiter remains for a short period of around a month and turns retrograde. During retrogression, Jupiter reenters water sign Scorpio. From around October 2019, Jupiter again enters fire sign Sagittarius and remains therein beyond the end of the year 2019.
Transit of Jupiter in Libra through the fifth house seems fruitful for Meghan. This enhances her chance to become pregnant. Some financial gains are also foreseen for her during movement of Jupiter through the fifth house.
Jupiter then enters a fix natured water sign Scorpio and move through the sixth house. During transit Jupiter eyes the 2nd house along with natal positions of Sun, combust Mercury and Rahu positioned therein. This aspect of Jupiter sounds well for things related to the second house. Jupiter during transit also aspects the 12th house. She may be inclined to spend money for some social cause dear to her. However, Meghan needs to remain aware of her responsibility as a member of royal family. She needs to be more accommodative about her relationship with Prince Harry to maintain peace and harmony in her marital life. Meghan needs to refrain from asserting her views overly for good and avoid being temperamental.
After considering the major movement of planets, the Year 2018-2019 seems positively much challenging and eventful for Meghan Markle.
Don't forget to read: Oprah Gail Winfrey Horoscope and About Angelina Jolie Horoscope