11 Days Sri Ganesh Maha Puja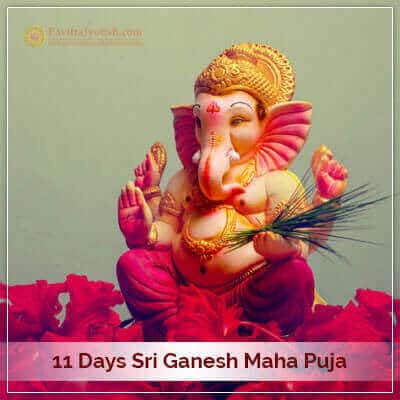 Know about 11 days Sri Ganesh Maha Puja
One of the most famous festivals in India, Ganesh Chaturthi is slated to begin on 22nd August 2020, and none other you who understand better the significance of Ganesh puja for the attainment of spiritual, physical, mental and financial wellbeing that the worship bestows upon the life of devotees.
Madhyahna Ganesha Puja Muhurta is slated for 22nd August 2020 at 11:25 AM to 01:57 PM and immersion process (Visarjan) will take place on 01 September 2020. Chaturthi here begins on 21st August at 11.02 PM and ends on 22nd August at 07.57 PM. It should be noted that celebration of Ganesh Chaturthi puja festival is observed for one and half day, 3 days, one week or 11 days because of the culture and family tradition involved.
There are 16 rituals and methods coupled by mantras jaap called Shodashopachara with which Ganesh puja is performed. Furthermore, the Lord is invoked (a process called Avahana) in which specific mantras with particular gesture called Avahan Mudra are chanted in front of the idol of Ganesh. Then there is Pratishthapan which is a process of ensconcing the statue of Lord Ganesh while chanting mantras dedicated to this particular occasion.
Importance of  Sri Ganesha Chaturthi and 11 days Ganesh Maha Puja
Importance of Sri Ganesha Chaturthi Puja is that it is a famous celebration to attain not only divine blessing of Lord Ganesh but purification of one's soul from all sins, and in place of them, to bring forth knowledge and spiritual realization of one's true worth. Also said in favor of importance of Ganesh Chaturthi puja is that the devotees of Lord Ganesh attain the privilege of boons from the Lord himself which work wonder in time of needs, such as peaceful and prosper living.
Benefits of Sri Ganesha Pujan for 11 days:
Lord Ganesh blesses the devotees knowledge and wisdom.
Worship of Ganesh during Ganesh Chaturthi fulfills one's wishes.
Success in academic pursuit and excellent results for students.
Spiritual and materialistic improvement happens.
Devotees are protected from the malefic action of their enemies. Win over competitors.
Success in your chosen career, business or desired endeavors.
Planetary doshas in kundali get pacified.
Manglik dosha gets pacified with the worship of Lord Ganesh.
Activities for 11 days Daily Sri Ganesh Maha Puja From 22nd August 2020 to 01st September 2020
Purvang Karma (Ganesh Pujan, MatraPujan, Abhyudaya, Punyawachan, KalashSthapana, Rakshavidhan, Navgrah Puja).
Detailed Puja of Lord Ganesh ji (as per auspicious muhurta).
Ashtottara Namavali Path of Lord Ganesh Ji.
Ganesh Atharvshish Path
Homa (Havan).
Lord Ganesh Ji Prayer.
To say in brief
Lord Sri Ganesh is the son of Divine Almighty Lord Shiva and Mata Parvati, which thus explains itself about the omnipotence of Lord Ganesh and his worship that brings forth tremendous power, benefits and wellbeing to the devotees of Lord Ganesh.
Complimentary Gifts:
Siddh Sfatik Ganesh
Siddh Ganesh Kavach
Info
Delivery: 7 days According to Muhurta.
The scholars and pundits of Pavitra Jyotish have performed your puja, for amazing and miraculous relief from suffering and alleviate your problems.
Customer Care
If you have any query or need further clarification
Call +91-95821 92381 and 011-49901368