11 Days Sri Ganesh Maha Puja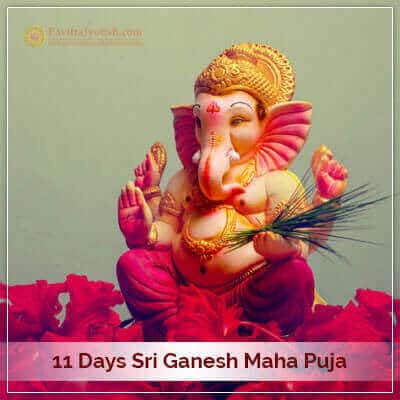 Welcome To Your Life The Divine Presence Of Lord Ganesha
Know about 11 days Sri Ganesh Maha Puja From 10 September 2021 to 20 September 2021
Ganesh Chaturthi is well known festival among Hindus and celebrated across India with great joy. 11 days Sri Ganesh Maha Puja is performed to welcome new beginning and remove obstacles in life. It starts from Ganesh Chaturthi (falling on September 10, 2021) and ends on Ganesh Visarjan (Immersion process ending on September 20, 2021). Ganesh Chaturthi or Vinayak Chaturthi is a festival celebrating on arrival of Lord Ganesha to earth from Kailash Parvat with Maa Parvati.
Choose our Puja and Anushthan Services By Learned and Reliable pandits.
Madhyahna Ganesha Puja Muhurta is slated for September 10, 2021 at 11:03 AM to 01:33 PM and immersion process (Visarjan) will take place on 20 September 2021 at 9:12 AM to 08:53 PM. It should be noted that celebration of 11 Days Ganesh Puja festival is observed for one and half day, 3 days, one week or 11 days because of the culture and family tradition involved.
Why Sri Ganesha Chaturthi And 11 days sri Ganesh Maha Puja Performed?
Importance of Sri Ganesha Chaturthi Puja is that it is a famous celebration to attain not only divine blessing of Lord Ganesh but purification of one's soul from all sins. Lord Ganesh is also considered as the "VighnaHarta" which means remover of obstacles too. Thus, by performing this puja, divine blessings of Lord Ganesha will remove the obstacles and bless native with immense knowledge and abundance of wealth.
Important Information About 11 Days Sri Ganesh Maha Puja From 10 September 2021 To 20 September 2021
Puja Name: 11 Days Ganesh Puja, Puja Purpose: Blessing Of Lord Ganesha, Duration of Puja: 6-8 Hours per day, Ideal days for worshipping: Ganesh Chaturthi OR Auspicious Muhurta, August – September of every year, Activities for 11 Days Ganesh Puja: DAILY – Poorvang Karma, Puja of Lord Ganesh (as per auspicious Muhurta), Ashtottara Namavali Path, Ganesh Atharvshish Path, Homa (Havan) and Lord Ganesh Ji Prayer. Important: We will send Puja Images at your registered email, Assurance: PavitraJyotish assure you best puja according to shastra, Special For You: Special and powerful gift.
What we will do?
1. Once you have booked the Puja, you will receive a booking confirmation mail.
2. You will be informed by your registered email, when your puja will be organized and what to do on the day of the puja yourself.
3. After Confirmation, we will worship (Ritual) for you according to Muhurta.
4. After Puja completion, we will send your siddh Yantra (Free Gift) and Prasadam through courier or by post.
5. Open the parcel, read our instructions and wear the siddh Yantra or establish siddh yantra on your worship place.
Benefits Of 11 Days Sri Ganesh Maha Puja From 10 September 2021 To 20 September 2021:
1. Main benefit to perform this puja is to remove obstacles coming your way.
2. Lord Ganesh helps one to make situation favourable.
3. 11 Days Sri Ganesh Maha Puja helps one to eradicate debts and attain prosperity.
4. The ill effects of malefic Mercury in horoscope gets neutralized.
5. With the strengthening power of Mercury devotees attains knowledge and wisdom.
6. Native undergoing with the Mahadasha/Antardasha of Mercury as per the birth chart should perform this puja.
7. Expansion of business take place in positive direction.
8. Students get the focus and concentration towards studies.
9. Success in academic pursuit.
10. Spiritual and materialistic improvement happen.
11. Devotees are protected from the malefic action of their enemies. Win over competitors.
12. Success in your chosen career, business or desired endeavors.
13. Planetary doshas in kundali get pacified.
14. Manglik dosha gets pacified with the worship of Lord Ganesh.
15. Obstacles related to delay in marriage gets removed.
Activities For 11 Days Sri Ganesh Maha Puja From 10 September 2021 To 20 September 2021
1. DAILY- Purvang Karma (Ganesh Pujan, MatraPujan, Abhyudaya, Punyawachan, KalashSthapana, Rakshavidhan, Navgrah Puja).
2. Puja of Lord Ganesh (as per auspicious Muhurta).
3. Ashtottara Namavali Path, Ganesh Atharvshish Path.
4. Homa (Havan).
5. Lord GaneshJi Prayer and Aarti.
Complimentary Gifts:
Special gift as per your problems.
Saraswati Puja, Shiv Puja, Hanuman Puja, SatyaNarayan Puja and other types of puja related services that we make available for you are fitting solutions for any type of problem you might be facing in your life on the front of career, education, health, etc.
Info
Puja Schedule:: Within 7 days, According to Muhurta.
The scholars and pundits of Pavitra Jyotish have performed your puja, for amazing and miraculous relief from suffering and alleviate your problems.
Customer Care
If you have any query or need further clarification of puja please call:
+91-95821 92381 and +91-96677 10281