Mahamrutinjay Anushthan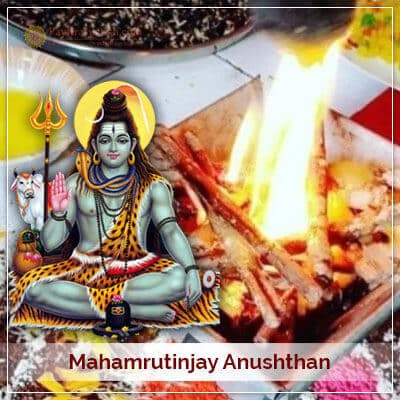 Mahamrityunjay Anushthan To Attain Spiritual Purity In Life
Mahamrityunjay Anushthan is dedicated to Lord Rudra, a divine form of Lord Shiv. Maha means "Great", Mrityu signifies "Death" and Jaya shows "Victory", thus, Mahamrityunjaya represents the great victory over death. With the blessings of Lord Shiva, longevity increases and protection from evil eyes is created. The main objective is also to get the protection against severe illness or bad health.
We perform Mahamrityunjay Anushthan following all the rituals that help to get rid of sickness and provides long and healthy life. We provide Puja and Anushthan Services by Reliable and Learned Pandits to the devotees at a reasonable price.
Why Mahamrutinjay Anushthan performed?
Mahamrityunjay Anushthan is performed to please Lord Shiva, the supreme lord. The main objective of performing this Anushthan is to conquer over your death. Blessings of Lord Shiva helps one to increase the longevity and reduce the chances of meeting sudden accidents or mishaps in life. Helps one to gain confidence, reduce fear and makes one stress free in life.
Important Information About Mahamrutinjay Anushthan
Puja Name: Mahamrutinjay Anushthan, Puja Purpose: Blessing Of Lord Shiva, Duration of Puja: 10-12 Hours with 7 Days and 5 Pandits, Ideal days for worshipping: According to auspicious Muhurta as required, Activities for Mahamrutinjay Anushthan: Poorvang Karma, Puja of Lord Shiva and Abhishek (as per auspicious Muhurta), Ashtottara Namavali Path, Shiva Stotra path, 125000 (One lakh twenty five Thousand) Chanting of Lord Shiva, Homa (Havan) and Prayer, Aarti of Lord Shiva, Important: We will send Anushthan Images at your registered email, Assurance: PavitraJyotish assure you best Anushthan according to shastra, Special For You: Special and powerful gift.
What we will do?
1. Once you have booked the Puja, you will receive a booking confirmation mail.
2. You will be informed by your registered email, when your puja will be organized and what to do on the day of the puja yourself.
3. After Confirmation, we will worship (Ritual) for you according to Muhurta.
4. After Puja completion, we will send your siddh Yantra (Free Gift) and Prasadam through courier or by post.
5. Open the parcel, read our instructions and wear the siddh Yantra or establish siddh yantra on your worship place.
Benefits Of Mahamrutinjay Anushthan
1. The main objective is to conquer death and put the flag of victory over it.
2. Anyone undergoing with the Mahadasha/Antardasha of Markesh planet should perform this puja to reduce the ill impact of the malefic planet and receive the blessings of Lord Shiv.
3. Any Malefic yoga present in Kundali related to Longevity gets removed.
4. Good to perform in case of having any chronic illness or bad health.
5. The chances to meet any accident or accidental death get removed.
6. It helps in attaining the divine and spiritual growth.
7. It helps native to get purify mind, body and soul.
8. It removes the fear from one' life.
9. People born under Kaal Sarp Dosha gets the good benefit of performing Mahamrityunjaya Anushthan.
10. Native attains peace of mind, focus and concentration in life.
11. Protects from any unfavourable transit occurring for short span of time.
Activities For Mahamrutinjay Anushthan
1. Poorvang Karma (Ganesh Pujan, MatraPujan, Abhyudaya, Punyawachan, KalashSthapana, Rakshavidhan, Navgrah Puja).
2. Puja of Lord Shiva and Abhishek (as per auspicious Muhurta).
3. Ashtottara Namavali Path, Shiva Stotra path.
4. 125000 (One lakh twenty five Thousand) Chanting of Lord Shiva.
Mantra: Om Tri-Ambakam Yajaamahe, Sugandhim Pusstti-Vardhanam |
Urvaarukam-Iva Bandhanaan, Mrtyor-Mukssiiya Maa-[A]mrtaat ||
5. Homam (Havan).
6. Prayer and Aarti of Lord Shiva.
Complimentary Gifts:
Special gift as per your problems.
Book our puja services, such as Durga Puja, Saraswati Puja, Shiv Puja, Hanuman Puja and many more. You can book them based on your specific problem, considering each puja contains its divine power to solve a particular problem or set of problems.
Info
Puja Schedule:: Within 7 days, According to Muhurta.
The scholars and pundits of Pavitra Jyotish have performed your puja, for amazing and miraculous relief from suffering and alleviate your problems.