Nav Avriti Path (Nav Chandi)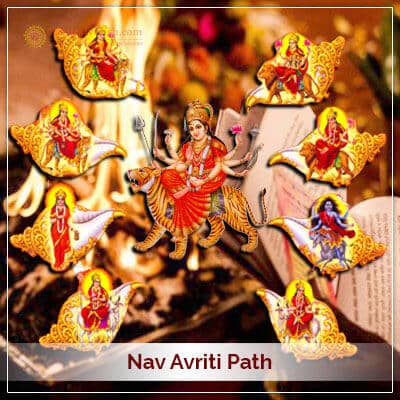 Nav Avriti Path Or Nav Chandi Path To Fulfil All Your Desires In Life
The Nav Avriti Path (Nav Chandi) is attached to Maa Durga. To attain the power and strength, one seeks through the blessings Goddess Durga in life. Mostly, it is done during Navratri on Durga Saptami. People please Maa Durga by Nav Chandi path. We offer Nav Chandi Path to Fulfill All Desires of Devotees and obstacles are removed as the result of this Path.
We perform this Path by reciting mantras with minimum deviation so that the devotees get maximum benefits. We provide our Puja and Anushthan Services by Reliable and Learned Pandits for Nav Avriti Path at reasonable prices to the devotees.
Why Nav Avriti Path performed?
To please Maa Durga, Nav Avriti Path is performed. With the blessings of Maa Durga, one gets the courage, determination and enthusiasm to perform any task easily and come out as a winner. One establishes his victory in the world all around and attains good health, wealth and the protection of Maa Durga at every single step.
Important Information About Nav Avriti Path (Nav Chandi)
Puja Name: Nav Avriti Path (Nav Chandi), Puja Purpose: Blessing Of Maa Durga, Duration of Puja: 10-12 Hours with 3 Pandits and 9 days, Ideal days for Worshipping: According to auspicious Muhurta as required, Activities for Nav Avriti Path (Nav Chandi): Poorvang Karma, Puja of Maa Durga (as per auspicious Muhurta), Ashtottara Namavali Path, Durga Stotra Path, 9 Path of Durga Saptsati, Homa (Havan) and Prayer, Aarti of Maa Durga, Important: We will send Anushthan Images at your registered email, Assurance: PavitraJyotish assure you best puja according to shastra. Special For You: Special and powerful gift.
What we will do?
1. Once you have booked the Puja, you will receive a booking confirmation mail.
2. You will be informed by your registered email, when your puja will be organized and what to do on the day of the puja yourself.
3. After Confirmation, we will worship (Ritual) for you according to Muhurta.
4. After Puja completion, we will send your siddh Yantra (Free Gift) and Prasadam through courier or by post.
5. Open the parcel, read our instructions and wear the siddh Yantra or establish siddh yantra on your worship place.
Benefits Of Navaratri Path
1. Nav Chandi Path helps one to fulfill all desires.
2. It helps one to attain power and strength to compete with opponents or enemies in life.
3. Worshipper gets the healthy and wealthy life style.
4. Native gets name and fame with performed deeds.
5. People gets the spiritual path and ultimately the salvation in life.
6. Any malefic influence of planet gets reduced by performing this path.
7. Native attains pure mind, body & soul, which results the positive surroundings.
8. Attainment of peace and happiness in life is possible, thanks to the kindness of goddess Durga.
9. Benefits like protection from unwanted situations, victory on enemy and happiness in life are also some of the benefits one can attain by performing Navaratri path.
10. Mother Durga's Grace.
Activities For Nav Avriti Path (Nav Chandi)
1. Poorvang Karma (Ganesh Pujan, MatraPujan, Abhyudaya, Punyawachan, KalashSthapana, Rakshavidhan, Navgrah Puja).
2. Puja of Maa Durga (as per auspicious Muhurta).
3. Ashtottara Namavali Path, Durga Stotra Path.
4. 9 Saptsati Path of Maa Durga.
5. Homam (Havan).
6. Prayer and Aarti of Maa Durga.
Complimentary Gifts
Special gift as per your problems.
Are you looking for Shani Puja, Rahu Puja, Ketu Puja, Navgrah Puja? Consult our professional and book puja as per your preference. Prompt consultation will be offered by our erudite pandit to help you find meaningful solution for your life's problem.
Info
Puja Schedule:: Within 7 days, According to Muhurta.
The scholars and pundits of Pavitra Jyotish have performed your puja, for amazing and miraculous relief from suffering and alleviate your problems.