One Month Shravan Shiv Puja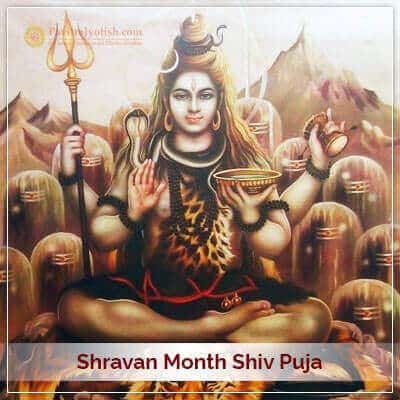 Book Shravan Month Shiv Puja, Attain Blessing Of Lord Shiva
Shravan Month (Sawan Maas) and importance of Shiv Puja
Shravan month is the fifth month of Hindu Calendar and also known as Sawan. On Purnima or full Moon day, Shravan nakshtra rules the Sky, thus, month is called as Shravan. Shravan month is famous for multiple religious festivals such as Nag-Panchami, Rakshabandhan, Rishi Panchmi, etc. Thus, hereby, almost every day of Shravan month becomes auspicious due to different religious works or festivals. Performing Rudrabhishek during Shravan month is very auspicious to receive the maximum blessings of Lord Shiv. According to Gregorian Calendar, this month falls in between July-August. Although worship of Lord Shiva is considered auspicious in every day, especially on Monday, but Sawan Maas is given the utmost regards and respects from religious perspective, Besides, Shiv Puja during Sawan month leads to effective solutions destroying malefic energy force of planetary Doshas, thus restoring peace and positive progress in your life.
Why One Month Shravan Shiv Puja performed?
Shravan Month Shiv Puja is dedicated to Lord Shiva, the Supreme lord of the Universe; it bestows the one with the greater results and removes the negative results of Gandmool Nakshatra, afflicted Moon, and improves the health by reducing the issues related to distress, anxiety, phobia, fearfulness and any accident.
Important Information About 1 (One) Month Shravan Shiv Puja
Puja Name: Shravan Month Shiv Puja, Puja Purpose: Blessing Of Lord Shiva, Duration of Puja: 1 Month, Ideal days for worshiping: Auspicious Muhurta as required, Activities for Shravan Month Shiv Puja: Poorvang Karma, Puja of Lord Shiva and Abhisek (as per auspicious Muhurta), Ashtottara Namavali Path, Shiva Stotra path and Prayer of Lord Shiva, Important: We will send Puja Images at your registered email, Assurance: PavitraJyotish assure you best puja according to shastra. Special For You: Special and powerful gift.
What we will do?
1. Once you have booked the Puja, you will receive a booking confirmation mail.
2. You will be informed by your registered email, when your puja will be organized and what to do on the day of the puja yourself.
3. After Confirmation, we will worship (Ritual) for you according to Muhurta.
4. After Puja completion, we will send your siddh Yantra (Free Gift) and Prasadam through courier or by post.
5. Open the parcel, read our instructions and wear the siddh Yantra or establish siddh yantra on your worship place.
Benefits Of Lord Shiva Worship During Shravan Maas
1. People having ill placed Moon or conjunction of Moon with malefic planets usch as Rahu, Ketu or Saturn in birth chart should perform this worship to negate the ill effects of malefic planets.
2. It helps in reducing the ill effects of Shravan nakshatra.
3. Any issues related to mental health such as anxiety, nervousness, confusion, insomnia etc can be reduced.
4. The weak Moon gets strength by performing this puja.
5. People born under Gandmool Nakshatras such as Ashwini, Magha, Moola, Ashlesha, Jyeshta and Revati should perform this puja to reduce the ill effects of these Nakshtras in life and fulfilment of wish occurs.
6. People undergoing with the Mahdasha of Saturn, Rahu & Ketu should perform this puja to negate the ill effects of this period and reduce delay & wavering thoughts.
7. Problem related to delay in marriage gets reduced.
8. It helps to find the suitable partner.
9. Issues in marital life and progeny get removed and harmony can be well maintained.
10. Uplifts your soul with improved spiritual conscience which is a boon to equalize your soul to the status of divinity.
11. Peace, prosperity and gainful results in any human activity such as business, finance etc. comes  Shravan Month Shiv Puja.
12. People having Kaal Sarp Dosha should perform this puja to get the divine blessings of Lord Shiv to reduce obstacles.
13. Issues related to property/land and ingeritance gets resolved.
Shravan Month Details (from 25th July 2021 to 22 August 2021):
First day of Shravan Month  25 July 2021 (Sunday).
First Shravan Somwar Vrat  26 July 2021 (Monday).
Second Shawan Somwar Vrat 02 August 2021 (Monday).
Third Shravan Somwar Vrat  09 August 2021 (Monday).
Fourth Shrawan Somwar Vrat 16 August 2021 (Monday).
Last Day of Shravan Month  22 August 2021 (Sunday).
Activities For Shravan Month Shiv Puja (From 25th July 2021 To 22nd August 2021)
1. Poorvang Karma (Ganesh Pujan, MatraPujan, Abhyudaya, Punyawachan, KalashSthapana, Rakshavidhan, Navgrah Puja) Daily.
2. Puja of Lord Shiva and Abhishek (as per auspicious Muhurta) Daily.
3. Ashtottara Namavali Path, Shiva Stotra path Daily.
4. Rudra Abhishek and Chanting of Lord Shiva Daily.
5. Prayer and Aarti of Lord Shiva Daily.
We provide complete one month shravan maas puja for our devotee from  25 July 2021 (Sunday) to 22 August 2021 (Sunday).
Complimentary offers:
Special gift as per your problems.
Experience the positive result of success, growth, happiness and fortune by booking our puja services, including Baglamukhi Anushthan, Shat Chandi Path, Shravan Month Shiv Puja, Kaalsarp Dosh Niwaran Puja. These types of puja are best considering their divine solution for any problem you may face in your life.
Info
Puja Schedule:: Within 7 days, According to Muhurta.
The scholars and pundits of Pavitra Jyotish have performed your puja, for amazing and miraculous relief from suffering and alleviate your problems.
Customer Care
If you have any query or need further clarification of puja please call:
+91-95821 92381 and +91-96677 10281